Whisky Live Paris 2010, 25-27 September 2009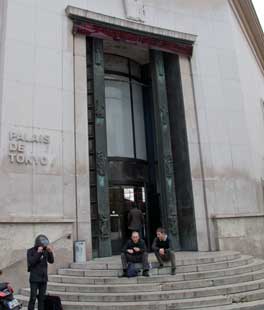 The venue: Palais de Tokyo
This year, the Whisky Live Paris changed its formula by including other fine spirits ( Whisky Live 2010 Rhum (Rum), Cognac & fine Spirits), as well as its location, returning to the Palais de Tokyo, close to the tour Eiffel.
The venue was larger than previously (Pavillon Gabriel). The result was a more diverse fair, with more space to move between the stands. However, the high ceilings did not prevent a fairly high temperature inside, in spite of the cold air of Paris (14°C).
The spirits offered for tasting were very diverse, and with the exception at the introduction to tequila by Arette, I remained focused on single malt whiskies, Scotch of course, as well as on Japanese, Indian and American whiskies. Although I spend a total of 11 h in the Whisky Live, time was too short to visit the French, Czech or other world whisky makers.
Not only the official bottlings were tasted (e.g., Glenfiddich or Glendronach), but also products from independent bottlers such as Signatory, Duncan Taylor or Douglas Laing.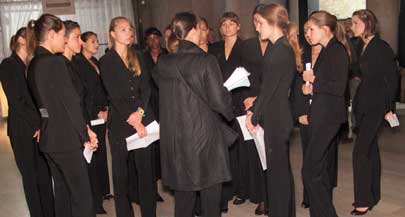 The hostesses
For the American whiskies, I stopped at Evan Williams (Heaven Hill distilleries) to taste three of their products in their Parker's Heritage collection (Golden Anniversary, Wheated Mash 10 YO and a 27 YO), that I will review later on.
Concerning the Japanese whiskies, I decided to go for the Yamazaki 1995 Single Cask for La Maison du Whisky (LMDW) and the new Hakushu heavily peated. At Nikka, the new Single Cask Coffey Grain whisky was present, as well as the new Yoichi 1987 single cask for LMDW. Of course, one cannot forget the stand of Drink One and Marcin Miller with their much expected Karuizawa 1968, 1975 and 1976. The 1968 is a different beast than the 1967 of last year, being rougher and less complex. It remains on the other hand a very good whisky. The 1975 was an excellent whisky, with a pronounced sherry influence. The 1976 was my favourite, with a nice subtle sherry influence and its delicious smoothness. Unfortuately, all these Karuizawa are already sold out. It was also my first opportunity to sample a product from the white oak distillery. Afterwards, I went for one Ichiro 2000 from the Card's serie, a Karuiwaza 1995 Noh and finally for the Kawasaki 1982 Single Grain.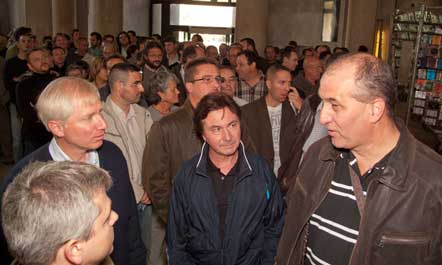 The crowd (a few minutes before the scheduled opening time). The actual opening time was 20 min later.
From Bangalore and the Amrut distillery, I decided to go for the Amrut fusion that was very well received by several whisky enthusiasts as well as for the Amrut peated bottled at 46%.
What about single malt Scotch whiskies?
Plenty of new releases and special bottlings for LMDW were present and let's go through them in alphabetical order:
Aberfeldy:
The first single cask by the new owner was released early this year and the Whisky Live Paris saw the release of a 19 YO Aberfeldy Single Cask. I will need to taste it in better condition, but it left me with a very good impression of complexity and richness, while keeping the typical honey flavours of Aberfeldy.
Aberlour:
I would have been very interested in tasting the new Aberlour 1967, but at 9000 euros, one can dream about it. I was however kindly offered to taste the new Aberlour 12 YO at 48% to be bottled next year. A very nice whisky, with the taste suggesting the use of a fair proportion (or only) of first fill bourbon casks.
Ardbeg:
I haven't had the opportunity to taste the Supernova 2010 and I will do it shortly. I had a nice chat with Bill Lumsden from Ardbeg/Glenmorangie, who informed me that he is now recreating a new version of the Lords of the Isle with the remaining old stocks of Ardbeg (all purchased back?), as well as a new single cask. Several experiments are ongoing, but they were not disclosed to me. No plans for a new Ardbeg 17 in the short future.
Arran:
I could not resist in sampling their special bottling for the 15th anniversary of the distillery and their new 14 YO. It was also pleasant to observe that the range of products proposed this year was significantly larger than last year. An example of the bottle of the future medium peated Arran (15-20 ppm) named Machrie Moor was present. Unfortunately, the whisky has not yet been bottled. Of note, the production of Arran is now 250'000 LPA and the production of peated barley started in 2004.
Auchentoshan:
A new Auchentoshan 1998 sherry was available. I will review it later on.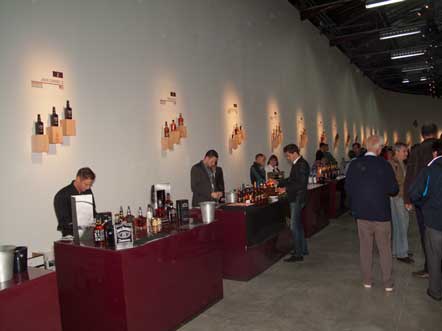 Inside the Palais de Tokyo
Balblair:
After the recent association between Balblair and the Jazz, several new releases of Balblair were available during the whisky live: 1978, 1989 and 2000. I took the opportunity to discuss with John Macdonald, the distillery manager regarding the visitor centre. They received the green light from Inverhouse, but too limited funding for organizing regular tours.
Balvenie:
No special vintages available for tasting, but the new Balvenie, Peated cask made with some medium-peated Balvenie, as well as a limited edition of the Signature.
BenRiach:
Billy and Stuart were attending other whisky fairs in Europe. However, BenRiach and GlenDronach were represented by the charming Kerry White, supported by Allistair and some of the distillery staff. In absence of any BenRiach single casks from the last batch, I decided to go a selection of their wine finish serie (Claret and Burgundy).
Benromach:
Benromach is reaching the age of maturation, with their 10 YO, as well as second batch of origins and Organic. The peat smoke and the "core range" was available. The products of last year were very good and I am eager to taste the two products mentioned above.
Berry Bros and Rudd:
The enthusiastic team of BBR was serving some excellent whiskies, including an excellent Glenlossie 1975 that sold out during this whisky live. If you missed that one, you might still try the two special releases for LMDW, with a 1984 Caol Ila or a 1994 Bowmore, without forgetting the Boisdale, a Laphroaig specially bottled for the restaurant Boisdale.
Bowmore:
Bowmore started to promote their new 40 YO, but it was not available for tasting. I was however given the possibility to taste the brand new Bowmore Tempest batch 2, that should be available soon for retail. Compared to the batch 1, the citric flavours are more pronounced, with some notes of tangerine and a strong iodine presence. Very good indeed.
Cardhu:
The distillery manager Andy Cant was present on the stand, unfortunately, no Cardhu single casks were available or announced. However, we had the chance of tasting the discontinued Cardhu 22 YO bottled as part of the Diageo annual release 2005. A very good whisky, especially once some water has been added.
Compass Box:
John Glaser presented two new whiskies with a very stylish label, the Flaming Heart 10th Anniversary and the Double Single.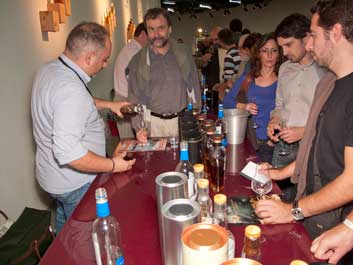 A stand
Daily Dram:
This was the first presence of Daily Dram at the Paris Whisky Live. Served only in the VIP area, Mario and Fred were anyway very busy serving their acclaimed Clynelish 1982 27 YO, as well as a venerable 34 YO Banff and a 36 YO Linkwood.
Dalmore:
Well, trying to find time to talk to Richard Patterson was nigh impossible and even in the Dalmore area, after 5 min, my glass was still empty. Fortunately, at the Dalmore stand, the new Dalmore 2000 was present. This new Dalmore was a pleasant surprise, with a strong sherry presence and reminding of the slightly older versions of Dalmore.
Douglas Laing:
I decided to go the new Caol Ila for LMDW and their "Probably Speyside's Finest" whisky 41 YO on the first day of the Whisky Live with the intention of visiting them on the second day. Unfortunately, the stand was so packed that I had to give up.
Glencadam:
For the poor sales director, the stand of Glencadam was situated just left at the entrance and therefore remained unnoticed for many whisky enthusiasts. Glencadam has released some very good products lately and their latest releases presented: Glencadam 21 YO and Glencadam 14 YO Oloroso sherry cask finish.
GlenDronach:
During the first hours of the whisky live on Saturday I noticed an old GlenDronach 1971 or 1972, but the bottle did not survived very long. Instead, I decided to go for two single cask expressions from the batch 2, as well for the GlenDronach 2002 Single Cask (bourbon) for La Maison du Whisky, as well at the new GlenDronach with a Sauternes finish.
Glenfiddich:
The new Snow Phoenix is a vatting a 13, 14 and 30 YO Glenffidich according to the information provided to me. Bottled at cask strength, it was a rich, spicy, intense Glenffidich, much better than the standard 12 YO (at least to my taste). The new 30 YO was also present. It has now a new packaging and the proportion of bourbon has changed from 50 to 70% in its new version.
Glen Garioch:
Finally, I could taste the new Glen Garioch 12 YO that was released earlier this year. Compared to the Founder's reserve, it lost some of its rough edges and gained some extra smoothness and more delicate oaky flavours. A positive improvement. A new Glen Garioch 1991 had just been, very much like the old style of Glen Garioch. Interestingly, all casks of Glen Garioch used for one batch are coming from a single barley field. Glen Garioch is, with Bruichladdich, one of the first distilleries implementing the traceability of their product from the barley producer to the final product. I was informed that Morrison Bowmore holds large stocks of Glen Garioch. This is very good news, since I am very fond of Glen Garioch whiskies.
Glenglassaugh:
Stuart Nickerson and his wife were present at the Whisky live, presenting their new 26 YO and two of their Spirit Drink range. Unfortunately for them, the consignment of whisky for the whisky live was delayed and their selection more limited than desired.
The Managers legacy release N°1 (Jim Cryle distilled in 1974) will be reviewed soon on this website.
Glenlivet:
No new product was present, but I took the opportunity to sample the Glenlivet 21 YO, that I never tasted before. I will try to post the tasting notes shortly, in company of the Glenlivet 1975 35 YO Wilson & Morgan that was kindly provided to me (off festival) by Max Righi.
Glenmorangie:
Bill Lumsden presented its new creation: Glenmorangie Finealta, a recreation of an old style Glenmorangie with some medium peated (15-20 ppm) Glenmorangie distilled 17 years ago, complemented by some younger bourbon and sherry matured Glenmorangie. Glenmorangie was extended last year and the current production is approximately 4.5 mio LPA (maximum: 6 mio LPA). All the production is reserved for single malt, as a consequence of an increase in sales (+50/60% in Europe and more than 100% increase on the US market!). The sales of Glenmorangie are now totalising 900'000 cases. Well, increase in price is not necessarily associated with a decrease in sales, as some might have suggested it. To come back to the Finealta, it should be initially available only in travel retail for approximately £50 (60 euros).
Gordon & MacPhail:
In addition to several special bottlings for LMDV (see LMDV/VIP area), a very good Caol Ila 1982 was available, as well as a light and fresh Scapa 2000 for LMDW. Michael Urquahrt and all the team of Gordon McPhail and Benromach was present to highlight the importance of the French market for this private firm.
Highland Park:
The 40 YO was only available as an add-on to the whisky live (45 euros with a meal), otherwise no new product was available.
Jura:
The Prophecy has been released this year. This was a very nicely made peated whisky, slightly smoother and rounder than the superstitions. Furthermore, a new 21 YO was released, more complex and more sherried than the former 21 YO.
Kilchoman:
John Maclelland and Anthony Wills presented a nice selection of Kilchoman, including the summer release 2010, a single sherry cask for la Maison du whisky, as well as a single bourbon cask. Next year will see the release of the first 100% Islay Kilchoman.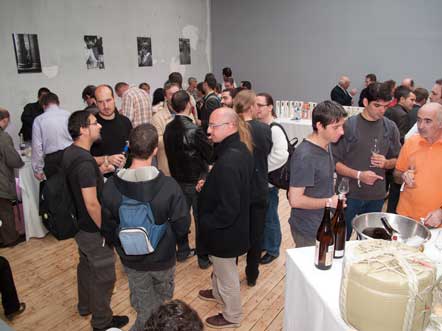 The VIP area
La Maison du whisky/ VIP area :
A large range of whiskies were presented, including a very sherried (and woody) Longmorn 1964, a very nice and grassy Inchmurrin 1973, an excellent Clynelish 1972 and Lochside 1981 ( all from Gordon & MacPhail), as well as an old fresh and sweet Glen Mhor 15 YO from Cadenhead, a very nice sherried Bowmore 1998 and a cleaner bourbon version (Prestonfield Islay 1990), both bottled by Signatory. The last single malt tasted was an old Glengarclas 21 YO bottled for Pinerolo in Italy. Regarding grain whiskies, a lovely 42 YO Garnheath from Doulgas Laing was presented and a very nice peated blend, the Old Rarity from Bulloch & Lade.
Lagavulin:
The new 12 YO Cask Strength Annual Release 2010 has just been bottled and I managed to get a wee sample. So watch www.whisky-news.com for the tasting notes.
Laphroaig :
According to the program, a new 18 YO single cask was to be available, but I could not find it. I decided to go for the 25 YO cask strength, a significant improvement over the old 25 YO 40%. I wanted to have a few words with Robert Hicks, but he was too busy chatting with a friend of his.
Macallan:
The core range was present .Although some whisky enthusiasts had the opportunity of tasting the Macallan 40 YO, this was not offered to me.
Signatory:
The products proposed by Signatory was rather large, with several interesting new products such as a 1980 Glenlochy or a 1990 Ardmore in their new black tins. Last but not least, the new Laphroaig 1998 sherry for LMDW had just been bottled, but could not be exposed on their stand, since Laphroaig distillery complained about the label (Laphroaig written to big). This Laphroaig was amongst the best surprise of this whisky live, with a nice interplay between a muscular and peaty Laphroaig associated with a strong but not overwhelming sherry influence. A very nice and highly recommended malt.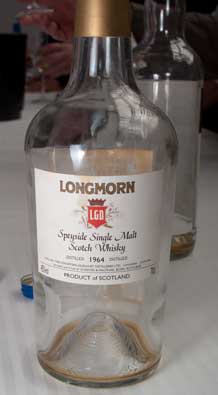 And the fate of the bottles
Conclusion:
The Whisky Live Paris confirmed its position as one of the leading whisky fair in the world in the most important whisky market in the world. Most companies with products distributed by La Maison du Whisky were present and the number of new products was very high. With the extra space provided by Le Palais de Tokyo, moving between the stand was more comfortable. On the downside, compared to previous years, was the very limited number of collector bottlings or very expensive bottles (i.e., over 300 euros) available for tasting.
In any case, I should be back next year, since the Whisky Live Paris is a must for any serious whisky enthusiasts.
A votre santé!
Patrick B. © 06 Oct 2010