Whisky Schiff Lucerne, 2011, 5th edition (25-26 March).
click here for the photo gallery

As for the previous years, the whisky fair season is starting with the Whisky Schiff in Lucerne Switzerland. On Saturday the 26th, the day started in Lucerne with a cold but nice weather and although some grey clouds gathered by lunchtime, the sun was back at the time the gate opened and the flow of visitors move towards the 3 ships on which the event was taking place.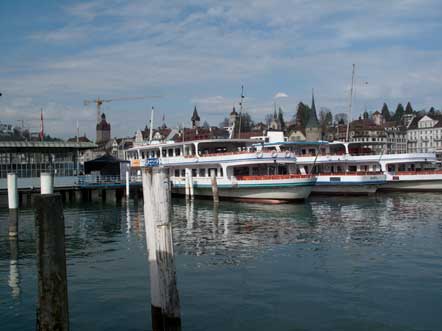 The 3 ships with the the city of Lucerne behind

My first halt took place at the stand of D. Ramseier hosting a large range of very old blends as old malts, including several expressions of old Longrows. Talking about Longrow, the Longrow 1987 Samroli 45% I was served was on dry and rough peat, quite different from what I remembered of the 1987 Samaroli 55%. A sharp contrast with the spicy and rich Aberlour 8 years old (cubic shape) 50% , which I was served just before. Before leaving him, I tasted an another excellent whisky, a Brora 1982 23 YO Old Malt Cask from Douglas Laing that was surprisingly peaty for a 1982 Brora.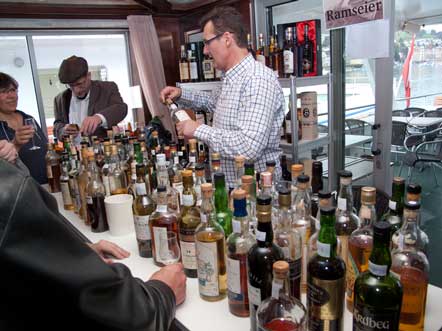 D. Ramseier amongst his superb bottles.

Well, this festival started very well and this ship was a dangerous trap for any serious whisky connoisseurs, since on the way out from D. Ramseier booth, one had to pass in front of the rarity stand of Glenfahrn. At this booth, I was directly guided to the new " products" by my "friend" at Glenfahrn employee who knows my taste pretty: an impressive Port Ellen 1969 cask strength from Gordon & MacPhail, very much in line with the fabulous Port Ellen 12 YO James MacArthur tasted last year at this very same event. More surprisingly, even highly diluted, the intensity and the complexity of the flavours were still remarkable. Great and much more to my taste than the Port Ellen distilled in the 1980s. It seemed that I arrived just on time to finish the bottle of Ben Nevis 1966 25 YO OB Cask Strength. Ben Nevis is a whisky with a strong personality, with rather strong flavours of cardboard and starch. This version of Ben Nevis was very much to my taste, thanks to the contribution of an excellent and flawless sherry cask. Highly drinkable! Old stuff is indeed very good, as was the tasting of an old Glen Grant over 8 years old 40%. This whisky was bluffing! One might think that an 8 YO whisky bottled at 40% might be fine for mixing with ice and coke, but not this whisky. The fruitiness was simply impressive, on mango, papaya, other exotic fruits, some bold peat smoke and some spices. The complexity of the flavours suggested that a good dose of very good sherry casks were used and that a fair proportion of older whiskies were used to bring up the complexity of this whisky. If all 8 years old whiskies were like this one, my shelves would be filled with that whisky!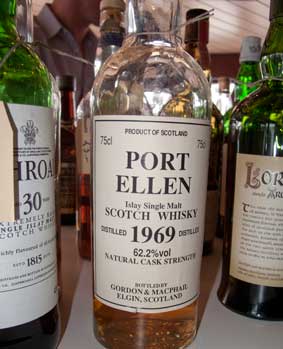 One of the highlight of the fair at Glenfahrn

At the booth of Lateltin, I made the acquaintance of the latest sales manager of the BenRiach and GlenDronach team, while tasting the new slightly rubbery GlenDronach 1990 Single Cask for Switzerland. During our discussion, I was informed that the GlenDronach batch 4 is to be released very soon and will include the oldest expression of GlenDronach bottled by the new owner, a GlenDronach 1968, as well as some other old Oloroso and Pedro Ximenez casks. I am very curious about this 1968 GlenDronach, which is hopefully not too woody. A Batch 5 is expected for this autumn. Regarding the sister distillery of BenRiach, the famous "furkin (?)" should be finally released this year. Less than 100 bottles of this BenRiach distilled in the early 1970s and matured in a quarter cask should be released, with a strict allocation. The exact date of its release is not known, nor its price (but probably over £1000). The BenRiach group is developing well and might further expand by acquisition …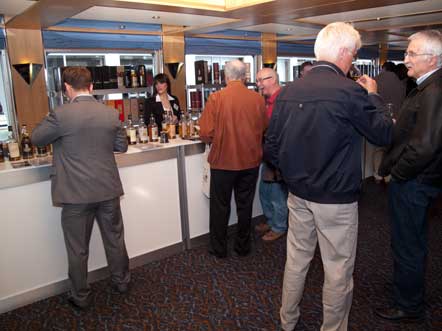 At Lateltin before the rush hours

A few meters further, I could meet Jenny Karlsson of Springbank and finally taste the newest Hazelburn Sauternes finish. After an initial maturation in bourbon casks, the whisky spent a further two years in Sauternes casks giving a caramel-like appearance. This Hazelburn had a rather big body for a triple-distilled whisky and I was surprised by the thick and syrupy influence of the Sauternes cask on this whisky.
At the time of its release, I tasted the first release of Springbank 18 YO 46% and now it was time to taste the second release, made with a higher proportion of sherry cask and a small proportion (5%) of port wood, resulting in a very good whisky.
At the booth of World of Whisky, I took the opportunity to taste the new Kilchoman Single Cask bottled for Germany. This is a 4.5 years old whisky was spicier, more complex and lost most of the juvenile sweetness of the previous bottling. This extra year of maturation has a significant and positive effect on the whisky. The fans of Kilchoman will be pleased to read that in addition to this new single cask, several new expressions will be released this year: a special bottling for the Feis Ile (vatting of 2 single casks, price per bottle: £60), a 5 YO 100% Bourbon cask, a 5 YO 100% sherry as well as the first bottling of 100% Islay whisky. I hope to be able to review all these whiskies this year, but particularly of the 100% Islay Kilchoman. A new bottle has been created for this whisky made of 100% grown Islay barley medium peated (15-20 ppm), distilled, matured and bottled on Islay. Sounds very promising, isn't it?
Last by not least, I made a stop of the Monnier booth to taste a good fruity and spicy Glentauchers 1975 from Jack Wiebers as well as the very smooth and highly satisfying Bunnhahabhain 1969 for Monnier selected by Jack Wiebers.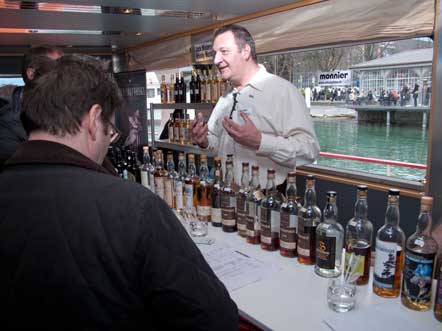 A fine selection of whiskies at Monnier.

With that, it was time to take some final photographs from the fair and to go home, as the number of visitor steadily increased and made my progression between the different booths rather difficult.
Since I was going to fly the next morning towards Scotland, my stay at the Whisky Schiff was shorter than the previous editions. Never the less, it was a very good start, with excellent tastings and the opportunity to meet and to chat with my Swiss whisky friends (Scorpio, Dieb, Willy, Philipp and others), as well as with the different members of the trade.
Whisky is fun, but it taste better when you can share it with friends.
Lucerne, see you next year!

Slainte

Patrick
www.whisky-news.com ©31 March 2011