Whisky-news.com is a fully independent whisky website created in 2006 by a whisky enthusiast for the whisky enthusiasts, from novice to expert, with a huge collection of tasting notes, distillery presentations, whisky fair reports in Europe, reports about whisky from all over the world, and many more. It is also the leading site for whisky literature review. Updated almost daily and free from financial support from any whisky company.
Whisky Schiff Luzern 24-26 March 2022
https://whiskyschiff-luzern.ch/
For the photo gallery, please click here
Whisky Schiff Luzern March 24-26, 2022
With the spring coming, it is also time for my annual trip to the Whisky Schiff Luzern, my preferred Swiss whisky event. Not only you can enjoy a nice weather and a beautiful view over the lake and the Swiss alps, but also a very wide range of whiskies, recent and old ones. In other terms, a whisky festival with a selection of whiskies that should satisfy any whisky enthusiast, novice like expert.
The ships were moved of 200m compared to the previous edition. The online registration allowed a quick access to the ships, with the entrance fee of 22 CHF instead of 25 CHF on site.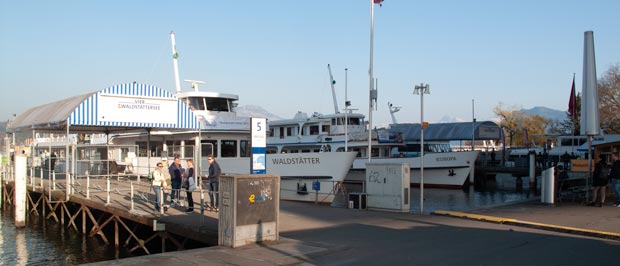 two of the 3 ships where the event took place
My fist stop was at the stand of Catawiki, the Dutch based whisky auction company, where I could enjoy an excellent mellow, rich, Burberry Pure Malt distilled in 1965, with lots of dried fruits, leather, round spices and a light smokiness. While Pure Malt is engraved on the bottle, the leaflet around the neck specified single malt, but not the distillery of production. In any case, an excellent old style of sherry whisky. The next one was the Ballindalloch Castle private stock made from one cask of 1968 and 1971 malt from an unnamed distillery. The whisky was complex, mellow, very fruity, moderately spicy and aromatic, slightly grassy, with lovely fruity flavours (including quince, sultanas, orange and berries) and nice round aromatic flavours. Dangerously drinkable. The following whisky was most likely a cask sample, simply labelled Weaverly Vintners 21 YO. The whisky was close in style to the Burberry's one, but spicier and slightly heavier. As this company worked closely with Macallan, it would not be surprising if this was a single malt from that distillery. The following dram was a very sought after Bourbon, an old Pappy Van Winkle 20 YO. An intense, round, rather tannic and slightly bitter whiskey, on orange peel, cinnamon, nutmeg and some dried fruits. To tannic to my liking. The Cooley Single Malt 23 YO Peated from Cadenhead was a prime example from that distillery, with a very nice round, mellow, and aromatic peat smoke combined with lovely fruity flavours of berries (gooseberries, some cloudberries and blackcurrant). This was followed by a very old original Caroni Rhum 90 Proof bottled in the 1960s. These old Caroni were a vatting of the heavy and light style of Caroni. On the nose it was particularly fruity and fresh, with some moderate phenolic and humus flavours. Fresh, intense, rather light and fruity.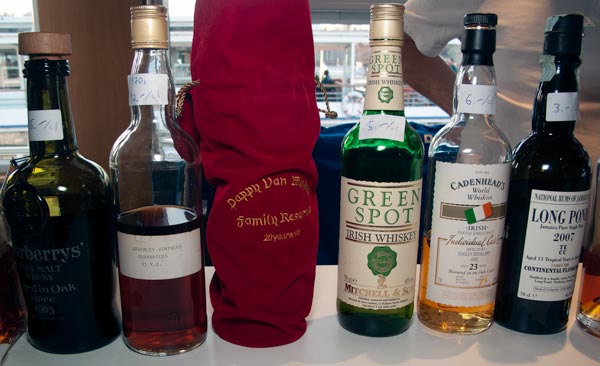 Some of the whiskies and rums at CataWiki
Ramseyer's Whisky Connection had a smaller stand than at the Swiss Whisky Experience, and I could taste their new Bruichladdich 15 YO Private Cask Jan M. Heckler, an intense, clean, moderately maritime Bruichladdich, with a touch of smoke and well-integrated oak spices.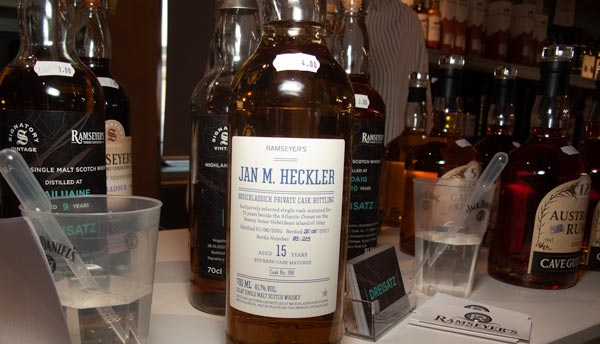 The Bruichladdich Jan M. Heckler for Ramser at Dreisatz & Ramseyer's Whisky connection
The next move was to FiGee, a whisky company based in Zurich that I discovered last year at the Hallwilersee whisky Schiff. I was kindly offered to taste the Irish Single Malt Waterfords by their brand ambassador Angelita Hynes. Since I tasted their latest products end of last year, we discussed about the ongoing and future projects of the distillery. The philosophy of Waterfords is not to produce single casks, as they want to keep focusing the brand on the terroir. In addition to the single farm products or other cuvees, they started a program of reintroduction of old Irish variants of Barley and other cereals. A very interesting project and I am curious to "taste" the result. From the independent bottler Chapter 7, I could taste a very nice, mellow, grassy and rather fruity Glen Grant 24 YO, with a very nice balance and complexity. The Cambus 33 YO was a nice grain whisky, mellow, rather spicy, on cinnamon, porridge, vanilla and some other spices. A good one. I move slightly further on the same stand to taste two expressions of the French Lorraine Whisky Rozelieures. Maxime Dupic, the son of the founder was presenting his new expressions. I skipped the two wines finished and tasted their ex-Fut de Rhum HSE, a rather young and moderately expression of that distillery, fresh and with nice light sweet flavours from the Rum cask. I enjoyed better their Fut Unique Pedro Ximenez, a more matured, richer, and peatier expression of this distillery, on dates, sultanas and other dried fruits and berries. The first was made with lightly peated malt (6 ppm) while the latter was peated to 35 ppm. Rozelieures is a French distillery producing very good whiskies and that deserve to be tasted. The farther of Maxime is focused on producing high quality whiskies and he is very demanding. While Waterfords has the notion of single farm, Rozelieures is working now on the concept of parcels. Rozelieures is a small village close to a Volcano and apparently, the flavours of the malt produced is dependent of the parcel. The malt is now grown at proximity of the distillery. This was followed by tasting the new Samaroli in company of their brand manager, Daniele Liberati.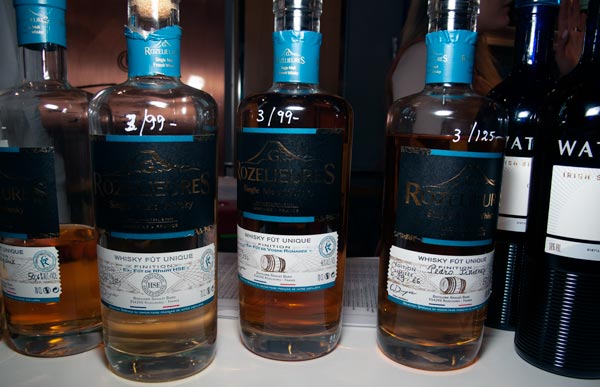 Part of the Rozelieures selection at FiGee

The Samaroli Spey 2021 was a 12 YO Linkwood, a nice fruity, grassy and moderately malt, rather smooth and pleasant to drink. The 2009 Speyside Single Malt Craigellachie was a lovely single malt, rich, intense, fruity, grassy, slightly aromatic, on gooseberries, vanilla and round spicy flavours. Very good. The 2007 Speyside malt Glen Moray shared a profile close to the link, with its fruity and rather grassy flavours, but slightly more oaky and spicy. My last Samaroli was a Bowmore 1997 24 YO Sherry cask. The nose was deliciously mellow, rather mild, maritime, rather salty, with some dry flavours, with the same flavours on the palate and a rather long, maritime, salty, moderately peated finish and a round aromatic flavours. An excellent whisky, and not the "normal" sherry type of whisky, as this was matured in an fino sherry cask. Next to the Samaroli, I tasted a few Kaiyo Japanese whiskies. Kaiyo means "ocean" in Japanese. Kaiyo is a Japanese company selling their whiskies only outside of Japanese. Their whiskies are not single malts, but blended malt. They fill new make (single malt) from 3 Japanese distilleries into Japanese Mizunara casks. After several years of maturation in Japan, the casks transit for 3 months on the sea until they reach Liverpool in UK, where they are bottled. As they are bottled in UK, they do not classify as Japanese whiskies under the new Japanese regulations. My tasting started with the black label Kaiyo 43%, a very good smooth and malty whisky, with lovely tree sap flavours, some light spices, vanilla and aromatic flavours, as you expect from a Mizunara matured whisky. The Cask Strength version was more intense, but also spicier and more oaky, with the alcohol rather present. Some water is welcomed. The Kaiyo Chestnut was fully matured in Japanese Chestnut cask. The flavour profile was markedly different from the Mizunara, with almonds, more pronounced flavours of tree sap, green- vegetal flavours and more spices. I personally enjoyed it very much, but it has a strong personality. A hate or love type of whisky. After all these tastings and discussion with Fini and the other brand managers, it was time to move to another stand.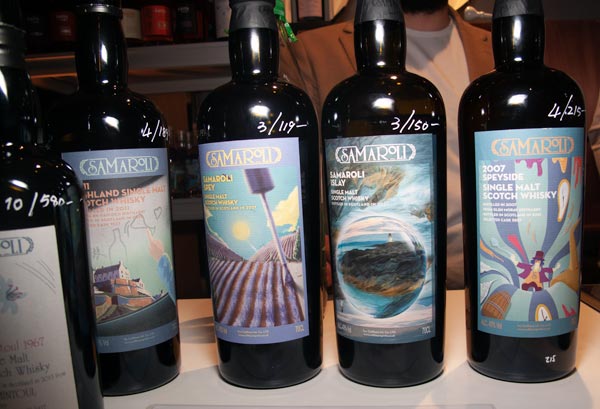 Some of the new releases of Samaroli at Figee
The next stop was at Trinkgenuss / Whisky-abo.ch and tasted my second Irish whiskey, the Clan Coola 11 YO, a blended whisk(e)y finished in ex-oloroso and peated cask. The whiskey was lovely, rich, fruity to very fruity, on ripe orchards fruits, gooseberries, sultanas, orange and some leather, with no discernible peat on the nose, but with a light peatiness developing over time on the palate. A very good one. The Clan Coola 19 YO was a rich, fruity, heavy, syrupy Irish single malt, finished in Oloroso sherry casks. The sherry was very thick, syrupy and intense, slightly too much to my liking, but the whisky was well made, complex and with lovely rich and various fruity flavours. The Scalasaig Tobermory was one my favourite whisky tasted at the event. Finished in oloroso casks, the Tobermory was very elegant, round, with sweet juicy fruity flavours, on leather, dry fruits, a slight seabrine and a remarkable balance. It tasted more like a 20 YO sherry matured Tobermory, but this whisky is only 8 years old. A real tour de force. The Scalasaig blended malt is a vatting of single malts from Bunnahabhain, Highland Park, Caol Ila and from another Island distillery with a final maturation in sherry casks. The whisky was balanced, moderately peated, slightly dry and salty, with rather intense tannins, dried fruits, cinnamon and some roasted coffee on the finish, as well as some rubber. The 43% suits well this whisky, as it gives a rather mellow side to this whisky. The Scalasaig is a brand created by an investor to generate money for funding a distillery at Scalasaig on the Isle of Colonsay.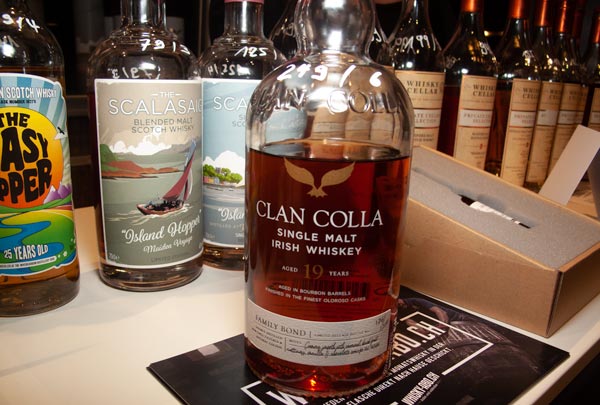 At Trinkgenuss, I could enjoy the Irish single malt Clan Colla, as well as very good whiskies Scalasaig
The following step was at Awico, where I could taste all the new releases of The Whisky Chamber, starting with the Royal Brackla 2009, a nice round, intense, floral and fruity single malt, with some nice aromatic and sweet winey flavours from the amontillado giving a good balance to some spices. Very good. The Glencadam 2011 was a heavier style of whisky, more syrupy and spicier, with less floral flavours, but also more on the sugary side from the Port barrique. The Annandale 2005 had nice oily, slightly mineral and smoky flavours mixed with vanilla and icing sugar, with oaky flavours rather pronounced. The Pog an Dragon delivered a maritime peat blast, intense, smoky and with nice medicinal flavours. These Staoisha (heavily peated Bunnahbhain) are a very good surprise and I enjoyed this one very much.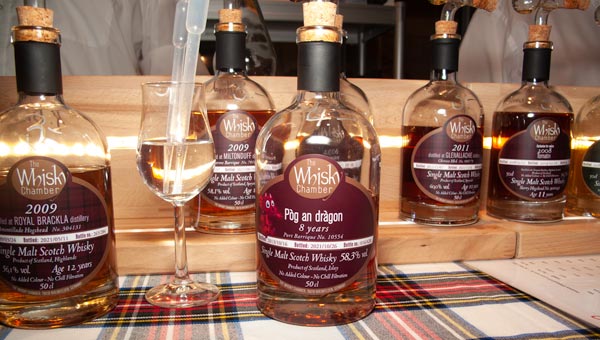 Some of The Whisky Chamber selection at Awico


At Whiskywelt.shop I tasted a very rich, thick and spicy Longmorn 13 YO Distillery Reserve, a bottling sold exclusively at the Chivas Visitor centres. The Mortlach 19 YO Hand filled was deliciously balanced and complex, spicy, on elegant aromas of leather, orange, honey, sultans, other dried fruits combined with floral and slightly malty flavours. Delicious.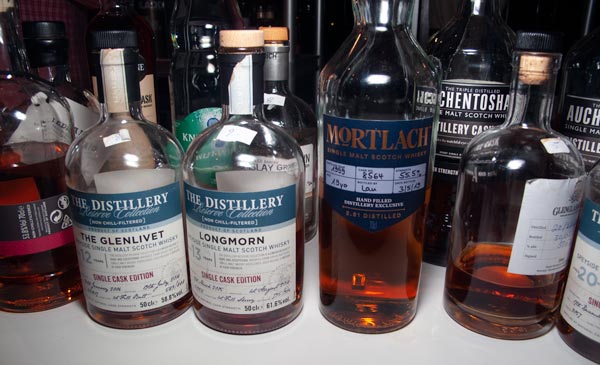 Some of Distillery bottling OB from Pesch & Lau at whiskywelt.shop
I briefly walked through the two ships and decided to give a look at the shipe docked on the other pier and saw Bettina and part of her staff from Acla da Fans taking a break at the bench, who kindly told me that they had plenty of releases. So, my next stop was decided quickly and when I reached their stand, there was indeed plenty of new releases, for duty free as well as Acla selection bottlings. I started with two single malts from Bushmills, the 2008 Jupilee Cask for the Comptoir Irlandais, a very nice rich, juicy and fruity expression of Bushmill, bold and round, matured in Juppile casks, a variety of French Oak cask. The 10 YO finished in Cuvee Casks was markedly heavier, rather winey and spicy, and less balanced as well. This was followed by the new Glen Elgin 12 YO Pop Art from Acla Selection, a nice clean, rather grassy whisky, rather smooth and floral, without any unpleasant fragrant or oaky flavours that you might find in some independent bottlings. Sansibar has renewed his collaboration with the artist Fazzino for a Glen Grant floral, round, fruity, with nice vanilla and honey flavours. The Macduff 11 YO Pop Art from Acla Selection was a very good juicy, fruity whisky, with lovely round, sweet and juicy sherry flavours on orange, dried fruits, leather as well as round grassy flavours. A very enjoyable single malt.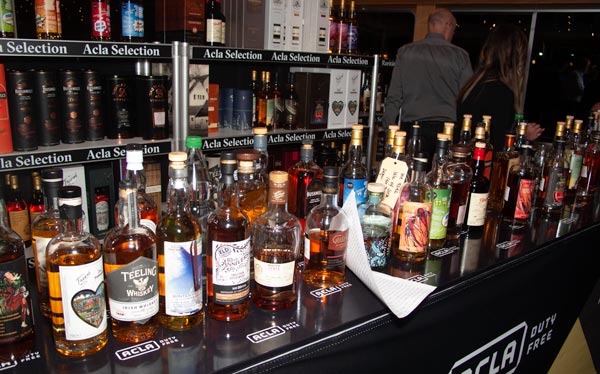 Most of the stand of Acla Selection
I always liked the Whisky Agency Private Stock and even more, when I discovered that this 1988 single malt was distilled at the Glen Garioch distillery. I had great expectations and I was not disappointed. The whisky was very complex, slightly smoky and peaty, rather austere, spicy, on candied ginger, heather, a light dirty aromatic peat smoke and some humus, with a long finish. A style of whisky that I thoroughly enjoyed. The next one was a Glen Moray 15 YO from The Whisky Cellar, which was good, but spicier and rougher than the Glen Moray from Samaroli. The Tomatin 2001 OB for the 10th Anniversary of Sansibar was a rather heavy sherry style of Tomatin, fruity, floral, round, with intense, thick and syrupy flavours of candied orange, leather, dried apricots and sultanas, as well as light rubbery flavours. Slightly too heavy sherry to my liking. The following one was a 28 YO Springbank bottled by Sansibar, rather mellow and subtle, oily, slightly peaty and smoky, with some austere and mineral flavours, rusted metal, sea brine and chalk. A gorgeous example of old style Springbank, with its "dirty" flavours giving it an unique character. The Ben Nevis 25 YO joint bottling for Liquid Treasure and Acla Selection was gorgeous. There has been many excellent bottling of aged Ben Nevis and this one stands out by its complexity, flavour intensity and balance, with a beautiful mouthfeel, honey and grassy flavours. A beautiful pick. The next whisky was the Speyside 43 YO Fazinno for Sansibar, a complex single malt, on tropical fruits, honey, some slightly sour fruits and aromatic herbs. Very good!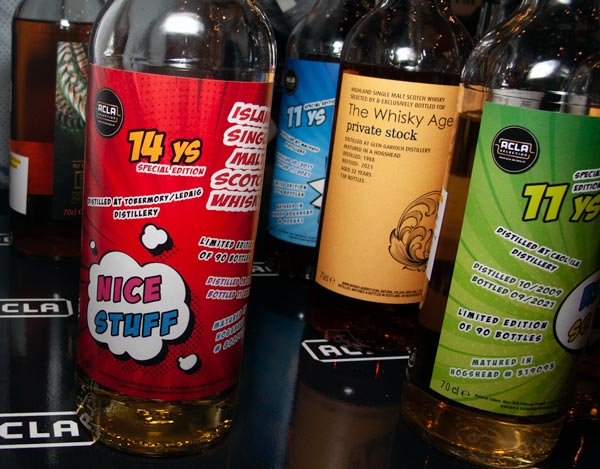 The new Pop Art labels from Acla Selection and the Glen Garioch 1988 Private stock

This was followed by a well made 30 YO Isle of Jura from Sansibar, mellow, rather salty and subtle, on malty flavours, vanilla, sea brine and a touch of maritime smoke. Less yeasty or sour that other aged Jura that I tasted recently. Before tasting the peated whiskies, I enjoy another excellent whisky, a 12 YO Yellow/Red bicolour label Clynelish 75cl 57% bottled by Gordon & MacPhail, a waxy and mineral whisky, clean, moderately spicy, with some leather and dried fruits, as well as vanilla and mustard seeds. Considering the flavour profile, this whisky probably contained Clynelish distilled around 1973-74. Very good. The Caol Ila 11 YO Pop Art Acla Selection was a good and clean Caol Ila, on maritime peat smoke, hemp rope and tar. A good rather typical Caol Ila. My final whisky at Acla was a delicious Ledaig 14 YO Pop Art Acla Selection, with a remarkably complex maritime peat smoke, iodine, sea weeds and tar. I loved it! I move then quickly up to see what was on the upper deck and notice Pascal with the C. Dully Selection at House of Single malt. I started with their new Burnisde 24 YO, a Balvenie tea spooned with Glenfiddich, a very mellow, round and fruity whisky, with some dried fruits and a fair dose of heather honey. Very good. Finally, just before the event was closing down for the day, I tasted the Bimber Virgin oak bottled by C. Dully, the first independent bottling of Bimber. The combination of the juicy oak spices from the cask with some oily, spicy and floral flavours from the spirit worked very well together in this whisky remarkably complex for a 4 years old one. They have started a collaboration with the Holyrood distillery that will be producing some whisky for them according to their specifications. I am curious to see the end result!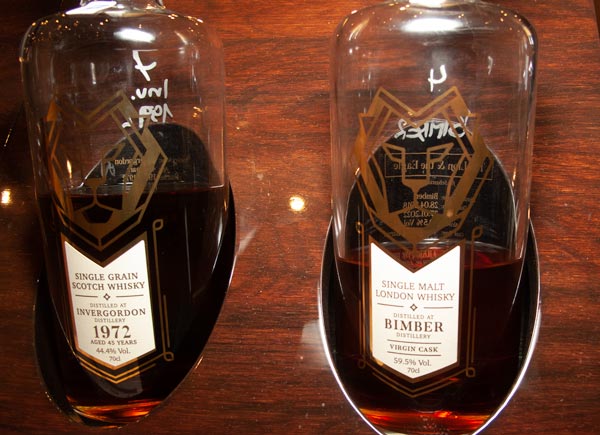 A very good Bimber from C. Dully Selection at House of Single Malt
After 6 hours spent on the ships, it was time to take the train home. It has been a great day, tasting a very large number of good whiskies in a delightful ambiance. As it was Thursday, the attendance was very low, thus allowing to discuss with the people working behind the stands. In addition, all the bottles were still available. My only disappointment was that I managed to visit approximately half of the retailers!
See you next year!
P. Brossard, whisky-news.com©2022