Whisky-news.com is a fully independent whisky website created in 2006 by a whisky enthusiast for the whisky enthusiasts, from novice to expert, with a huge collection of tasting notes, distillery presentations, whisky fair reports in Europe, reports about whisky from all over the world, and many more. It is also the leading site for whisky literature review. Updated almost daily and free from financial support from any whisky company.
Limburg Whisky Fair, 22-23 April 2017, Limburg an der Lahn, Germany
For the photo gallery, click here
General remark: The tasting notes described below were my impression taken during the fair and will tasted again in normal conditions.
End of April is the time for one of most awaited whisky event of the year. Over the years, this whisky festival has expanded its fame outside of Europe and a fair number of Japanese, Taiwanese, Chinese and Singaporeans can be met there, in addition to the Swedes, Norwegian, Swiss, Dutch and other Europeans.
The price remained the same, 10 euros including a Glass. Since last year, there is now the possibility to print online the ticket without additional costs, which facilitate the admission process. As almost everyone brings the ticket with him or her, there are no more separate entries for the ticket holders and the others.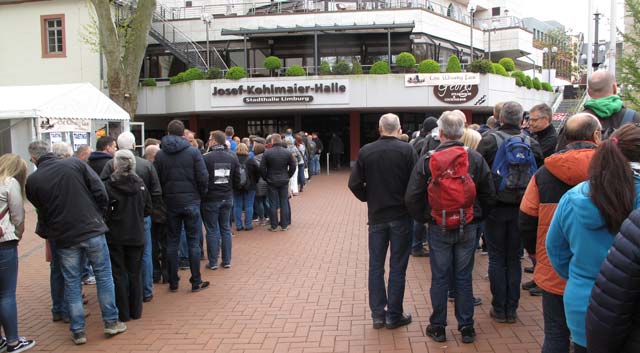 The Whisky Fair is very popular and by chance, it was not raining!
This year, I decided to travel to Limburg on Friday in order to enjoy a supper with my Malt Maniacs fellows and their friends. Every time I attended the whisky fair, there were some delays with the train, and instead of 23 minutes to change of platform, I only had 4 minutes. After a 3 min rush, I managed to catch my train on time and arrived to Limburg almost on time for the dinner. The dinner was pleasant and I was not able to taste all the 20+ bottles laying on the table during this evening. Some of my favourites were an Exceptional Single Cask of Aberfeldy OB sherry matured for China, with a final maturation in an ex-Marsala casks and Invergordon 1973 43 YO bottled by The Whisky Agency for Formosa (Taiwan). There was also an interesting Clynelish matured in an ex-Lagavulin Cask and a very young (14 YO) Port Ellen. Thank you Keith for the organisation and all the attendees for this nice time and our numerous discussions.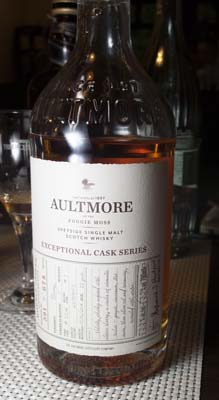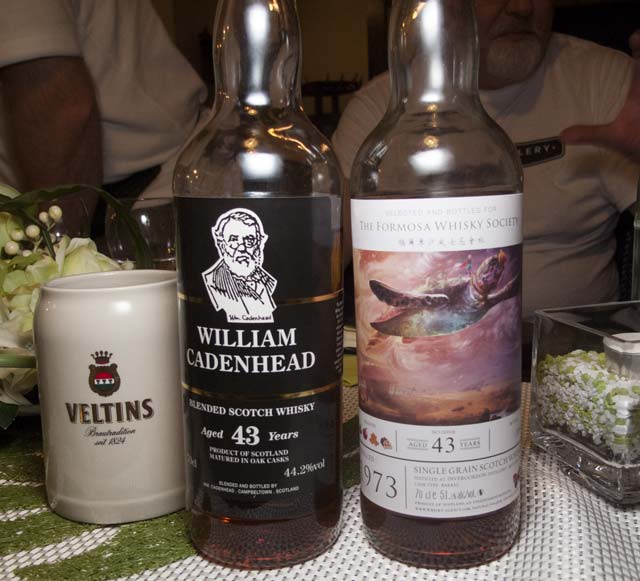 Some bottles of the warm-up party!
In the next morning, I met a few whisky friends for talking about whisky, before joining the whisky fair.
We arrived approximately 5 minutes before the opening and the queue was already impressive. After about 20 minutes of waiting time, I managed to get inside and made my first stop by the Diageo stand where I taste the new Cambus 40 YO Special Release 2016, a well matured whisky, rather intense and spicy.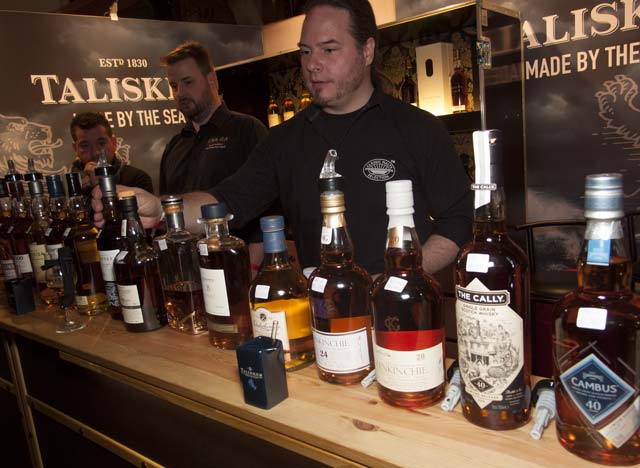 My first tasting; The Cambus 40 YO still sealed before my stop.
At the combined stand of Giovanni and Ilie on the main stage, I started with Lochindaal Single Islay Malt, with its retro label. The content was intense, oaky and slightly maritime. A quite recent Bruichladdich. The Dufftown 8 YO 80 Proof OB was an old style Dufftown, quite "dirty", smoky and slightly austere. Good, but not as peaty or elegant as the old Dufftown 8 YO with a driven cork, an earlier version. The Strathisla 10 YO 43% Chivas Brother was very elegant, light, rather complex, and slightly smoky and without strong aromatic flavours that you might taste in some old Strathisla. The next one was a floral and rather nutty Justerini 20 YO Malt Scotch Whisky Decanter, with a light sherry influence, that reminds me of some old Knockando. Not sure if this was a single malt or a blended malt, as the front label was ambiguous. The North Port 15 YO 66.1% from Sestante was one of the finest North Port I could taste, with an elegant, light, fruity and smooth sherry influence. My last one there was an old Glenlivet 20 YO OB 45.7% imported by Baretto, malty, slightly floral, spicy and smoky, with a sweet, mellow and smooth sherry influence on orange and tangerines.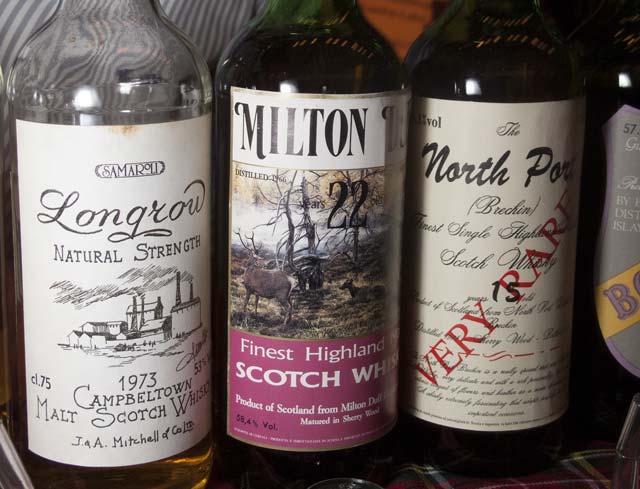 A very good North Port at the stand of Ilie and Giovanni

At Sansibar, the front part was particularly busy and I pushed to reach the back of the stand to sample two rare 15 YO Port Ellen 1969 bottled by Gordon & MacPhail. While almost all Connoisseurs choice are bottled at 40%, these two were bottled at cask strength. I do not know where Jens found these two bottles, but well done. I also took the opportunity to buy a sample of the Caol Ila 1968 58.5% from Gordon & MacPhail.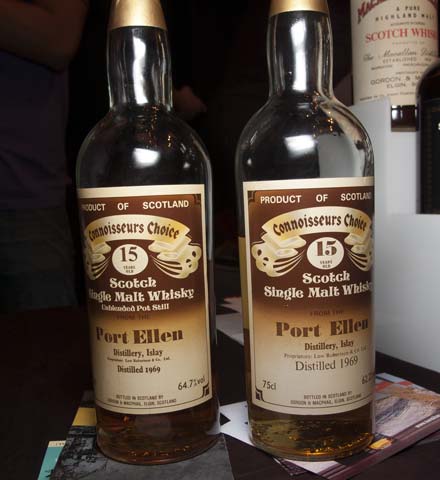 who can resist at these twins?
At another stand with a large selection of Ardbeg and Signatory, there was a very good, intense, peaty and slightly meaty sherried Laphroaig 2005 Cask Strength bottled this year.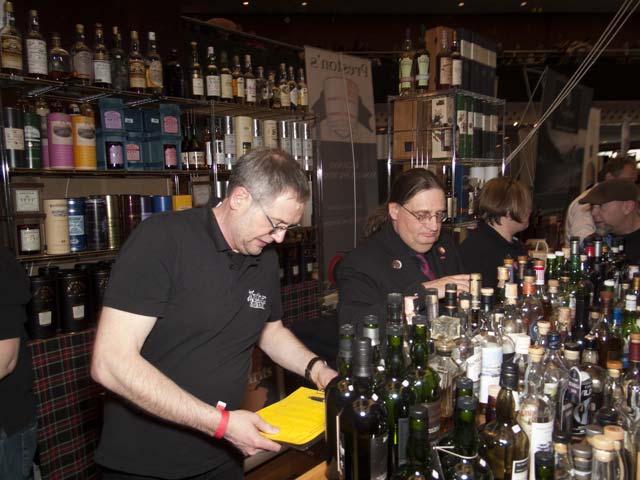 The stand with the nice Ledaig. Notice the bottles on the top shelf!
My next move was at the Whisky Agency stand, where I spent at least 2 hours, discussing and tasting very fine whiskies with Patrick, Enrico, KC Fan, Emma and Hideo. We started with an excellent clean, intense, rather peaty and maritime Springbank 12 YO OB 57% Black Label, followed by an old 18 YO Bowmore Cadenhead's Dumpy, a 25 YO YO Frank McHardy Springbank, a 12 YO Clynelish OB 56.9% Short Cap, a Fine Champagne distilled in 1848 and bottled in 1933, an old Talisker 8 YO OB from the 1970s, a Rosebank 12 YO 1980 sherry by Kingsbury and closed with a few drops of Highland Park bottled in the 1920s. I might have missed a few. Thank you very much Enrico, Hideo, KC Fan and Patrick!!!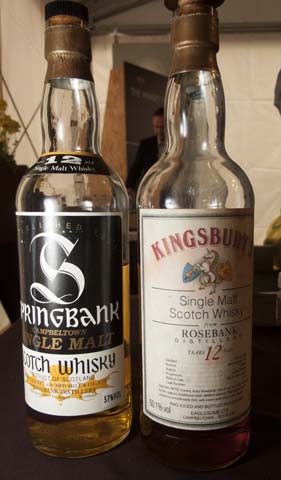 Some bottles "off from the festival" brought and shared between whisky friends
As I forgot most of my cash at the Hotel, I had to leave the fair. However, on my out, I had to stop by my Swiss friends Bernhard, Lukas, Philip and Co, the "whisky kitty", where I tasted a Cadenhead's Islay Malt 9 YO Canongate reserve, a blended malt of under proof Ardbeg from the 1960 vatted with some 9 YO Caol Ila. Thank you the Burlet! Back with more cash, I returned to the Whisky Agency stand, and more specifically to the corner, where Angus had an impressive display of early bottlings of the Scotch Malt Whisky Society, including two Laphroaig from the 1970s (29.3 and 29.7), a Bunnahabhain 1965 (10.5) and an Ardbeg 1974. My last dram there was a very intense and peaty Caol Ila 1974 21 YO from Cadenhead's. Talking later on with the Swiss Mafia (Christian, Pascal and co.), it seemed I missed to taste the new and excellent Irish single malt 1990 from the Whisky Agency.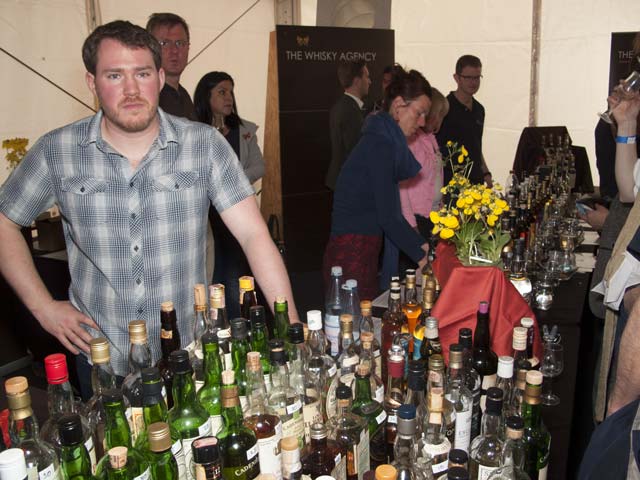 Too many temptations around The Whisky Agency stand
At Whisky Antique, most of the opened bottles were familiar to me, but I could resist tasting the Glenlivet 34 YO Special export bottled in 1974 for the 150th Anniversary of the distillery. A very good, mellow and complex Glenlivet, and as expected from a whisky distilled in 1939 or 1940, it was rather peaty.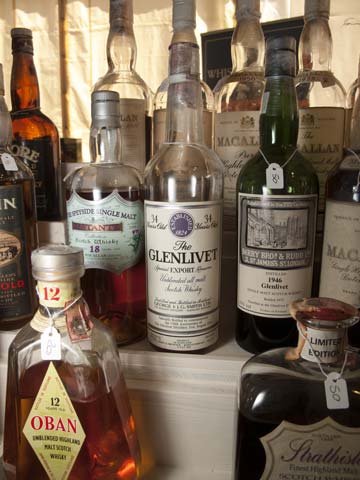 An excellent Glenlivet by Whisky Antique
I move left to visit the stand of Diego, Lions whisky. Having just finished to read the excellent book of Charles McLean "The Famous Grouse", my attention was caught by an old bottle of Matthew Cloag, which looked like an old Famous Grouse from the 1930s. Looking closely at the label, it was written in small "Rosebank 1923 20 UP". As Diego suspected it was a fake, the price was very soft: 10 euros for 2 cl. The whisky inside was rather weak, probably around 30% abv, with a short finish, but the whisky was very good, smooth and floral, with an elegant sweet and fruity influence. Fake or not? Difficult to assess, but worthy of a try. The T.W. Palmer Finest Scotch Whisky Guaranteed 14 YO is probably a blended whisky bottled in the 1930s. A very good and unusual blend, slightly to moderately smoky, peaty and maritime, with lots of pineapples, some cold ashes, papaya and old mineral and diesel smoke. And who can resist to an old Talisker black label 80 Proof bottled by Robert Watson: a smooth Talisker, elegant, peaty to very peaty, salty, maritime and quite peppery. Lighter than the current production, and more maritime and peaty. Lovely and definitely "Taliskerish".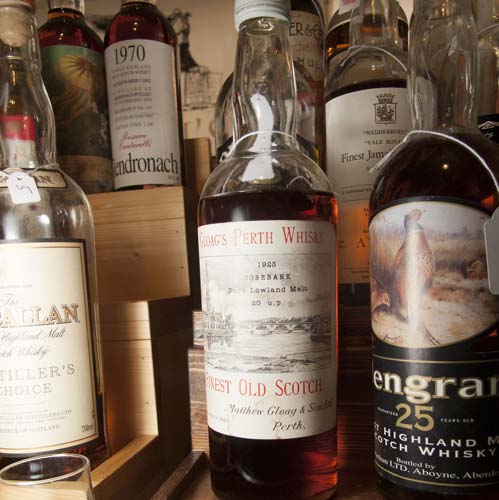 The old Rosebank by Matthew Cloag
At Duncan Taylor, I took a sample of their Clynelish 26 YO. There was a nice a large selection of Duncan Taylor at Limburg, which was welcomed since its footprint in Europe has markedly decreased over the last years.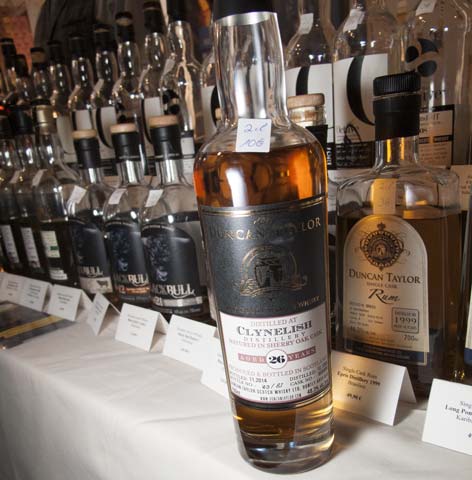 A very old Clynelish from Duncan Taylor
The Glen Ord maltings 25 th Anniversary Manager's Dram at whisky.auction was grassy, floral and quite spicy. A fine one. I enjoyed even better the Longmorn-Glenlivet Liqueur for the US bottled in the 1930s, an elegant, rather dry, smoky and complex Longmorn, with nice spicy flavours.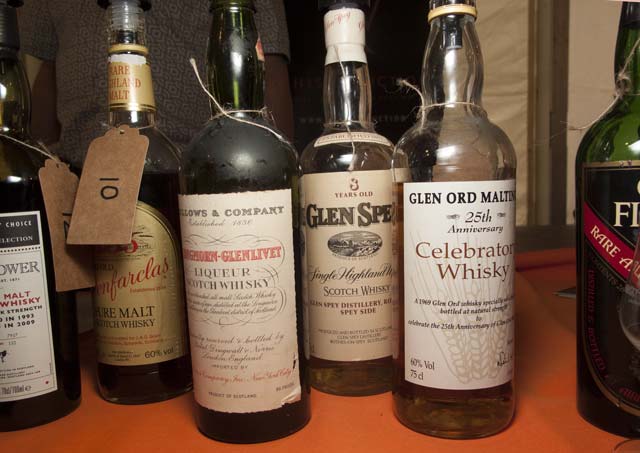 A nice Glen Ord manager's dram and an old Longmorn from the 1930s.
A newcomer is Shinanyoa, the largest whisky importer in Japan. Although they do not have shops or distributors in Europe, they will ship now to Europe, according to the information received. Their Glen Garioch 25 YO Douglas Laing was very smooth, slightly spicy and gingery. Very good. The Hanyu 1988-2014 Game for Shinanoya was very good, on rich spices, incense, some game and dried meat. The Karuizawa 1981 32 YO for Shinanoya was a fine example of Karuizawa, intense, rich, very sherried, on cocoa and some aromatic herbs. Unfortunately, the Hanyu and Karuizawa were sold out, as expected. The Speyside 1975 Fino from the Whisky Agency for ARen trading and Shinanoya was very mellow and smooth, rich, with a sweet fino influence. Not surprisingly, this one was very successful.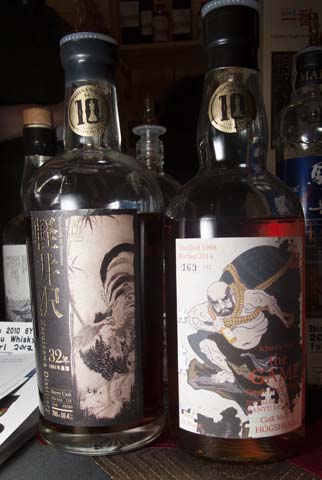 Some Japanese single malts from lost distilleries at Shinanoya
At the stand of Whiskykeller, they had a new range of "Lords of …" single malts. The Lord of Ireland was a very good Irish single malt distilled at Cooley in 2004, intense, rich and smooth, with a moderate mellow and sweet sherry influence. Sold for 99 euros, it was one of the best value whisky I tasted today. Their 1997 Laphroaig was elegant, with very little wood influence, allowing the distillate to shine and to enjoy the subtle and elegant peat smoke and maritime flavours. The Glen Garioch 1994 21 YO Cask 25 from Berry Bros and Rudd was intense, but quite rough. Although it was matured in a sherry butt, I could not taste the sherry influence.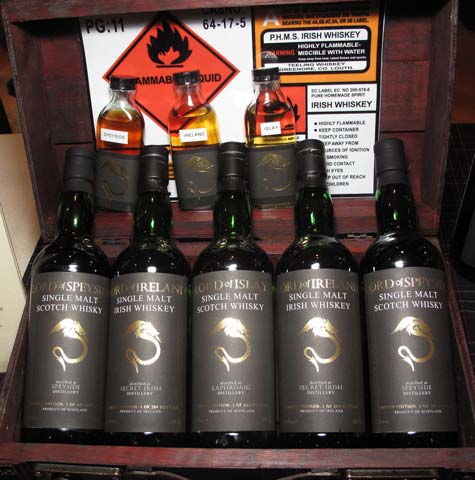 The "Lords of .." serie at Whiskykeller
On my way to the exit, I visited the stand with the Douglas Laing whiskies and I was quite interested by their Laphroaig 18 YO black label, but at 5 euros per cl, I decided to skip it. Leaving Limburg is not an easy task, as I met again Carlos on the way and he poured me an excellent glass of Longmorn 1969 for the Mash Tun. A few meters further, I encountered again the Swiss Mafia to discuss our findings and left after Christian kindly poured me an excellent glass of Longmorn 1973 fino.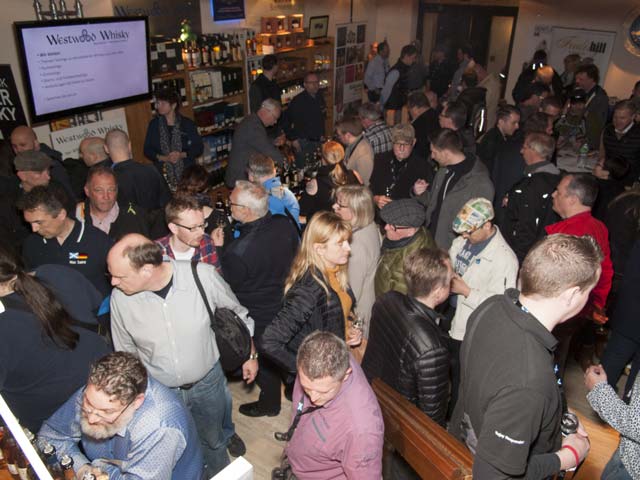 The Whisky Fair remains very popular
At 17h18, I was finally relaxing in the train after a very intensive day, without a single break. It has been probably my most enjoyable whisky fair. Although I could not find maybe as many excellent whiskies as in the past, I never met so much whisky friends, old friends and new acquaintances made via Facebook. Whisky is best enjoyed with friends and this was a proof.
See you all next years in Limburg!
From an organisational point of view, I regretted the absence of spittoons and water was in some places in limited supplies. Some lockers would be very welcomed.
P. Brossard, 22 April 2017