Distillery in Focus: Glen Spey
Region: Speyside
Name: Glen Spes. Former name: "Mills of Rothes" (until 1887) and "Millaugh"
Status: Active
Website: None
Telephone: 01340 832000
E-Mail: No
Address: High Streeet, Rothes, Morayshire, AB38 7AY.
Visitor centre: No
Owner: Diageo
Established in 1884
Stills: 2 wash and 2 spirit stills
Percentage of single malts: Negligeable
Casks used for maturation: Bourbon
Contribute(d) to the following blends: Spey Royal, J&B, Strath Spey.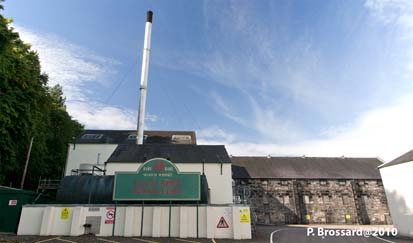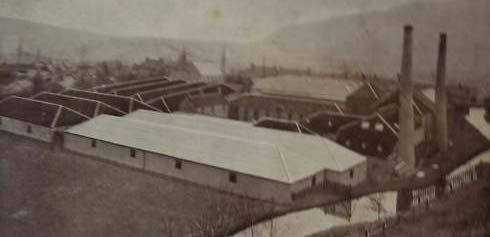 Glen Spey distillery in the 1920s
Regular Bottling:
Glen Spey 12 YO Fauna & Flora, 43 %
A 21 Glen Spey was produced in 2010 as part of the Diageo's Special release and a 1997 single cask as part of their Manager's choice. In 2009, a 12 YO Glen Spey was bottled as part of their Manager's dram collection (staff only).
For tasted whiskies, click here
---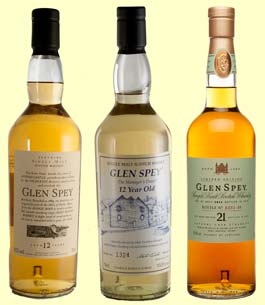 From left to right: The 12 YO Fauna & Flora, the 12 YO Manager's Dram and the Glen Spey 21 YO
---
History of the Glen Spey distillery
The distillery was established in 1878 as the Mill of Rothes. James Stuart & Co took the license in 1884. It was acquired by W & A Gilby Ltd of London in 1887, which became part International Distillery and Vintners (IDV) in 1962. The distillery was rebuild in 1970 and the number of stills extended from 2 to 4. Floor maltings operations were stopped at the same time.
The history of Glen Spey distillery is remarkable by the number of owner change (1), but also on the technical side: the spirit stills are equipped with purifiers and are heated by steam plate operating only at half the normal pressure.
Source: Distillery visit, The Making of Scotch whisky by John R. Hume & Michael S. Moss, The Whisky distilleries of Scotland and Ireland by P. Morrice, The Scotch Whisky Distilleries by Misako Udo.
Patrick Brossard © 08 Nov 2010
| | |
| --- | --- |
| Official/original bottlings (OB) | |
| Age | |
| Glen Spey 21 YO, OB, 50.4%, B: 2010. 6000 b. | Rating: 14/20 |
| | |
| Vintages | |
| | |

| | |
| --- | --- |
| Independent bottlings (IB) | |
| Cadenhead's | |
| Glen Spey 1981, 15 YO, Cadenhead's, 62.2%, B:1996. | Rating: 15/20 |
| | |
| First Editions, The | |
| Glen Spey 1991, 20 YO, The First Editions, 50.8%, B: 2012, 300 b. | Rating: 15/20 |
| | |
| Jack Wiebers World of Whisky (JWWW) | |
| Glen Spey The Passenger Ship For The Whisky Schiff, 34 YO, JWWW, 42.7%, B:2015, 95 b. | Rating: 14/20 |
| | |
| Murray McDavid | |
| Glen Spey 1974 Mission 4, 30 YO, Murray McDavid, 46%, 720 b | Rating: 14/20 |
| | |
| Whisky Hoood /Riegger's selection | |
| Glen Spey 38 YO, Whiskyhood, 48.3%, B:2019. | Rating: 16/20 |