http://www.whiskyandmusic.com/
For the photo gallery, click here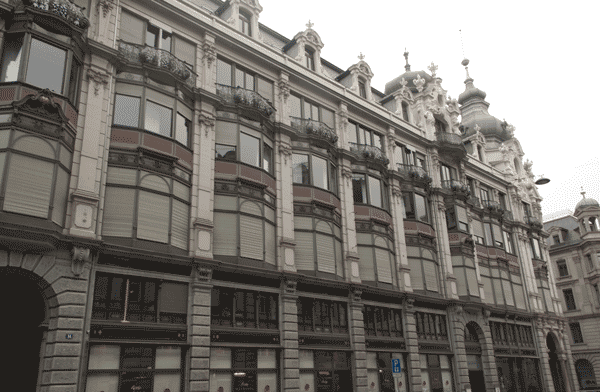 The Metropol at Zurich, at the centre of the city
Whisky & Music Festival 1st Edition, Zürich, Switzerland, 1-2 February 2020.
As reported last year (see Whiskyschiff Report), the situation on the Swiss whisky scene was rather agitated.
A singer and whisky enthusiast, Andreas Winkler, is organising since several years whisky and music tastings. Together, with several whisky retailers, they decided to create this event, combining whisky tasting and folk Celtic music, with one large hall for the whisky tasting and smaller, for the stage.
The event took place at the Metropol, a place not far from the original whisky Schiff about 25 min walking distance from the train station, if you do not want to take the tram.
The halls were smaller than expected based on the pictures found on Internet, while there were plenty of hooks to leave your jackets at the entrance.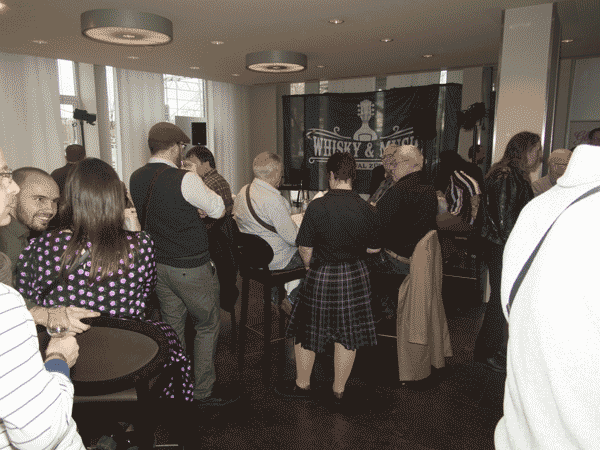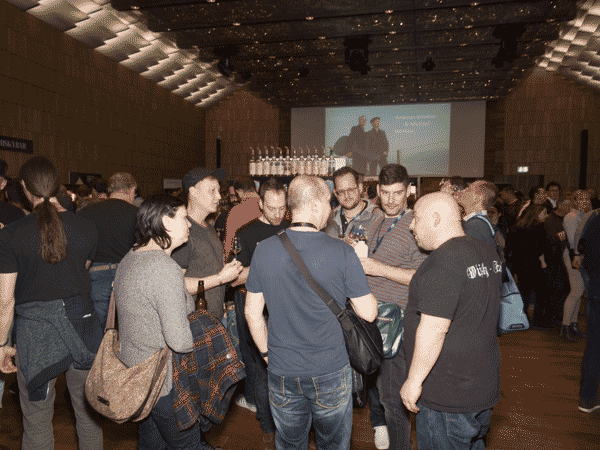 The small and main halls (top and down, respectively)
The entry was more expensive than the other Swiss whisky events (35 CHF, including glass), but all performances were included.
The Scottish singer (troubadour) Robin Laing on Stage
Unfortunately, Andreas & Michael Winkler could not perform due to voice issues, thus Robin Laing performed 4 times on Saturday, singing many of its classic ballads on a nice moderately elevated stage. The performance room was rather small, feeling already full with 20-25 persons in the room.
In the same room was a stand, selling mainly Glenfarclas, Gordon&MacPhail and Glen Moray single malts, as well as small stand selling water, beers and sandwiches.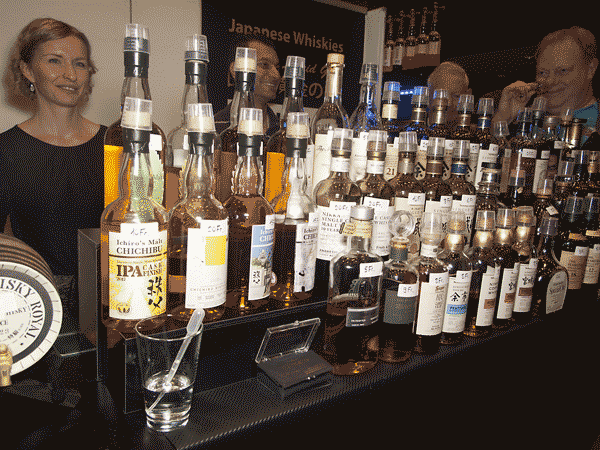 Amongst the large selection of old or rare Japanese whiskies, there was a very good single cask of Highland Park for Liquid Gold (Japanese Liquid Gold)
Talking about whisky, I started with the stand of Japanese Liquid Gold and a very good Highland Park single quarter cask for Liquid Gold, a very good, rich, complex, slightly smoky, spicy, grassy and fruity Highland Park. Slightly more peaty than the core range and with a pleasant complexity. The Yoichi 1989 Fruity and Rich Single Cask OB, was a smooth, fruity, rich, grassy and round whisky. A nice unpeated one. The Yoichi 10 YO 1990 OB was more to my liking, more peaty, intense and spicier.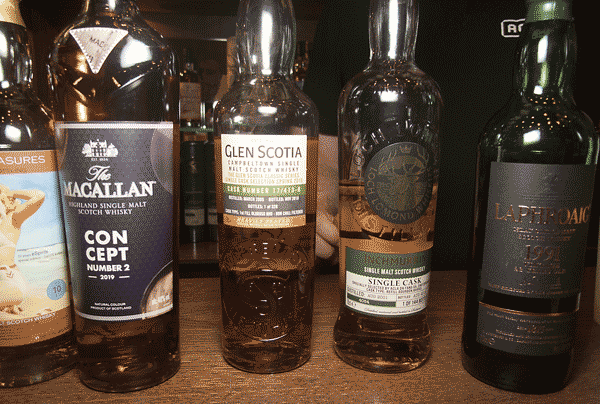 Several of the new products available at Acla Da Fans, including their very good Inchmurrin Single Cask
Moving to Acla da Fans, a fair number of new products were available. I started with the new Macallan Concept 2, which was positive for me, as it was nicely round and fruity, rather intense and with a dash of smoke. One of the nicest Macallan recently bottled at reduced strength. The Inchmurrin 2001 Single Cask OB bottled for Acla Selection was a most pleasant expression of that distillery, with nice round and full malty, grassy and slightly aromatic flavours, as well as light spicy notes and melon. Very good. The Glen Scotia Single Cask Selection 2005 Heavily Peated was a first fill Olorso sherry cask, with very round and rather thick sherry notes, on dried fruits, aromatic, a rather dry, aromatic and tarry peat smoke and some rubber. I was slightly struggling with the balance between the round sherry flavours and the dry-tarry peat smoke. The TWA 17 YO Coastal Style from the Whisky Agency was a nice round, rather grassy and slightly spicy Highland Single malt, with some grassy and malty flavours. A good one. The TWA 11 YO Smoky style was a light, smoky, peaty, medicinal and tarry Islay single malt, with a very light cask influence, a nice clean and tarry peat smoke, with some medicinal flavours.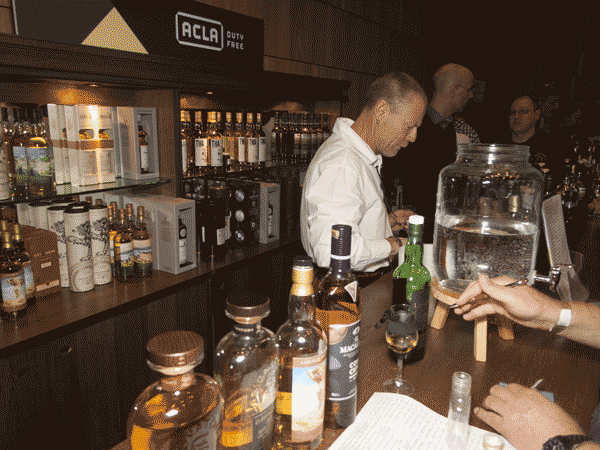 Partial view of the stand of Acla da Fans
The Unknown Highland Single Malt 25 YO Joint bottling for TWA and the Nectar was already sold out by the time I arrived. Not only the price was very good (less than 160 CHF/150 euros) the bottle, but the content as well, with nice round fruity and moderate sherry flavours, mainly on dried fruits and some orange, as well as round malty and floral well balanced flavours. My last dram there was the Octomore for Travel Retail 10.2, a very good heavily peated and rather well balanced and complex Octomore, with only a rather moderated ex-bourbon influence and nice maritime and medicinal flavours, including camphor. My preferred from the 10.1-3 series.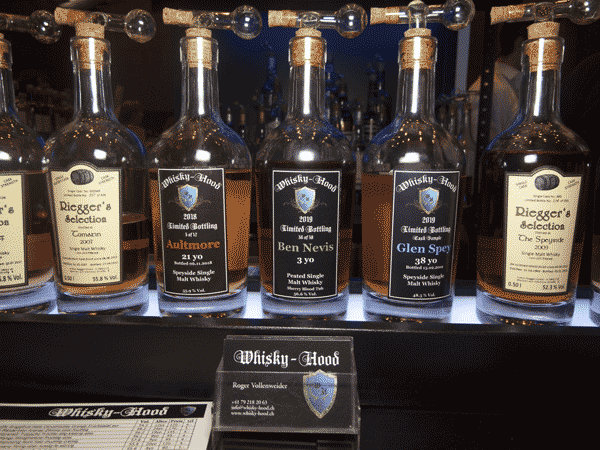 The new bottlings of Whisky Hood, including one of my favourite of the event, the 38 YO Glen Spey
Moving around the main hall, I stopped then at Whisky Hood, and I tried all the new Whisky Hood single malts, starting with an excellent, rich, fruity, complex and grassy Glen Spey 38 YO. While Glen Spey tend to be rather light and floral, this expression was surprisingly intense and rich, with a lovely intensity, on honey, honey melon and some grassy flavours. Probably my best Glen Spey so far. The Aultmore was a very good, rich, rather floral and spicy whisky, on vanilla, oak spices, as well as light sugary fruity flavours and melon. The Ben Nevis Peated was only 3 YO but matured in a small blood tub cask, giving a nice roundness, a rather intense tarry and meaty peat smoke, candied oranges, some dry tar, sultanas and dried apricots. Very nice and less oaky than expected. Very round.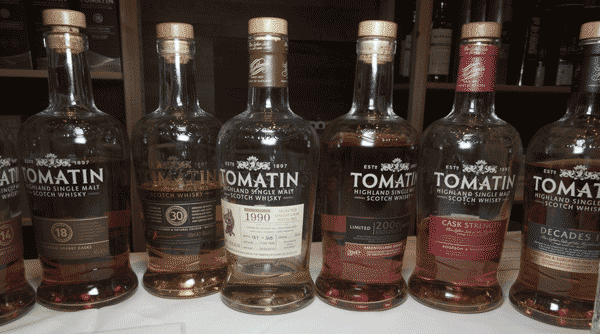 An old single cask of Tomatin exclusive for Switzerland
At Charles Hofer, there was a rather large selection of Penderyn, Arran, Glengoyne and Kurayoshi whiskies, but I opted for the 1990 Tomatin Single Cask for Charles Hofer, a whisky with a nice subtle and rich nose, but rather woody on the palate and in the finish. The wood was too loud to my liking and the flavours slightly too thin. Curious about the Mastui single malts distilled at the Kurayoshi, I started to nose the 3 of them, the Sakura (cherry and not sherry! Matured), the Mizunara and The Peated. The Sakura smelled like a very young fragrant single malt, on artificial candy flavours), while the Mizunara combined fragrant, oaky, spicy and slightly pneumatic flavours. I opted finally for the Peated one, combining new make-like flavours, with feints, pneumatic flavours (i.e., the aromas coming out of a tyre when you push the valve), some dry peat smoke and other foul flavours. One of the worse single malt that I have tried for a long time.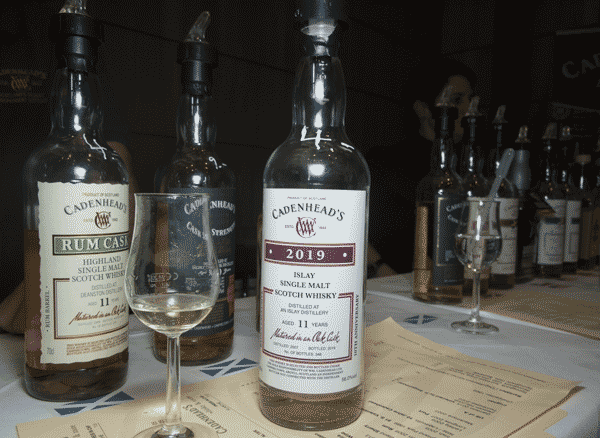 An Islay Single Malt exclusive for Switzerland from Cadenhead's
At Cadenhead's, I tried a nice round, mellow, slightly floral, grassy and aromatic 1989 30 YO Cadenhead's, with some heather honey flavours and dried fruits. Nicely balanced, although not very intense. I tasted then the Baden Cadenhead's Exclusive, an 11 YO Islay Single Malt distilled at Lagavulin distillery.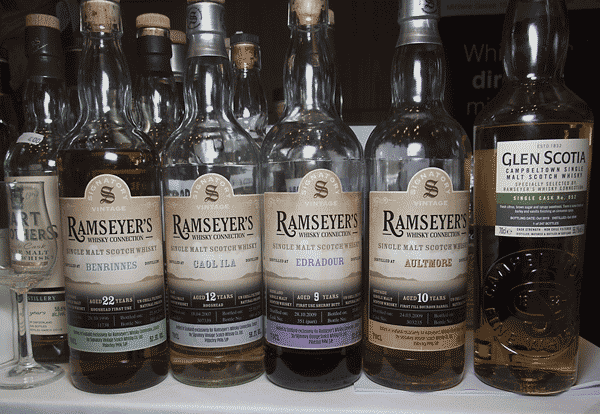 All the new and very good Ramseyer's Whisky Connection Exclusives. A very nice selection, consistantly (very) good and with different styles.
Markus Ramseyer has been very busy lately, as not less than 5 exclusive bottlings for his shop in Zurich. His Glen Scotia OB single cask 2009 was a lovely oily and grassy Glen Scotia, rather bold, with nice refreshing flavours of menthol and eucalyptus in the finish. Very good and surprisingly mellow and complex for its age. The other exclusives were bottled by Signatory. The Aultmore 10 YO was a very good, rich, sweet, fruity and lightly floral single malt, on lychees, honey, some melon and round floral flavours. Very elegant with its light sweet and fresh fruity flavours. The Edradour 9 YO from a first "use" sherry butt, was a very round floral single malt, clean, with very round fruity flavours of orange, cinnamon, lots of dried fruity, some toffee and dried meat. A very good round and clean Edradour, with a nicely round mouth feel. The Benrinnes 22 YO was mellow to very mellow, floral, bold, on soft spices, round floral and malty flavours, with a spicier finish and some grassy flavours. Nicely made. The Caol Ila 12 YO was a clean, peaty, maritime, rather intense single malt, on peat smoke, seaweeds, hemp rope, some light medicinal flavours and only a light vanilla flavours. A very good clean and peaty Caol Ila, that will not disappointed any Islay fans.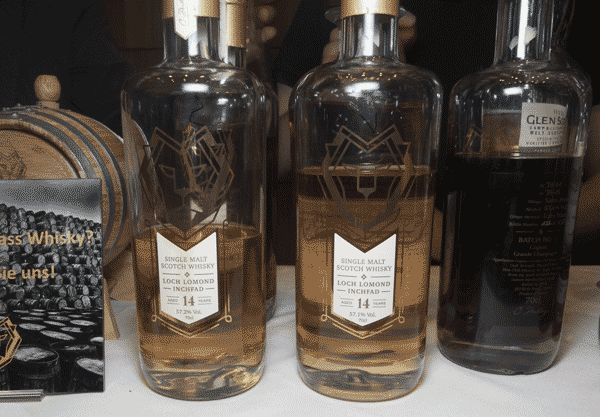 The two very good peated Inchfad distilled at Loch Lomond distillery by Christian Dully Selection.
Christian Dully has bottled two expressions of peated Loch Lomond, a 14 YO Inchfad single cask and a 14 YO Inchfad vatted (from 3 different casks). The single cask was a complex heavily peated single malt, moderately malty and aromatic, well balanced, with a nice aromatic peaty smoke, some light meaty, tarry flavours and tar. A whisky that I enjoyed very much, as the heavy peated flavours were rather aromatic, slightly meaty, as you can taste in some old Highland single malts, and a nice mouth feel, without being dry or maritime as an Islay single malt. Very good. The vatted was closed in taste, although slightly bolder and rounder. Of the same high quality.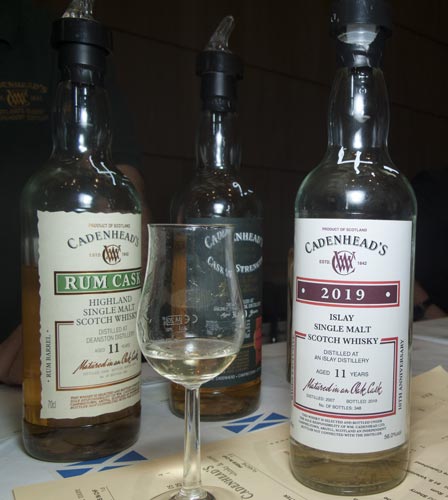 The Islay Single Malt for Cadenhead's Baden
At Cadenhead's, I tasted the very round and mellow Highland Park 30 YO, with gentle honey and smoky flavours. I enjoyed better the 11 YO Islay Single malt exclusives for Baden, a nice clean, smoky, and maritime Islay single malt distilled at Lagavulin, with a light cask influence and a very good intensity.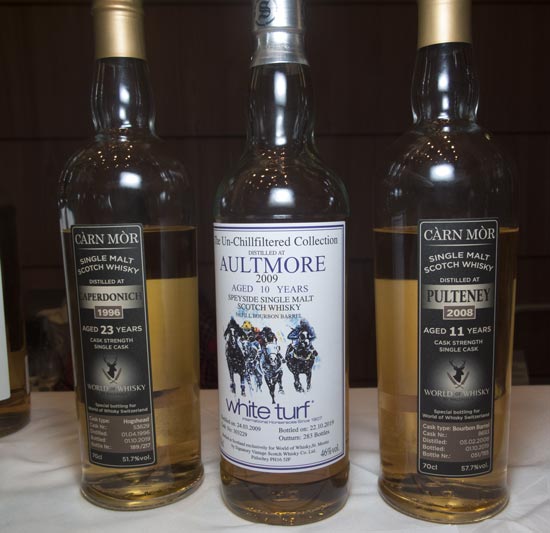 The World of whisky exclusives, including a delicious Old Pulteney from Carn Mor
The last stand I visited was World of Whisky, starting with the World of Whisky exclusives. The 11 YO Old Pulteney Carn Mor was excellent, round, very well balanced, with light salty flavours, vanilla, some almonds and round fruity flavours. Harmonious and nicely complex. The 23 YO Caperdonich Carn Mor was a rather intense and spicy whisky, slightly floral and smoky, with moderate oaky flavours.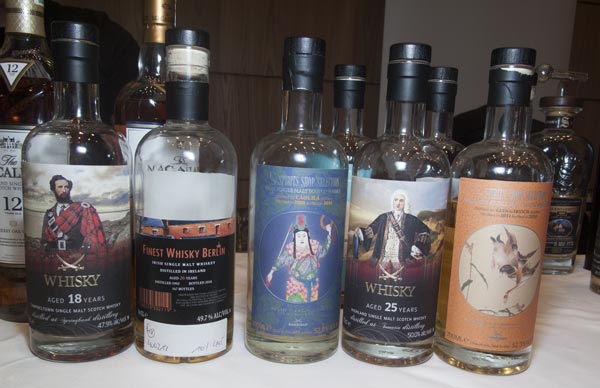 Most of the Sansibar selection at World of Whisky
It was then followed by a flight of Sansibar single malts. The Glen Garioch 2011 for Spirits Shop selection was fresh, slightly juicy, on nice ginger and malty flavours, as well as orchards fruits. The 1992 Irish Single Malt Whiskey bottled for finest whisky berlin had a very nice fruity nose, with bold malty flavours, some blackcurrant, light grassy and spicy flavours, and more oaky on the finish. A very nice old Irish single malt. The Tomatin 25 YO was a nicely mellow whisky, rich, spicy, on round floral flavours, soft spices and dried fruits. I closed my evening with the 18 YO Springbank, a very good expression from this distillery of Campbletown, rather smoky and peaty, on leather and dried sherry flavours.
There were other stands, that I skipped, as I already tasted most of their selection during last end of years events.
It was then time to take the train home, after having spent several hours in this lovey whisky & music event. I like the concept very well, and pleased to see a different population from the other whisky Schiff events. The central location of the event is very convenient, and plenty of water was available. There were also several spittoons available and the queue at the entrance was short. The atmosphere was every enjoyable and there was a very good attendance. At around 5-6 PM it was getting already very crowded and difficult to move between the stands. I hope that they will reconvene the event next year, why not, in a larger location?
Patrick, 02 February 2020