Whisky, Collectors and collectibles,
"Collector: a person who collects things of a specified type, professionally or as a hobby" Oxford Dictionary
Introduction
Whisky, like any other goods, is subject to collection. This article provides some tips and the personal opinion of the author on this topic.
Value of collections
With the prices of whiskies going up and the rarefaction of the old whiskies (i.e., single malts distilled or bottled before the 1980s or the blends bottled before the 1970s), valueé of most collections are currently increasing. The current situation is not indicative of the mid-long term and the value of whisky collections might eventually decrease as it happened to the stamps collections over the last 20-30 years. Some bottles are also more collectable than others. The Bells decanter used to be fashionable, but nowadays, you might have problems selling them at above their original retailing price. Currently, the Islay whiskies are highly fashionable, but if the fashion would shift, for instance, towards the big the sherried Speyside whiskies (e.g., Glen Grant, Glenlivet or Strathisla) as 20 years ago, prices of Islay whiskies might significantly decrease.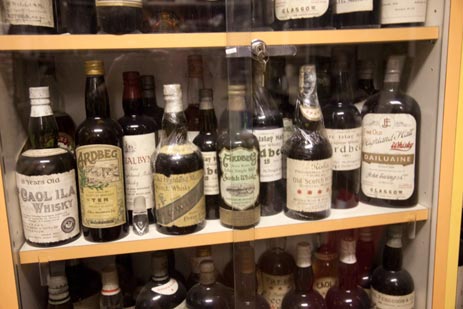 A whisky collection somewhere in Northern Italy: old single malt whiskies from the late 18th and early 19th century.
The value of collected objects depends on the normal economic situation of the offer and the demand. If the interest in whiskies would decrease, then prices would go down. The good thing with whisky is that even if the value goes down, you can still enjoy its content.
The collectors
Whisky and whisky bottles have become an attractive collectible for some individuals, and the number of whisky collectors is increasing as a reflection of the increased number of whisky drinkers and the positioning of whiskies, and more specifically the single malts, as a deluxe or premium product.
Amongst the collectors, these are those who accumulate whiskies after choosing a favorite among the ones that have been tasted or for the sake of collecting and preserving the whisky heritage, and those who collect them as an investment.
The investor type:
His or her only objective is to generate the maximum profit over a short to long period. Some invest in whisky as a retirement fund, while others are looking for a short-term profit (e.g., antique whisky dealers). The latter are generally professionals' dealers, looking for old whiskies at low prices and reselling them to their clients at the highest possible price. This requires a good network of suppliers and clients, as well some important financial assets. This will not be further discussed, since highly specialized and secretive.
The former are looking for alternative solutions to make long to mid-term profits. Since the interests on bank accounts are so low, some people are looking for more profitable solutions, such as purchasing whisky collectibles.
This could indeed be profitable, but more risky, since the value of whisky collectibles can rise up over time, not every one of them does so, and some even tend to get lowered in price. The law of supply and demand mostly dictates the success of these investments. If you have a good in depth knowledge of the "collectible" whisky market, this might be successful. I have also seen some "wannabe collectors" with deep pockets coming to whisky shops and asking sales staff to make a selection of whiskies that ought to increase in value over the next 10-15 years. If you are not interested in investing in whisky only from a financial perspective, be aware of the risks.
Speculators:
In the investor type, there is also the "false collectors", buying highly wanted and limited whiskies at their days of release with the objective of selling them a couple of days, weeks or months afterwards to make quick money (a fashionable sport with the Feis Ile, for instance and more recently with the Macallan for William and Kate's royal wedding).
The hobby collector:
This is probably the most common type of collectors and the "real" ones. These enthusiasts collect whisky as a hobby in order to preserve some pieces of history, from a distillery or a region, for themselves or for the future generations, without (or limited) financial considerations.
<![if !vml]><![endif]>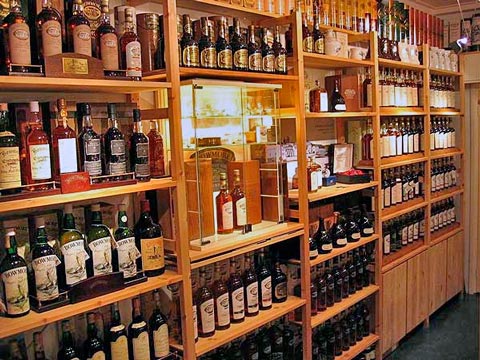 A part of the Hans Sommer's Bowmore whisky collection before its sale to Morrison Bowmore.
Whisky collections
Collecting should be a passion and guided by personal considerations. Some might wish to acquire one bottle from each existing distillery, some prefer to focus on one region (e.g., Islay), a distillery (e.g., Macallan, Springbank or Bowmore), on lost distilleries, whiskies distilled during a given period (e.g., WWII or prior to 1960), a vintage, series (e.g., Rare Malts or Fauna & Flora), etc.
Building your collection
Unless you are only collecting whiskies that you have tasted, here are some general tips before you start building your collection:
<![if !supportLists]> 1. <![endif]> Do not get into financial difficulties in order to acquire your whisky.
<![if !supportLists]> 2. <![endif]> Allocate a budget for it and inform your partner.
<![if !supportLists]> 3. <![endif]> Ensure that you always have readily available budget in case of immediate opportunities. Sellers do not wait and first come first serve is the rule.
<![if !supportLists]> 4. <![endif]> Define the strategy/objective of your collection and try to stick to it.
<![if !supportLists]> 5. <![endif]> Do not buy anything at any price. There will be often a second chance to find again a similar bottle.
<![if !supportLists]> 6. <![endif]> Be aware of fakes. For very old bottles, it is preferable to work with renowned retailers (for an non-exhaustive list, consult: http://www.whisky-news.com/En/other.html and http://www.whisky-news.com/En/retailer.html)
<![if !supportLists]> 7. <![endif]> Take your time to build your collection.
<![if !supportLists]> 8. <![endif]> Read as much as you can, consult websites and forums.
<![if !supportLists]> 9. <![endif]> Do not hesitate to ask for advices, and in case of doubt, do not buy.
<![if !supportLists]> 10. <![endif]> Store you bottles in an upright position, preferably protected from light. You might consider wrapping the cap with Parafilm to reduce evaporation.
<![if !supportLists]> 11. <![endif]> If your collection is important, consider a secured storage area and contract insurance.
<![if !supportLists]> 12. <![endif]> Maintain an up to date list of your collection to avoid buying bottles that you already own.
<![if !supportLists]> 13. <![endif]> Keep your receipts and invoice to document the history of your bottles.
<![if !supportLists]> 14. <![endif]> Privilege original bottling over independent bottling.
<![if !supportLists]> 15. <![endif]> Do not let other people deciding for you what to buy.
<![if !supportLists]> 16. <![endif]> Learn from your mistakes.
<![if !supportLists]> 17. <![endif]> Enjoy and have fun with your bottles. Do not hesitate to open a few of them here and then.
Which whiskies are collectible?
A beginner's recommendation:
<![if !supportLists]> · <![endif]> Unless you have very deep pockets, try to focus on affordable distilleries producing good quality spirits or recently (re-) opened distilleries such as Kilchoman, Glenglassaugh or Benromach.
<![if !supportLists]> · <![endif]> Try to buy first only whiskies that you enjoy.
<![if !supportLists]> · <![endif]> Try not to buy whiskies over 300 euros/$ (or £250).
<![if !supportLists]> · <![endif]> Do not listen to arguments of retailers such as" This is very limited edition from a single cask", "This is an unique opportunity", etc.
<![if !supportLists]> · <![endif]> If possible, look for cask strength whiskies.
Not all whiskies are collectible: a Johnnie Walker Red label or Glenfiddich Special Reserve will unlikely gain in value over the next 20-30 years, since these bottles are mass-produced and widely available. They might taste and look good, but they will not reach a collectable status on the mid-term.
<![if !vml]><![endif]>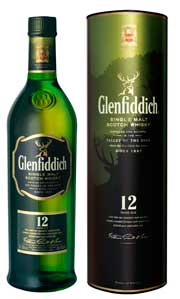 A good but not very collectable whisky: Glenfdiddich 12 Year Old
Generally, the most collectable whiskies are whiskies that have an historical value and/or received high ratings on whisky websites (e.g., www.whiskyfun.com or http://www.whisky-monitor.com), magazines (e.g., Malt Advocate or Whisky Magazine) or books (e.g., Whisky Bible).
And some recommendations from Hans Sommer published in the Scotch Whisky Review 22: "My advice would be to build a good network of collectors who help each other. Treat them fairly with fair prices and you will be treated the same way. Be happy with what you've got, don't be unhappy with what you are missing. Don't envy other people who have your missing bottles but praise them with their findings. Don't buy bottles at any price, as with a little patience you might get a better deal some time later. Buy new editions as soon as possible before they increase in value. Display your collection to have more enjoyment from it. Go to see the people at the distillery and meet other collectors in person as well as shops like Loch Fyne Whiskies".
The most collectable whiskies?
Karuizawa: This is the current blue chip in the whiskies and the only non-Scottish on my list. The 1971 and 1968 were superb whiskies, as well as the most recent 1975 and 1976 single casks. Single casks of this distillery are very sought after and selling out within a few hours. The distillery is closed, had a small production and used only golden promise barley and top quality sherry casks. All the factors contributing to a high collectability.
<![if !vml]><![endif]>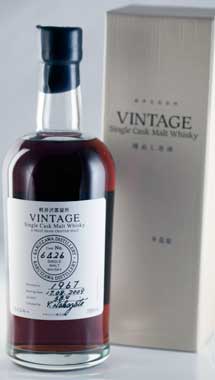 Karuizawa released some excellent expressions (here the 1967) over the years and the products are very sought after.
Ardbeg: All the Ardbeg Single Casks and regular bottles distilled until mid 1970s are very sought after by the collectors and enthusiasts. This corresponds to the period of production, when floor maltings were still in use (partially). Products were very good, but some versions from the 1960 were of lesser quality, due to some poor quality cask management. Independent bottling of this period from Signatory, Cadenhead's, Kingsbury, Douglas Laing, Samaroli and other independent bottlers are sought after too. Whiskies distilled in the 1990s and afterwards are still collectable, but their prices include a rather hefty "collectible" value. These will be also the first victims of a decrease in popularity in Islay and peated whiskies.
Ardmore: A very good distillery, not much sought after by the collectors, with the notable exception of the excellent 12 YO Centenary bottling and the very rare Ardmore 15 and 16 years old bottled a few decades ago for the Managers.
Bowmore: The fruity Bowmores from the 1960s are very sought after, as well as the Bowmores distilled in the 1950s and the famous Bowmore Sheriff. Bowmore distilled between 1970 and 1972 were more peaty and slightly less collectible. Bowmore distilled during the 1980s (the "violet" period) are probably the less collectable ones. The 1960s Bowmores from Duncan Taylor or Moon are very sought after and to a lesser extent, the Bowmores bottled by Hart Brothers.
Brora: All Broras from the peated period (1970-77), in particular the ones distilled between 1970-72. The Broras bottled by the owner as part of their Rare Malt serie are very much sought after, but the interest for the Annual Release bottling is for the time being rather limited. The Brora bottled by Douglas Laing during this period are also very collectable, as much as the original ones.
Bruichladdich: The Bruichladdichs distilled until 1973 are particularly interesting, as well as the first release of Octomore and Port Charlotte (PC5). The Bruichladdichs from Gordon & MacPhail, Jack Wiebers or Italian independent bottlers distilled in the 1960 are gaining interest.
Caol Ila: The products from the old distillery (distilled before 1974) are much sought after, as well as the Caol Ila Fauna and Flora and the rare Manager's Dram sold only to the staff.
Dalmore: The old Dalmores distilled until the early 1970s were excellent whiskies and thus collectable, even from independent bottlers.
Clynelish: The old Cylnelishes distilled in the early 1970s are getting towards a collectable status, in particular the ones bottled under the Rare Malts range. The Clynelish distilled before 1969 (i.e., from the old Clynelish distillery known as Brora) have received a huge interest over the last two years, regardless of the bottler (e.g., Cadenhead's or Signatory).
Glenfarclas: Glenfarclas captured the attention of the collectors by releasing several high quality bottling over time and remaining true to sherry casks. The sales of the Family Cask bottlings reflects the cult status achieved by the distillery. The independent bottlings of Glenfarclas are too numerous and thus, only the original bottlings are collectable (with a few exceptions).
GlenDronach: As for Glenfarclas, the tradition of high quality sherry cask has been maintained throughout its history. Since its purchase by the BenRiach group and the release of single casks, GlenDronach popularity and collectability has significantly increased. Few Glendronach have been bottled by independent bottlers.
Glenfiddich: Mainly known for its mass produced 12 YO Special Reserve, collectors started to be interested in Glenfiddich once the distillery started to release single casks mainly from the 1960 and 1970s. Independent bottling of Glenfiddich are very rare and becoming increasingly collectable.
Glen Garioch: The old peated Glen Garioch distilled until 1975 were very high quality whiskies that are gaining an increasing interest amongst the connoisseurs' circles.
Glen Grant: Most of the Glen Grant distilled until the early 1970s were matured in excellent sherry casks. Whiskies were often of excellent quality and still affordable.
Highland Park: Highland Park has always been a highly collectable distillery, with a very high quality standard throughout its history. Mainly official bottling are collected, since the number of independent bottling is very high and of more variable quality.
Kilchoman: The most recent distillery on Islay reached attraction from collectors since its first release, benefiting from a small production volume and from the fashion for peated whiskies.
Lagavulin: The old 12 years old 43% are very sought after, as well as the more recent 21 and 30 Years old and a the few independent bottling of Lagavulin distilled in the 1970s and 1980s (e.g., Moon or Murray McDavid).
Longmorn: The Longmorn distilled at the end of the 1960s until the mid of the 1970 were remarkable whiskies, often matured in excellent sherry casks, mainly from independent bottlers.
Macallan: Italians started to collect Macallan since the 196os and the cult for Macallan is still growing, with a large base of aficionados and collectors in Eastern Europe and Asia. Qualified by many experts (including the late Michael Jackson) as the Rolls Royce of the whiskies. The old Macallan distilled until the early 1980s in sherry casks are very sought after, but only the original bottling. Since the change in their marketing policy and the introduction of the Fine Oak range, the Macallan 100% sherried are even collectable than before.
Port Ellen: With the fashion for Islay whiskies, Port Ellen gained rapidly attention from the collectors, in particular for the Port Ellen Annual Release, Port Ellen Single Cask for the Feis Ile and the Port Ellen Maltings bottling. Although the quality is very good, the Port Ellen bottled under the Rare Malts do not yet attract too much attention, as well as most independent bottling.
Springbank: Whiskies distilled at Springbank in the 1960 and early 1970 (including Longrow) are amongst the most collectable malt whiskies. Small production, excellent quality and traditional methods contribute to preserve its reputation. Of note, the old Springbank were noticeably peatier than the current production.
Talisker: The old Talisker distilled during the 195os (OB and from Gordon MacPhail) are very rare and collectable.
Other: Although distilleries like Convalmore, Banff, Rosebank, Glenury Royal or Littlemill closed down many years, these products are not so well known by connoisseurs and thus did not attract much attention. This might change over time, but for the time being, this is rather confidential.
Where to buy and sell?
There are several options:
Either from auction houses (e.g. McTears or Bonhams), antique dealers (e.g., www.whiskyantique.com) , whisky retailers (e.g., The Whisky Exchange, Online whiskies), online auctions (e.g., E-bay or www.whiskyauction.com, for a more exhaustive list, consult http://www.whisky-news.com/En/other.html or http://www.whisky-news.com/En/retailer.html) or at Whisky Fairs such as the Whisky Fair Limburg.
Before placing a bid at auctions, please read carefully the description to avoid bidding on an empty bottle or to an item that cannot be shipped to your place of residence. If you are considering buying from a foreign seller, please remember that you might have to pay local taxes and duty on alcohol. Furthermore, at auctions, you will have to pay the seller or the buyer fees (generally, around 20% + taxes (e.g., VAT).
Note: Some buyers are scared of buying whisky bottles carrying the Italian stamp tax, since most fakes bottles are coming from Italy. Although most fake single malts are coming from Italy, fakes from other regions (e.g., Germany, The Netherlands) have been spotted.
Since Italy was the major market for single malts until the 1970s, you should expect to see a tax stamp on your old bottles, otherwise it might be a fake.
Over the last years, the number of fakes seems to have decreased.
To reduce the risks, buy from a trusted seller. Most of them will allow return in case of problems.
A little test
Here is a little test with single malts bottled between 2000 and 2004, with the retailing price at the time of their release. Try to guess which whiskies have increased in value, which ones remained stable and whose that decreased:
| | |
| --- | --- |
| Single Malt | Price |
| Ben Wyvis 1965 original bottling | £899 |
| Port Ellen 1978 2nd Annual Release 24 YO | £97.87 |
| Bowmore 1966 36 YO Duncan Taylor 43.2% | £95 |
| Ardmore 21 YO Centenary OB 43% | £349 |
| Macallan 18 YO Gran Reserva 1981 OB | €136.5 |
| North Port 1979 20 YO Rare Malts | €116.57 |
| Brora 1977 21 YO Rare Malts | €121.69 |
| Brora 1971 29 YO Old Malt Cask Douglas Laing | €126.80 |
| Highland Park 1977 Bicentenary OB | €131.91 |
| Isle of Jura 27 YO Stillman's Dram | €96.63 |
| Ardbeg 1990 OB 55% | £59 |
Results
Ben Wyvis: Although the distillery only distilled during a very short period (1965-1977) and very few casks bottled as single malt whiskies, the quality of the spirit was unremarkable and the original price included a hefty "collectable" value in its original price, therefore bottles are exchanging for slightly less than their original value. Please note that the Ben Wyvis 10 year-old bottled by Invergordon and sold for approximately £20 a decade ago is NOT a single malt from the Ben Wyvis distillery ! The same is true for the Ladyburn 8 years old.
Port Ellen: The Annual Release of Port Ellen became very quickly a collectible serie, more than the Port Ellen bottled under the Rare Malts range, with prices steadily increasing over time. The first releases sold for around £95 while the last releases sold for above £200. With the exception of the 1st Annual Release that sells now for over £500, Port Ellen Annual Releases have seen their value increased to about the retailing price of the last Annual Releases (9th and 10th).
Bowmore is one of the top collectible whiskies according to the Whisky Magazine Index. Furthermore, the Bowmore distilled in the 1960s were extremely fruity and their quality quickly recognized by the whisky connoisseurs. The quality of the Bowmore distilled in the 1960s and bottled almost 40 years later by Duncan Taylor has been always very high and sold out within hours. The first 1966 Bowmore bottled by Duncan Taylor was sold for less than £100, but the prices for the following casks steadily increased to about £300. These old Bowmore from Duncan Taylor are getting very rare with prices following a similar pattern as the original bottlings (although priced significantly higher).
The Ardmore 21 YO Centenary was bottled to commemorate the 10oth Anniversary of the Ardmore distillery and was only given to the staff. A few retailers managed to get hold on a few bottles and tried to sell it at a hefty price to reflect its rarity (e.g., £349 at one online shop). Since Ardmore is a rather low profile distillery, not highly collectable and the quality of the 21 YO seems to be lower than the excellent 12 YO centenary bottling, the value of this Ardmore is going down. Although it has reached once £305 this year, this bottle can sometimes be bought for about £150 at some online auction websites.
<![if !vml]><![endif]>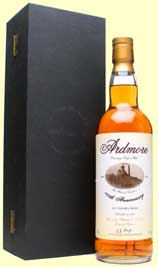 The Ardmore 21 YO is collectable, but not at any price.
Macallan is certainly the most collectable whisky (in terms of value) and the Macallans bottled as part of their "Gran Reserva" quickly reached a collectible status, since Michael Jackson in his Whisky Companions rated them very highly. In addition, in South-East Asia, heavily sherried whiskies are very appreciated and the brand is synonymous of Prestige. Not surprisingly, the value of these bottles has considerably increased since their release.
North Port distillery, also named Brechin closed down a couple of decades ago and original bottlings were extremely limited. Since this malt is rather unknown and interest relatively low, North Port bottlings prices have only slightly increased in value. Of note, the 19 YO North Port of the Rare Malts collection is much more sought after than the 20 YO.
Brora: Brora was a rather unknown distillery and only started to get attention around 2003-04. Since a couple of years, bottles of this distillery are very sought after, driven by the high rating given by S. Valentin (http://www.whiskyfun.com) to most Brora malts distilled in the 1970. Brora distilled in the early 1970s were most peaty than the ones distilled at the end of the 1970s and therefore more sought after by connoisseurs and collectors. Douglas Laing was the first company bottling single casks of Brora and is as collectable, if not more as the original bottling.
Highland Park: There is a rather large based of Highland Park collectors and old Highland Park are rather sought after. Prices have gone up over time for original bottling, but collectors generally neglect independent bottling. Prices of Highland Park are still affordable and with the recent release of Highland Park 40 and 50 years old and several limited editions, the distillery is trying to increase the "collectability" of Highland Park.
Isle of Jura: This distillery is producing good whiskies, but the number of outstanding Isle of Jura is limited and generally unpeated. So far, collectors are few and thus, collectability is low.
Ardbeg: When Glenmorangie plc ,took over Ardbeg distillery in 1997, the quality of the whisky markedly improved by increasing the alcohol by volume from 40 to 46%. Associated by several excellent releases for the Ardbeg Committee members and exceptional single casks selected by Stuart Thomson, the reputation of Ardbeg rocketed amongst the most collectable single malts. Collectability is very high, but prices for the most recent releases (£350 for a 10 year-old single cask on online whisky auction) are out-of-proportion and prices are going up mainly due speculation. If the fashion for peated whiskies and/or Ardbeg would diminish, the Ardbeg distilled after the 1970s would be the first victims of a serious value re-adjustment.
And the prices observed in 2010
| | |
| --- | --- |
| Ben Wyvis 1965 original bottling | £854 |
| Port Ellen 1978 2nd Annual Release 24 YO | £232 |
| Bowmore 1966 36 YO Duncan Taylor 43.2% | £631 |
| Ardmore 21 YO Centenary OB 43% | £305.36 |
| Macallan 18 YO Gran Reserva 1981 OB | €510 |
| North Port 1979 20 YO Rare Malts | €170 |
| Brora 1977 21 YO Rare Malts | €355 |
| Brora 1971 29 YO Old Malt Cask Douglas Laing | €646 |
| Highland Park 1977 Bicentenary OB | €255 |
| Isle of Jura 27 YO Stillman's Dram | €130 |
| Ardbeg 1990 OB 55% | £186 |
What is the right price?
The right price for a collectable whisky bottle is the price that the buyer agrees to pay and the seller to buy. On whisky forums, posts on "how much my bottle is worth" are very frequent, and quite often, the sellers think that they have the most valuable bottle on earth, as seen on the illustration below for an old bottle of Ballantine's from the 1960s. Millions of these bottles have been sold during that period and such bottles can be found for less than £100. This is true for the majority of the blends, as well as for the most popular single malts (e.g., Glenlivet 12 YO or Glenfiddich 12 YO).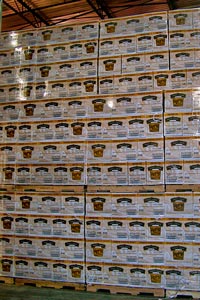 Cases of Forty Creek, a common Canadian blend © Will S.

On the other hand, if the production of single malt is/was confidential such as for the Hazelwood (from the Kinninvie distillery) or the Longrows from the 1970s, then the prices increases rapidly.

<![if !vml]><![endif]>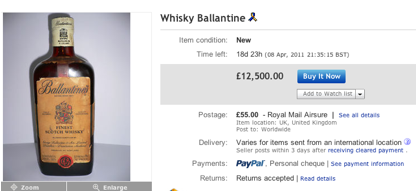 Conclusion:
People might collect whisky for different reasons, either for the fun of it, or for financial reasons. Since the number of blended and single malt whiskies is so large, have a clear strategy in mind before starting and try to stick to it. Since prices are volatile, please do not end up in financial difficulties due to this.
Do not buy any bottle at any prices and read as much as you can.
When buying at auctions, please watch out for impulse buying.
"The Internet encourages comparative shopping but also facilitates random impulse buying. Even with the availability of pricing information, it is common to observe the "winner's curse" when a buyer gets caught up in the excitement of the auction or overestimates the value of an item". The Internet Encyclopedia, Volume 2, Hossein Bidgoli, John Wiley & Sons, 2004
Slainte Patrick
www.whisky-news.com ©08 May 2011