Whisky-news.com is a fully independent whisky website created in 2006 by a whisky enthusiast for the whisky enthusiasts, from novice to expert, with a huge collection of tasting notes, distillery presentations, whisky fair reports in Europe, reports about whisky from all over the world, and many more. It is also the leading site for whisky literature review. Updated almost daily and free from financial support from any whisky company.
Acla Da Fans Open Day 2019

For the photo gallery, click here.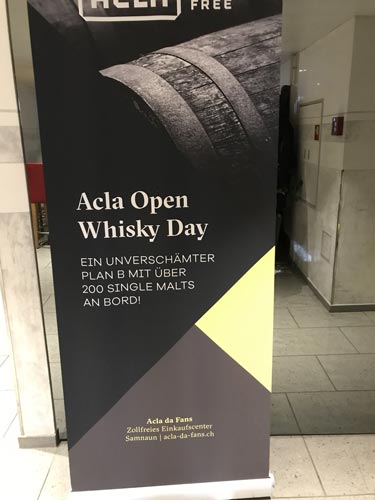 The main Swiss whisky event used to be the Zürich Whisky Schiff on the ships docked at the Bürkliplatz in Zürich. The choice of whiskies at one of the oldest whisky fair in the world was large, but the space on the ships limited. Two years ago, the "original" whisky Schiff moved on the outskirt of Zurich, in Albisguetli, on dry ground, while another group of exhibitors decided to create a new whisky event, the Whisky & Rum Schiff on the ships made vacant by this move. So, two whisky events took place almost at the same time. During this summer, the Whisky & Rum Schiff decided not to reconvene the event, thus leaving the Whisky Schiff the only event left. Unfortunately, due to the renovation of the Albisguetli, an announcement was made that the original Whisky Schiff was to move to a hall in the small town of Pfäffikon. As a result of this move, several retailers decided to cancel their participation to the Whisky Schiff, as it is considered to far from Zurich city centre. For Zurich and Switzerland, 2019 is annus horribilis.
Several whisky retailers that I enjoy very much organised their own event. Amongst them was Acla da Fans who organised their Open Day on November 16, in the suburb of Zürich. As they are located in a duty free area of Switzerland (Samnau), they have access to the duty free and travel retail whiskies. Furthermore, as they proposed over 200 whiskies over a wide range of bottlers (e. g., distillery bottlings, The Whisky Agency, Sansibar, Signatory, Gordon & MacPhail) and their own bottlings, I decided to take the train to Zurich.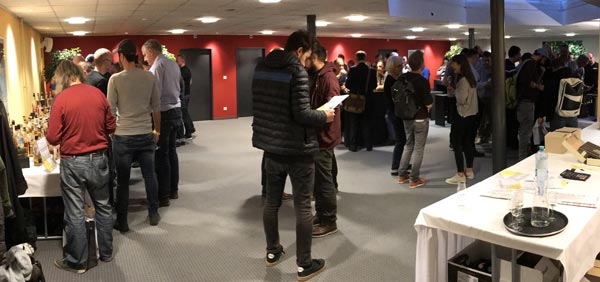 Inside the Acla da Fans hall of the hotel Belair in Wallisellen
Located in the basement of the Hotel Belair in Wallisellen, the room was rather spacious, with sitting places and a few tables, as well as 3 long tables full of whisky bottles. The entry price was 35 CHF, with free tasting of all whiskies retailing under 200 CHF. The others were priced per cl for a very reasonable amount.
As always, these are my preliminary impressions made during the fair.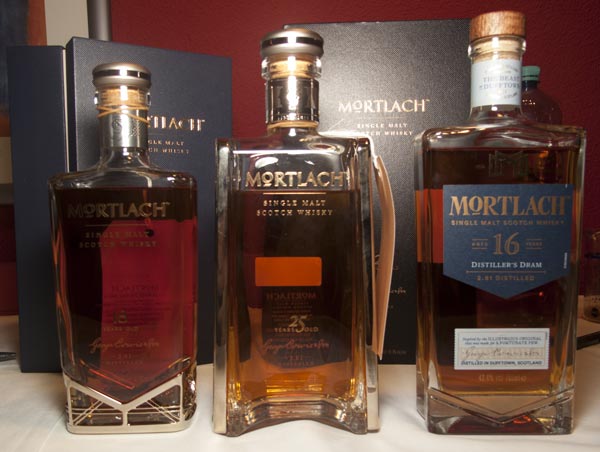 The core range of Mortlach
As I have some Mortlach 25 YO Special Releases 2019 waiting for being tasted at home, I could not resist tasting the Mortlach 25 YO OB 43.4, a very well made, mellow, complex, slightly floral and spicy whisky, with nice sultanas, orange and other dried fruits. Really good! The 18 YO was rather different, smoother, drier and less fruity. It left me on a mitigated impression. I enjoyed better the 16 YO 43.4%, as it offered nice floral and spicy flavours, with orange, tangerines, sultanas. A version reminding me of the older 16 YO Fauna & Flora.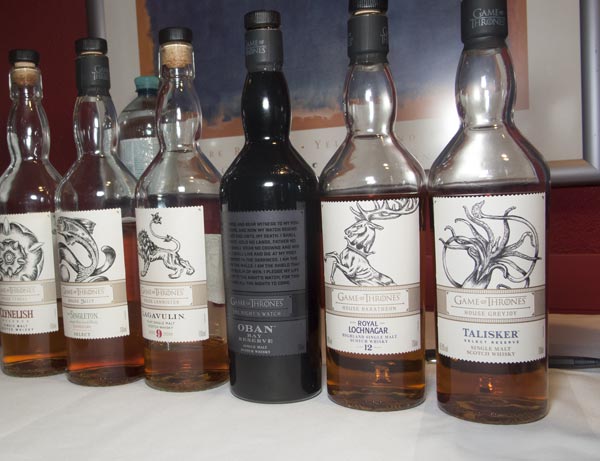 A nice opportunity to taste the Game of Thrones selection, as Diageo did not import it to Switzerland
Most of the Game of Thrones (GoT) selection was available and thus, could enjoy tasting the ones I have not been able so far to try, starting by the Royal Lochnagar 12 YO, a nice round, spicy and floral whisky, with some toffee and dried fruits. A nice whisky, which is in fact, the standard version, with a new label. The Singleton of Glendullan is a nice green, grassy and round expression of Glendullan, rather sweet and with light fruity flavours. My last GoT was the Clynelish, a version bottled at cask strength. The whisky was smooth, waxy, rather grassy and with some toffee. A smooth and easy drinking version from that distillery.
The Glen Garioch Chapter IV is the last one for the chapter series and the oldest one (18 YO). The whisky is mellow, rich, and bold, on candied ginger, sweet and dried fruits, as well as some grassy flavours. A very good value whisky. The Knockando 1994 21 YO Master Reserve was a very smooth and mellow whisky, on soft floral flavours, sultanas, cinnamon and candied tangerines. The Glenfarclas 1995 Premium Edition Oloroso Sherry Casks OB was a nice intense, round, and rather aromatic expression of the distillery, with a fair dose of spices and round fruity notes. The sherry influence was rather light, round and smooth.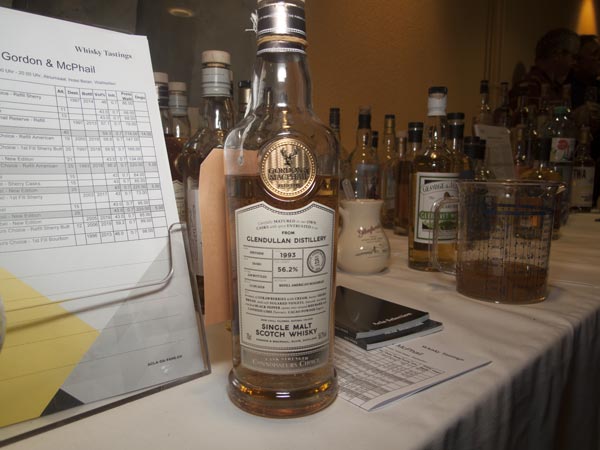 A very good, bold, intense and complex Glendullan from Gordon & MacPhail
Moving to another stand, there was a nice bold, intense, complex and grassy expression of Glendullan 1993 56.2% from Gordon & MacPhail, with some almonds, nice moderate spicy flavours (pepper) and fresh floral flavours. A rather expression from that distillery. From the same bottler, the Scapa 2005/2019 was a very nice creamy and salty expression of the distillery, rather intense and with some lemon peel. The mouth feel was surprising creamy, round and salty. A good surprise. The Glenlivet 15 YO G&M 43% was rather floral, round and on toffee. The Glenburgie 1997 59.9% from G&M was a very intense, complex and slightly spicy whisky, slightly creamy, on soft leather and stewed fruits. With some time and water, it opened and richer fruity flavours were released. Very good.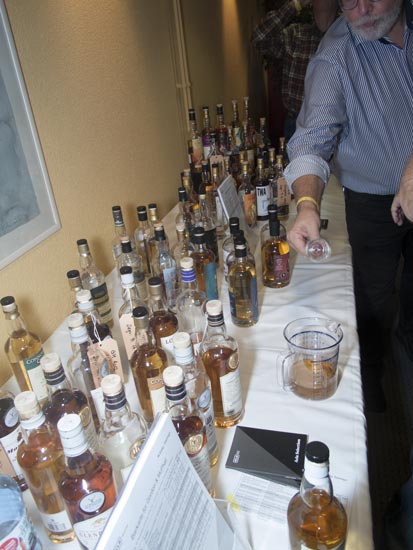 The Gordon & MacPhail bottling (foreground) and various bottlers such as Sansibar or The Whisky Agency on the background.
The Mortlach 25 YO G&M Distillery Label was a very good expression of Mortlach, rather intense and spicy, with a fair amount of dried fruits, plums, and pepper. Rather different from the OB, more intense, spicy and heavier on the sherry. The Glen Grant 40 YO from G&M was surprisingly fresh, especially for a whisky that old, with nice round, mellow and fresh fruits flavours (orange, tangerine and some exotic fruits), nice round grassy and aromatic flavours, as well as sultanas. Very good!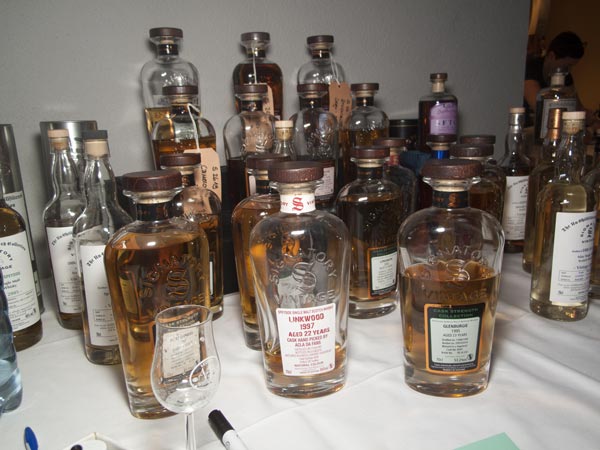 Most of the Signatory range available, including the Linkwood Hand-picked by Acla
Moving to the Signatory table, I started first with the Linkwood 1997 Hand Picked by Acla Da Fans. Although it is from a refill sherry hogshead, the nose is immediately hit by intense and slightly rubbery sherry flavours, on dried fruits, sultanas, fresh rubber, tannins and a light bitterness. On the palate it is rather heavy, chewy and malty, with some red berries, rubber and tannins. Good, but slightly too heavy on the sherry side for me. I liked better the Glenburgie 1995/2019 Signatory, a rather bold and mineral expression of the distillery, with nice round flavours of stewed fruits, some melon, quince and vanilla custard. Very good. The Edradour 2006 10 YO Straight from the cask was a very round, floral and moderately fragrant version of Edradour, with a thick and intense sherry influence, nice floral fragrant flavours, as well as lacquer and a light bitterness. My final whisky was a 1967 Bunnahabhain 34 YO Old Malt Cask, a very elegant, mellow, well-balanced whisky, with a slight smokiness, some maritime flavours as well as some exotic fruits, sultanas and soft leather. Excellent.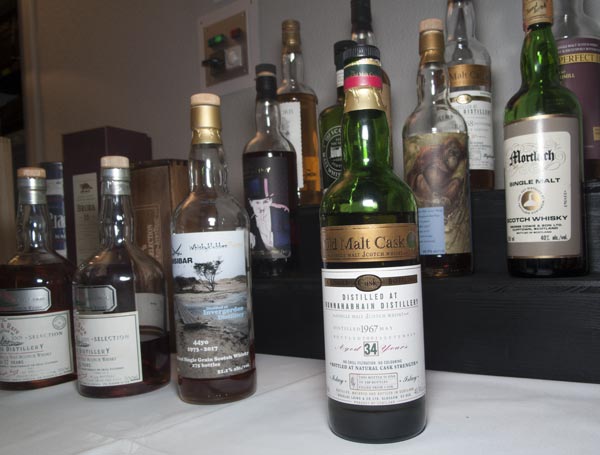 The selection of old and rare whisky bottles
No knowing how the event would turn out, I already pre-booked my return train ticket. The 2.5 hours spent there went very quickly. Although I prefer to attend large whisky fairs, in order to taste a large range of new releases, the Acla da Fans Open Day was an excellent event, and one could easily spend a whole afternoon going through their impressive range of whiskies, for all budgets. In addition, there was plenty of water, spittoons and we were quickly served. For a first one, congratulations to the Acla team!

Patrick, 16th November 2019.