Distillery in Focus: Brora
Region: Highlands
Name: Brora. Former name:Clynelish, "Clynelish B", old Clynelish
Status: Mothballed (1983)
Website: www.discovering-distilleries.com
Telephone: 01408 623000
E-Mail: clynelish.distillery@diageo.com
Address: Brora, Sutherland KW9 6LR. Latitude 58.024892N, Longitude 3.868987W
Visitor centre: Yes (Clynelish)
Owner: Diageo
Established in 1819
Stills: 1 wash and 1 spirit still
Casks used for maturation: Bourbon and sherry
Contribute(d) to the following blends: Johnnie Walker, Ainslie's, Real McTavish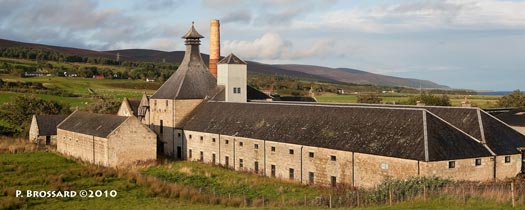 Regular Bottling:
No regular bottlings. However, since 2002, a Brora 30 YO has been released every year (excepted 2008, when a 25 YO was released) as part of the Diageo Special Releases. Previously, several bottlings of Brora (Vintages 1972, 1975, 1977 and 1982) have been released in the Rare Malts serie.
For tasted whiskies, click here
---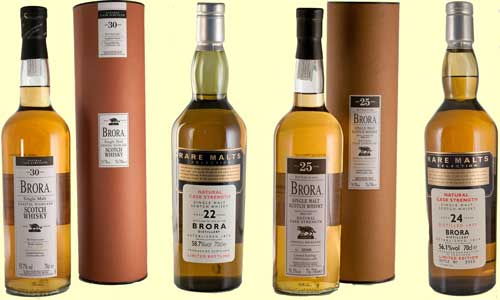 From left to right: The 30 YO Special Relase 2006, a 1972 22 YO Rare Malts, the 25 YO Special Release 2008 and the 1977 24 YO Rare Malts.
---
History of the Old Clynelish (Brora) distillery
The distillery started in 1819 as Clynelish by the Marquis of Stafford, later to be the first Duke of Sutherland, in order to provide a local outlet for cereals grown on Brora allotments kept by inland crofters displaced during the clearances. The distillery was built at a cost of £750. A nearby coal seam, mined since the 16th Century, provided cheap fuel (though Fife coal was shipped later on, since the local coal turned out to be of poor quality) and several local peat bogs provided fuel for the kiln. The distillery was at the time leased by James Harper. In 1821-2, with one wash still and one spirit still, the distillery was producing 10,015 gallons (45,527 litres). In 1827, James Harper ceased trading with a loss of £1000. The distillery was then run by various licensees (John Matheson [1827-8], James Harper [1828-34], Andrew Ross [1834-46] and then George Lawson, who, with his sons, was to run the distillery for 50 years). He made substantial improvements and extensions, notably the erection of a new malt kiln and the replacement of the original stills. In 1896, the distillery was bought by Glasgow blenders James Ainslie and rebuilt it in one year, including extra storage place. The Pelton water wheel, which had originally supplied power, was supplemented by a horizontal steam engine in 1897. A system of screw and band conveyors moved raw materials throughout the buildings and a power house was being built to generate electric light. In1916, John Walker buys some equity and in November1925, it was announced that all of the Clynelish Distillery Co. shares were held by the DCL and associated companies. DCL transferred the distillery to the Scottish Malt Distillers (SMD) in 1930. Between March 1931- September 1938, the distillery was mothballed during the economic recession. The distillery was in production again in 1939-1940, but was closed between May 1941- November 1945: closed due to World War II. The distillery starts using electricity (instead of using coal) in the 1960. In 1961, the two stills, which were heated by a coal-burning furnace, hand fired, were converted to internal heating by steam. The last delivery of coal is made on November 4th, 1966, after which the boiler was converted to the use of oil and the floor malting operations are stopped. The summer of 1968 was very dry on Islay, which curtails the mashing programme. The high temperatures affect the malting, and Port Ellen distillery runs out of water. As a result, it was feared that the 'yield' of all DCL distilleries on Islay would fall short of the target by no less than 40,000 proof gallons. This would have been a serious problem as Johnnie Walker's sales were growing fast, and at the time Johnnie Walker used a lot of Islay malts in it's 'recipes'. DCL starts to wonder whether it would be possible to produce heavily peated malt at other distilleries on the mainland, such as Clynelish. Extended kilning finally produced a satisfactory result and the old Clynelish distillery was chosen for producing Islay-like whisky, with plans to start mashing in January 1969. An additional spirit vat was installed and the required labour force engaged. Mashing started on December 28, using malt made at Ord Maltings. In 1967-1969, DCL built a second distillery, also named Clynelish, certainly a way of letting the new distillery benefit from the name's huge reputation. Meanwhile, the old distillery's mash-house was rebuilt This period is confusing and different versions have been written. This version seems to be the most accurate: The new Clynelish was in operation from August 1967 on and the old Clynelish was closed in August 1968. From August 1967 to August 1968 both distilleries were working in parallel and were recognized internally as Clynelish A (the new) and B (the old). During this short overlapping time, casks from both distilleries were stencilled 'Clynelish' and the Scotch Whisky Association (SWA) forced the proprietor to change the name of one of the distillery and the old distillery reverted back to a name it was said to have carried on and off for short periods on and off during its early history: Brora.
Between 1969 and 1983, both distilleries functioned in parallel. To compensate for the loss of production of heavily peated malt from Caol Ila (1969-74), the phenol level was increased to approximately 40-45 ppm until the end of the 1970s, peaking in 1970-7. The barley for Brora was a double peated malt. Brora was mothballed by DCL in March 1983. At that time, the mash tun had a capacity of 31,500 litres feeding 6 wooden wash backs each of 29,500 litres. The wash and spirit stills were of 14,800 litres and 15,5000 litres, respectively. It had a maximum capacity of production of 1,05 mio LPA, but throughput in its last year of production was 379,00 LPA.

On the 9th of October 2017, Diageo annouced an investment of £35 to bring back the Port Ellen and Brora distilleries, with production to resume by 2020.
Source: Distillery visit, The Magical History of the great Brora Distillery by Serge Valentin,The Making of Scotch whisky by John R. Hume & Michael S. Moss, The Whisky distilleries of Scotland and Irelandby P. Morrice, The Scotch whisky industry record by H. Charle sCraig, The Scotch Whisky Distilleries by Misako Udo, Rare Malts, Facts, Figures and Taste by Ulf Buxrud and The DCL Distillery Histories Series by Brian Spiller.
Patrick Brossard © 14 March 2010, last update: 10 Oct 2017
| | |
| --- | --- |
| Official/original bottlings (OB) | |
| Age | |
| Brora 25 YO, OB, 56.3%, B: 2008, 3000 b. | Rating: 17/20 |
| Brora 30 YO Annual Release, OB, 55.7%, B: 2003, 3000 b. | Rating: 18/20 |
| Brora 30 YO Annual Release, OB, 56.6%, B: 2004, 3000 b. | Rating: 19/20 |
| Brora 30 YO Annual Release 2004, OB, 56.6%, B: 2004 | Rating: 19/20 |
| Brora 30 YO Annual Release, OB, 56.3%, B: 2005, 3000 b. | Rating: 18/20 |
| Brora 30 YO Annual Release, OB, 55.7%, B: 2007, 2858 b. | Rating: 17/20 |
| Brora 30 YO Annual Release, OB, 53.2%, B: 2009. 2652 b. | Rating: 16/20 |
| Brora 30 YO Annual Release, OB, 54.3%, B: 2010, 2958 b. | Rating: 17/20 |
| Brora 32 YO, OB, 54.7%, B : 2011, 1500 b. | Rating: 18/20 |
| Brora 35 YO, OB, 48.1%, B: 2012, 1566 b. | Rating: 18/20 |
| Brora 35 YO Special Release 2012, OB, 48.1%, B: 2012 | Rating: 18/20 |
| Brora 35 YO, OB, 49.9%, B: 2013, 2944 b. | Rating: 18/20 |
| Brora 35 YO, OB, 48.6%, B:2014, 2964 b. | Rating: 17/20 |
| Brora 37 YO Special Release 2015, OB, 50.9%, B:2015 | Rating: 17/20 |
| Brora 38 YO Special Release 2016, OB, 48.6%, B:2016, 2984 b. | Rating: 17/20 |
| | |
| | |
| Vintages | |
| Brora 1972 Rare Malts. 22 YO, 58.7%, B: 1995 | Rating: 19/20 |
| Brora 1972 Rare Malts, 22 YO, OB, 58.7%, B:1995. | Rating: 20/20 |
| Brora 1972 Rare Malts, 22 YO, 61.1%, B:1995 | Rating: 19/20 |
| Brora 1972 for World of Whiskies, 40 YO, OB, 59.1%, B:2014, 160 b. | Rating: 20/20 |
| Brora 1975 Rare Malts, 20 YO, OB, 60.75% | Rating: 16/20 |
| Brora 1975 Rare Malts, 20 YO, OB, 59.1% | Rating: 19/20 |
| Brora 1977 Rare Malts, 21 YO, OB, 59.6% | Rating: 15/20 |
| Brora 1977 Rare Malts, 21 YO, OB, 56.9% | Rating: 16/20 |
| Brora 1977 Special Release 2015, 37 YO, OB, 50.4%, B:2015 | Rating: 17/20 |
| Brora 1982 Rare Malts, 20 YO, OB, 58.1% | Rating: 14/20 |
| Brora 1982 Special Release 2017, 34 YO, OB, 51.9%, B:2017, 3000 b. | Rating: 17/20 |

| | |
| --- | --- |
| Independent bottlings (IB) | |
| | |
| Cadenhead's | |
| Brora 1982 Authentic Choice, 13 YO, Cadenhead's, 59.9%, B:1996 | Rating: 16/20 |
| | |
| Chieftains | |
| Brora 1982, 20 YO, Chieftains, 46%, B:2003, c. 1195, 786 b | Rating: 14/20 |
| Brora 1982, 23 YO, Chieftains, 46%, B: 2005, c. 1510, 756 b. | Rating: 13/20 |
| Brora 1981, 30 YO, Chieftains, 50%, B: 2012, c. 1525 | Rating: 16/20 |
| | |
| Douglas Laing | |
| Brora 1970 Platinum, 32 YO, D. Laing, 52.4%, B: 2003 | Rating: 18/20 |
| Brora 1971 Old Malt Cask (OMC), 29 YO, D. Laing, 50%, 210 b. | Rating: 18/20 |
| Brora 1971 Old Malt Cask, 29 YO, D. Laing, 50%, B:2000, 274 bottles | Rating: 19/20 |
| Brorageddon 1972 OMC for the PLOWED, 30 YO, D. Laing, 50.8%, B: 2003, Ref 983, 201 b. | Rating: 20/20 |
| Brora 1972 Platinum, 29 YO, D. Laing, 51%, B :2002, 228 b. | Rating: 18/20 |
| Brora 1972 Platinum,29 YO, D. Laing, 59.5%, B :2002, 240 b. | Rating: 20/20 |
| Brora 1972 Platinum, 31 YO, D. Laing, 49.3%, B: 2003, 221 b. | Rating: 19/20 |
| Brora 1976 Platinum, 30 YO, D. Laing, 55.1%, B; 2007, 104 b. | Rating: 18/20 |
| Brora 1976 Provenance, 26 YO, McGibbon (Douglas Laing), 46%, B:2002 | Rating: 17/20 |
| Brora 1977, 26 YO, D. Laing, 54.9%, B: 2003, 228 b. | Rating: 18/20 |
| Brora 1981, 28 YO, D. Laing, 58.1%, B: 2009. 120 bottles. | Rating: 15/20 |
| Brora 1982 OMC, 23 YO, D. Laing, 50%, B: 2006, 348 b. | Rating: 15/20 |
| Brora Old Malt Cask 1983, 22 YO, D. Laing, 50%, B:2005, DL 1836, 421 b. | Rating: 16/20 |
| | |
| Dun Bheagan | |
| Brora 1981, 23 YO, Dun Bhegan, 49%, B: 2005 | Rating: 13/20 |
| Brora 1981, 26 YO, Dun Bheagan, 46%, B: 2008, c. 1526, 648 b. | Rating: 16/20 |
| | |
| Duncan Taylor | |
| Brora 1981, 23 YO, D. Taylor, 61%, B: 2005, c. 1425, 542 b. | Rating: 16/20 |
| Brora 1981, 25 YO, D. Taylor, 56.6%, B: 2007, c. 1423, 682 b. | |
| Brora 1981, 27 YO, D. Taylor, 53.8%, B: 2008, c. 1427, 349 b. | Rating: 15/20 |
| Brora 1981, 27 YO, Duncan Taylor, 53.8%, B:2008, c. 1427, 349 b. | Rating: 16/20 |
| | |
| Gordon & MacPhail | |
| Brora 1972, G&M, 40%, B: 1996 | Rating: 14/20 |
| Brora 1978 Rare & Old, G&M, 46%, B:2013, Ref: RO/13/05. | Rating: 18/20 |
| | |
| Scotch Malt Whisky Society (SMWS) | |
| Brora 1977, Whisky Magazine Editor's Choice, SMWS, 51.3%, B:2003, c. 529, 187 b. | Rating: 17/20 |
| | |
| Signatory | |
| Brora 1981 The Prestonfield, 19 YO, Signatory, 58.8%, B: 2000, c. 1083, 545 b | Rating: 18/20 |
| Brora 1981,19 YO, Signatory, 43%, B: 2000, c. 1081, 625 b. | Rating: 17/20 |
| Brora 1981, 21 YO, Signatory, 46%, | Rating: 14/20 |
| Brora 1981 Straight From The Cask, Signatory, 58.3%, B:2003 | Rating: 15/20 |
| Brora 1981 Unchillfiltered, Signatory, 46%, B:2004, cask 1560. | Rating: 14/20 |
| Brora 1981, 25 YO, Signatory, 60.1%, B:2007, c. 1519, 276 b. | Rating: 15/20 |
| Brora 1981, 24 YO, Signatory, 59.3%, B: 2006, c. 1517, 597 b. | Rating: 15/20 |
| | |
| The Bottlers | |
| Brora 1981, 19 YO, The Bottlers, 61%, B: 2000, Cask 1076 | Rating: 19/20 |
| | |
| The Whisky Agency | |
| Brora 1982, 28 YO, TWA and LMDW, 51.6%, B: 2010, 222 b. | Rating 17/20 |
| | |
| The Whisky Exchange | |
| Brora 30 YO The Whisky Show, The Whisky Exchange, 53.1%, B: 2011. | Rating 17/20 |