Den Haag/La Haye, Pays-bas, 22 Juin 2008
Van Zuylen/ www.whisky-distilleries.info whisky event
Présentation:
Une dégustation privée fut organisée à la Haye (Pays-bas) le dimanche 22 Juin par Jean-Marie Putz (www.whisky-distilleries.info) et Van Zuylen (www.whiskyvanzuylen.nl). Cet événement fut dédié aux embouteilleurs indépendants (Adelphi, Alchemist, Berry Bros and Rudd, Best Cask of Scotland, Clydesdale selection, Daily Dram, Dewar Rattray, Duncan Taylor, First Cask, Gordon & MacPhail, Iain McLeod, Murray McDavid, Scott's Selection, The Ultimate), dont les bouteilles furent mises à notre disposition par leurs distributeurs néerlandais (Bresser & Timmer,Whisky Import Nederland and Van Wees (Whiskyworld). Egalement présent étaient l'embouteilleur français Jean Boyer (Best Cask of Scotland et Gifted Stills), ainsi que les distilleries Bladnoch et BenRiach. Les participants furent des amateurs et passionnés de whiskies des Pays-bas, d'Allemagne, Belgique, France et de Suisse.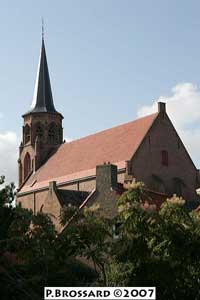 Le lieu de l'événement: Abdijkerk, la plus vieille église de la Haye.
Les whiskies :
Lors de cet événement, plus de 80 whiskies (grain et malt) furent offerts à la dégustation, et j'ai eu l'occasion d'en déguster la majorité.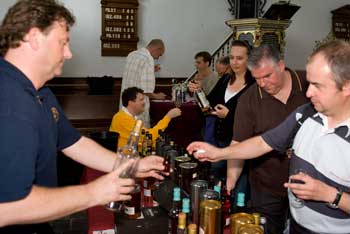 Large gamme de whiskies chez Bresser & timmer.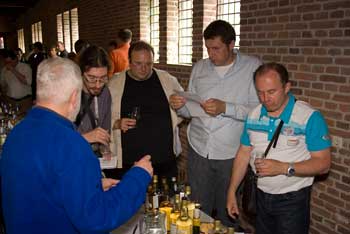 Le stand de Jean-Boyer pris d'assaut.
Les notes de dégustations seront publiées progressivement dans la rubrique « Notes de dégustation » de ce site web, et une fois publiées, les détails des bouteilles seront fournies ci-dessous :
Ardmore 1977, Scott's selection, 58.1%, B: 2007
Arran (Isle of) 1996 sherry, 11 YO, Murray McDavid, 46%
Balmenach 1998 advanced sample, Jean Boyer, 57%
BenRiach 16 YO Sauternes finish, OB, 46%, B: 2008
Benriach 1988 sherry finish, 16 YO, OB, 54.7%, B :2005, cask 802, 675 b
Bladnoch 6 YO Bourbon matured, OB, 57.3%, B: 2008
Bladnoch 6 YO lightly peated, OB, 58.1%, B: 2008
Bladnoch 6 YO Sherry matured, OB, 56.9%, B: 2008
Braeval 1999 Gifted stills, Jean Boyer, 40%, B: 2008
Bruichladdich Links Birkdale, 15 YO, OB, 46%, B: 2008.
Caol Ila 1979 Best Casks of Scotland, 26 YO, Jean Boyer, 46%.
Dainter Bull (Tullibardine) 1992, 16 YO, Daily Dram, 54.8%, B: 2008
Finlaggan, The Vintage House, 58%, B: 2008
Glenglassaugh 1983, Berry Bros & Rudd, 46%, B: 2007,
Glenmorangie Astar, OB, 57.1%, B: 2008
Glenrothes 7 YO, First Cask, 56.4%, D: 2000, B: 2008, cask 2417, 312 b.
Glenrothes 1968, 39 YO, Duncan Taylor, 53.3%, B: 2007, c. 13483, 102 b.
Glenrothes 1986, The Ultimate for Van Wees, 43%, B: 1994, 425 b.
Glenrothes 1990, 17 YO, Clydesdale, 59.9%, B: 2008, 542 b.
Highland Park 15 YO, The Alchemist, 46%, B: 2008
Highland Park 1986, Scott's selection, 55.3%, B: 2005
Highland Park 1995, Gordon & MacPhail, 57.9%, B: 2006, cask 1329, 307 b.
Imperial 1982, 25 YO, Signatory, 53.4%, B: 2008, cask 3715, B: 2008, 198 b.
Inchgower 1988, Scott's selection, 56.1%, B: 2007
Laphroaig 1990, Berry Bros & Rudd, 55.6%, B: 2008, cask 2248
Laphroaig 1998 "our Fifth Birthday", Jean Boyer, 61.2%, B:2008, 260 bouteilles
Linkwood 1989, 18 YO, Adelphi, 55.6%, B: 2008, cask 7323, 590 b.
Mortlach 1991 Sherry, Berry Bros & Rudd, 56.4%, B: 2007
Mortlach 1997 Best Casks of Scotland, Jean Boyer, 57.8%, B: 2006
North of Scotland, 44 YO, Scott's selection, 44.8%, B: 2008
Old Pulteney Best Cask of Scotland 1998, Jean Boyer, 43%, B: 2008
Rosebank 1991, 17 YO, Clydesdale, 56.3%, B:2008, cask 0192/631, 324 b.
Rosebank 1991, Gordon & MacPhail, 54.4%, B: 2008, c. 2095, 196 b.
Strathmill 1976, 31 YO, Adelphi, 44.8%, B: 2008, cask 1126, 227 b.
Tamdhu 1973, Gordon and MacPhail, 56.0%, B: 2008, c. 3230, 481 b.
Tobermory 15 YO, OB, 46.3%, B: 2008
!www.whisky-news.com ©23Juin 2008