Distillery in Focus: Tullibardine
Region: Highlands
Name: Tullibardine Distillery Ltd ("Hill of warning").
Status: Active
Website: http://www.tullibardine.com
Telephone: 01764 682252
E-Mail: info@tullibardine.com
Address: Stirling Street, Blackford, Perthshire, PH4 1QG
Visitor centre: Yes
Owner: Tullibardine Ltd, privately owned.
Established in 1949 (brewery bought in 1947).
Stills: 2 Wash and 2 Spirit stills.
Percentage of single malts: 100%.
Casks used for maturation are sherry, bourbon and wine.
Grist ratio: Husk 14%, Flour 16%, Grist: 70%

Regular Bottling:
Since 2013:
Tullibardine 225 Sauternes Finish 43%
Tullibardine 500 Sherry Finish 43%
Tullibardine 20 YO, 43%
Tullibardine 25 YO, 43%
Until 2013:
Tullibardine 10 (discontinued)
Tullibardine 1993 40%
Tullibardine 1993 Sherry wood 46%
Tullibardine 1993 Moscatel wood 46%
Tullibardine 1993 Port wood 46%
Tullibardine 1993 Marsala wood 46%
Tullibardine 1988 46%
Tullibardine 1973 47.5%
For the tasted whiskies, click here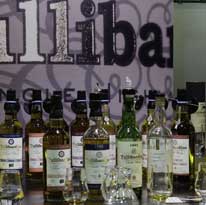 Some Tullibardine expressions.
In addition to the "standard" range, Tullibardine has released some limited editions: Tullibardine 1986, John Black's slection cask 697, 54.9%, Tullibardine Vintage 1964, 1965 and 1966.
Noteworthy is that theHigland Spring spring and plant is located a few hundred meters from the Tullibardine distillery. The Tullibardine distillery is one of the most accessible distillery in Scotland (on the A9 between Stirling and Perth). The Connoisseur tour (£10, book in advance) is the value-for-money tour that you can get.
---
History of Tullibardine
Tullibardine is the first distillery to be built in the 20th century. In 1947, William Delme Evans (architect of Isle of Jura and Glenallachie distillery, more details are provided in the book of G.D.Smith, "The Whisky Men") purchased the brewery und turned it into a distillery in 1949 and ran it until 1953, when health forced him to sell the company to Brodie Hepburn. Brodie Hepburn Ltd ran the distillery until 1971 when it was sold to Invergordon Distillers Ltd. Two years later, in 1973, the number of stills is increased from two to four and the distillery was partly rebuilt. In 1993 Whyte and Mackay bought Invergordon. They mothballed the distillery in 1994 and closed it in 1995. In June 2003, a consortium consisting of Alan Williamson, Douglas Ross, Michael Beamish and Lastair Russel bought Tullibardine distillery for £1.1 mio (including the stocks of whisky) and restarted the production on the 4th of November. William Delme died at the age of 83 in 2003.
Between 2003 and 2004, the distillery was rebuilt and most of the warehouse were sold and a new retail park adjacent to the distillery was built. In November 2004, the distillery and the 1488 Shop (in remembrance of the year King James IV celebrated his coronation and purchased beer from Tullibardine) opened. Production is currently of 150'00 LPA, while the distillery has a capacity of 2'000'000. Three men are operating the distillery and all the production is sold as single malt. Tullibardine is one of the few distillery selling casks to private consumers. The distillery manager is called John Black.
The original design of the distillery is still in use making it possible to reduce unnecessary waste, such as the condensers working using only gravitational force.
| | |
| --- | --- |
| | |
| The inside of the mash tun. | The still house of Tullibardine. |
| | |
| The oldest cask stored in the warehouse: a 54 years old quarter cask of Tullibardine. | The distillery manager, John Black, tasting a sample of Tullibardine 1966 first fill sherry in the warehouse. |
| | |
| --- | --- |
| Official/original bottlings (OB) | |
| Age | |
| Tullibardine 20 YO, OB, 43%, B: 2013 | Rating: 14/20 |
| Tullibardine 21 YO (Swiss import), OB, 43%, B:1980s. | Rating: 17/20 |
| Tullibardine 25 YO, OB, 43%, B: 2013 | Rating: 15/20 |
| | |
| Vintages | |
| Tullibardine 1965, OB, 48.3%, B:2008, cask 939 | Rating: 17/20 |
| Tullibardine 1986 2nd Fill sherry, Cask 692 | Rating: 16/20 |
| Tullibardine 1988, OB, B: 2005, 46% | Rating: 13/20 |
| Tullibardine 1988, OB, 56%, cask 540, B: 2009. | Rating: 14/20 |
| Tullibardine 1993, OB, B: 2005, 40% | Rating: 11/20 |
| Tullibardine 1993 Moscatel Finish, OB, B: 2005, 46% | Rating: 09/20 |
| Tullibardine 1993 Sherry finish, OB, B: 2006, 46% | Rating: 10/20 |
| Tullibardine 1993 1st Fill Bourbon, Cask 324 | Rating: 16/20 |
| | |
| | |
| No Age Specified (NAS) | |
| Tullibardine 225 Sauternes Finish, OB, 43%, B: 2013 | Rating: 12/20 |
| Tullibardine 500 Sherry Finish, OB, 43%, B: 2013. | Score : 13/20 |
| | |
| --- | --- |
| Independent bottlings (IB) and anonymous Tullibardine | |
| | |
| Cadenhead's | |
| Tullibardine 1964, 27 YO, Cadenhead's, 51.2%, B: 1992. | Rating: 16/20 |
| Tullibardine 1993 175th Anniversary Cologne, 23 YO, Cadenhead's, 48.6%, B:2017 | Rating: 15/20 |
| | |
| Daily Dram | |
| Daintier Bull (Tullibardine) 1992, 16 YO, Daily Dram, 54.8%, B: 2008 | Score : 13/20 |
| | |
| The Maltbarn | |
| Tullibardine 1989, 27 YO, The Maltbarn, 51.1%, B:2016. | Rating: 10/20 |
| | |