Distillery in Focus: Isle of Jura
Region: Jura ("Islay/ Islands")
Name: Isle of Jura Distillery. Was also formerly known as "Caol'nan Eilean", "Craighouse", "Small Iles", "Lagg" and "Jura"
Status: Active
Website: http://www.isleofjura.com
Telephone: 01496 820240
E-Mail: info@isleofjura.com
Address: Craighouse, Isle of Jura, Argyll, PA60 7XT
Visitor centre: Yes
Owner: Whyte and Mackay (affiliate of United Breweries group).
Established in 1831 (1810 ?).
Stills: 2 Wash and 2 Spirit stills.
Percentage of single malts: Not known.
Casks used for maturation are sherry and bourbon. Some wine casks are currently experimented.

Contribute(d) to the following blends: Whyte & Mackay, MacKinlay's, Scot's Grey and Clunny.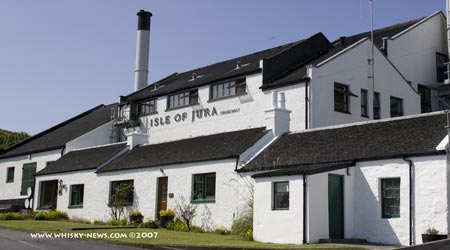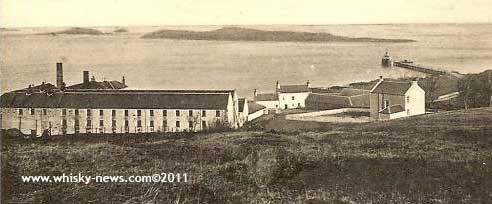 A very old photograph of the Isle of Jura distillery.
Regular Bottling:

Isle of Jura Superstition 45%
Isle of Jura 10 YO 40%
sle of Jura 16 YO 40%
Isle of Jura 21 YO 40%
For the tasted whiskies, click here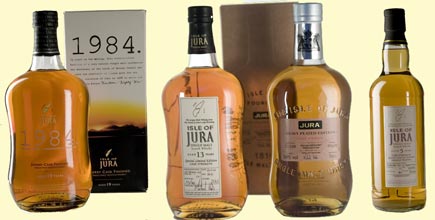 Some Isle of Jura limited bottlings (from left to right): Isle of Jura 1984, Isle of Jura Manager Dram 13 YO for the Feis Ile 2005, Isle of Jura Heavily Peated and Isle of Jura 5 YO heavily peated for the Whiskyexchange.
In addition to the "standard" range,Isle of Jura has relased over the years a few limited editions, such as the Isle of Jura 40 YO, Isle of Jura 1984, Isle of Jura Delmé-evans 1988, single cask bottling of Heavily Peated Isle of Jura, Isle of Jura Manager Dram (for Feis Ile 2004 and 2005), Isle of Jura Stillam's dram and others.
---
History of Isle of Jura Distillery
The distillery is said to have been built in 1810 by Laird Archibald Campbell near a cave where illegal distilling had been carried out possibly from the 1600's. In 1831, the distillery was registered under the name of William Abercrombie. One year later, in 1832, the ownership passed to Archibald Fletcher. In 1952, J. & A. Gardner took over the distillery for about a year, before Norman Buchanan acquired the distillery in 1853. J.K. & D. Orr owned the distillery between 1867 and 1872, and when the partners retired, it was taken over by James Ferguson & Sons and rebuilt in 1876. In 1901, the Fergusons left Jura because of a dispute with the laird. No information about the distillery are then available. During the Great War, it was abandoned and left to decay and the roofs were later removed to avoid paying rents and it became a ruin. In the 1958, Robin Fletcher, the owner of Ardlussa Estate and Riley-Smith owner of Jura House and Ardfin Estate, got together to see if they could restart the distillery and provide work to the islanders. They raised financial backing eventually, mostly from Scottish and Newcastle Breweries, to build the distillery and rebuilt the distillery between 1960 and 1963 under the name Jura Distillery Co. Ltd, controlled by MacKinlay McPherson Ltd, subsidiary of Scottish Newcastle Breweries Ltd. The distillery was rebuild with the help of the architect Delmé-Evans on the site of the old distillery. It was decided to change the style of the whisky from a heavily-peaty/peaty to a lightly peated whisky and for producing a lighter spirit, tall stills were created. On April 26th 1963, spirit ran through the stills for the first time. The number of stills was increased from 2 to 4 in 1978. Scottish Newcastle Breweries Ltd was taken over in 1985 by the Invergordon Distillers group. In 1993, Whyte & Mackay (JBB Europe) acquired Invergordon Distillers. Whyte and Mackay was subsequently sold to Kyndal in 2001. In February 2005, Vivien Immerman bought Whyte and Mackay before selling it to United Spirit (part of the United Breweries group) in May 16, 2007 for £595 million.
| | |
| --- | --- |
| | |
| The mill | The mash tun |
| | |
| The tall stills designed to give a light spirit. | A glimpse of the warehouse at Isle of Jura distillery. |
Source: www.isleofjura.com, Distillery Visit and The Scotch Whisky Distilleries by Misako Udo.
©P.Brossard 17July07.
| | |
| --- | --- |
| Official/original bottlings (OB) | |
| Age | |
| Isle of Jura 10 YO, OB, 40%, 1980s | Rating: 09/20 |
| Isle of Jura Elixir,12 YO, OB, 46%, B:2014. | Rating: 13/20 |
| Jura 18 YO, OB, 44%, B:2022. | Rating: 14/20 |
| Jura 20 YO One for All, OB, 51%, B:2018, 4992 b. | Rating: 14/20 |
| Isle of Jura 21 YO 200th Anniversary, 44%, B: 2010 | Rating: 14/20 |
| Isle of Jura 21 YO Fide, OB, 46.7%, B:2022. | Rating: 15/20 |
| Isle of Jura 27 YO Stillman Dram, OB, 45%, D: 1967, c. 590 | Rating: 16/20 |
| Isle of Jura 30 YO Camas an Staca, OB, 44% B: 2012 | Rating: 17/20 |
| Isle of Jura 30 YO Camas an Staca, OB, 44%, B:2016 | Rating: 17/20 |
| | |
| Vintages | |
| Isle of Jura 1965 for Jane Prosser, 20 YO, OB, 56%, B: 1986. | Rating: 17/20 |
| Isle of Jura 1973, 30 YO, OB, 55%, cask 3155, 468 b. | Rating: 17/20 |
| Isle of Jura 1974, OB, 44.5%, B: 2008, 658 b. | Rating: 18/20 |
| Isle of Jura 1975 Port for LMDW, OB, 51.7%, B:2016, 784 b. | Rating: 16/20 |
| Isle of Jura 1984, 19 YO, OB, 42%, B:2004 | Rating: 06/20 |
| Isle of Jura 1988 Water Feis Ile 2008, OB, 49.6%, 624 bottles. | Rating: 10/20 |
| Isle of Jura Delmé-evans 1988, 19 YO, OB, 59.9%, D: 1988, c1792 | Rating: 16/20 |
| Jura 1988, OB, 53.5%, B:2018. | Rating: 16/20 |
| Isle of Jura 1993 Air Feis Ile 2008, OB, 46%, 768 bottles | Rating: 10/20 |
| Isle of Jura 1999 Earth Feis Ile 2008, OB, 46%, 840 bottles. | Rating: 14/20 |
| | |
| No Age Specified (NAS) | |
| Isle of Jura Prophecy, OB, 46%, B: 2009 | Rating: 15/20 |
| Isle of Jura Matthew Forest Vatted in 2002, OB, 58.8%, c. 1124. | Rating: 14/20 |
| Isle of Jura Tastival, OB, 44%, B:2014 | Rating: 12/20 |
| Isle of Jura Tastival Triple Sherry Matured, OB, 51%, B:2016 | Rating: 15/20 |
| | |
| --- | --- |
| Independent bottlings (IB) | |
| | |
| Adelphi | |
| Isle of Jura 1996, 12 YO, Adelphi, 60.3%, B: 2009, c. 5191, 217 b. | Rating: 15/20 |
| | |
| Blackadder | |
| Isle of Jura 1988 Statement 32, 30 YO, Blackadder, 50.2%, B:2019, 208 bottles | Rating: 18/20 |
| | |
| Cadenhead's /Duthie | |
| Isle of Jura 1966 for Corti, 20 YO, Duthie's, 43%, B: 1986. | Rating: 18/20 |
| Isle of Jura 1986, 30 YO, Cadenheads, 42.5%, B:2016, 66 b. | Rating: 14/20 |
| Douglas Laing | |
| Isle Of Jura 1966 OMC, 33 YO, D. Laing, 50%, B: 1999, 343 b. | Rating: 16/20 |
| | |
| First Editions, The | |
| Isle of Jura 1995, 18 YO, The First Editions, 52.8%, B: 2013, 288 b. | Rating: 14/20 |
| | |
| MacKillops | |
| Isle of Jura 1966. 33 YO, Mackillops, 43%, B: 2000, cask 1870 | Rating: 17/20 |
| | |
| Maltbarn | |
| Isle of Jura 1992, 29 YO, The Maltbarn, 47.3%, B:2021, cask 176. | Rating: 16/20 |
| | |
| Sansibar | |
| Isle of Jura 1990 10th Anniversary, 30 YO, Sansibar, 46.5%, B:2020 | Rating: 14/20 |
| | |
| Scott's selection | |
| Isle of Jura 1989, 18 YO, Scott's Selection, 59.6%, B: 2007 | Rating: 11/20 |
| | |
| Signatory | |
| Isle of Jura Peated 1989 for the Whisky Fair, 24 YO, Signatory, 58.8%, B: 2014, c.30724, 193 b. | Rating: 14/20 |
| Isle of Jura Heavily Peated 1989, Signatory, 58.2%, B: 2014, c. 30710/45, 321 b. | Rating: 14/20 |
| Isle of Jura 1989 Heavily Peated for Walhaus am See, 24 YO, Signatory, 58.0%, B:2014, cask 30718, 191 b. | Rating: 17/20 |
| Isle of Jura 1989 Heavily Peated, 25 YO, Signatory, 60.9%, B: 2015, c.30729, 194 b. | Rating: 13/20 |
| | |
| Strathblair | |
| Isle of Jura 1988, 15 YO, Strathblair Collection 2, 46% | Rating: 12/20 |
| | |
| The Bottlers | |
| Isle of Jura 1989, 18 YO, The Bottlers, 52.70%, cask 1107 | Rating: 15/20 |
| | |
| The Whisky Agency | |
| Isle of Jura 1988, TWA, 52.9%, B: 2011, 201 b. | Rating: 14/20 |