Distillery in Focus: Glenury Royal
Region: Highlands
Name: Glenury Royal Other names: Glenury
Status: Demolished
Website: n.a.
Telephone: n.a.
E-Mail: n.a.
Address: Stonehaven, Kincardineshire AB3 2PY
Visitor centre: No
Owner: Diageo
Established in 1825
Stills: 2 wash and 2 spirit still
Casks used for maturation: n.a.
Contribute(d) to the following blends: King William IV and Auld Toun.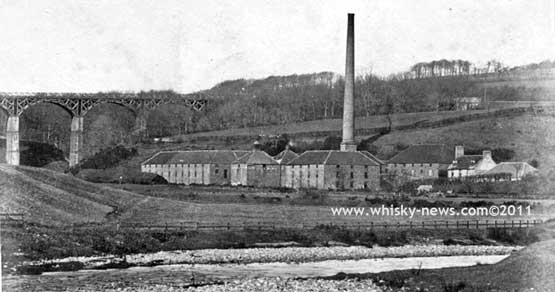 The distillery of Glenury Royal in 1870.
Regular Bottling:
Glenury Royal 12 YO, OB, 40% (1980s)
Other bottlings:
Several Glenury Royal (vintages 1970, 1971 and 1978) have been bottled as part of Diageo's Rare Malts selection and more recently, a 50 YO 1953 (500 bottles) and two 36 YO (vintage 1968, 2100 bottles, and 1970) as part of their Special Releases.
For the tasted whiskies, click here
---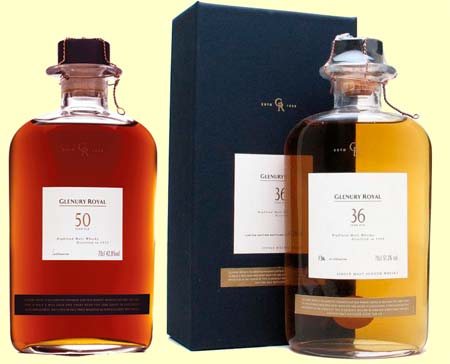 Two official Glenury Royal: the 50 YO and one of the 36 YO.
---
History of the Glenury Royal Distillery
History of the Glenury Royal distillery
The Laird of Ury founded Glenury, partly to provide a market for barley in a period of agricultural depression. He was Captain Robert Barclay (1779-1854), sometime MP for Kincardine, a progressive farmer who introduced Leicester sheep and Durham cattle to the northeast of Scotland. The annual sale at Ury drew buyers from all parts of Great Britain. Captain Barclay was an excellent runner, able to run 1000 miles in 1000 hours, as well a boxer.
The distillery first appeared in excise records on 5 January 1833, when Barclay McDonald & Co. paid duty of £2, 783. The distillery was built on the site of an old mill. Glenury Royal had a fairly unfortunate start. On April 20th 1825 (a few weeks after production started), a fire destroyed the kiln, the malting floors, parts of the grain loft and considerable stocks of barley. Just two weeks later fate struck again; local distillery worker James Clark fell into the boiler and didn't come out alive. Between October 1826 and 1827 the production of spirit was 16,266 gallons.
Since Captain Barclay was the last of his line, he decided to sell his distillery in 1833 at a "reduced upset price of £3,000", apparently without success.
John Bulloch junior left Glendronach to become distiller at Glenury Royal, where he was working in April 1835 and bankrupt in April 1838.
The firm's letter books bore the signature of Barclay McDonald & Co. until18 February 1857, when the business was bought by William Ritchie, of Glasgow and Dunnottar House, Stonehaven. He made additions and improvements and increased capacity. At the time of Alfred Barnard's visit in the 1880s, the annual output was about 132,000 gallons. The Richie family controlled the business until May 1925 when the distillery was closed. The distillery previously closed between 1910 to 1913 and from 1917 to 1919 and from 1925 until its sale. It was then finally sold by Lord Stonehaven for £7,500 on 26 July 1936 by Joseph William Hobbs and Hatim (Hattam ?) Attari. The Glenury Distillery Co. sold the distillery in turn to the Associated Scottish Distilleries Ltd (ASD) for a consideration of £18,500 in 1938. Hobbs (who was also a shareholder of ASD) developed the distillery. Glenury Royal acted as the headquarter for all ASD distilleries, including a small laboratory.
ASD was brought from National distillers by The Distillers Company Limited (DCL) in 1953. DCL passed the distillery under the supervision of its subsidiary, the Scottish Malt Distillers Ltd.
The main source of power at that time was the water wheel. Electric power was only implemented after the major reconstruction of 1965-6 that entailed the erection of new malt deposits, a new mill room, rebuilding of the mash and tun room and re-equipment of other buildings, notably the still house, with the number of stills increased from 2 to 4, heated by steam since 1962. The floor maltings operations stopped in 1968 when the nearby Glenesk maltings began production. The two kilns were demolished in 1979 and the distillery closed in March 1985. Building work for residential development of the distillery started end of 2001.
The capacity of the production was 2.5 million LPA.
How the distillery gained its suffix "royal" from King William IV is not well known. It has been said that Captain Barclay obtained it through political connections.
Source: The Scotch whisky industry record by H. Charles Craig, The Scotch Whisky Distilleries by Misako Udo, Rare Malts, Facts, Figures and Taste by Ulf Buxrud, DCL Distillery Histories Series by Brian Spiller.
Patrick Brossard © 28 Nov 2011.
| | |
| --- | --- |
| Official/original bottlings (OB) | |
| Age | |
| | |
| Vintages | |
| Glenury Royal 1953, 50 YO, OB, 42.8%, B: 2003 | Rating: 17/20 |
| Glenury Royal Cask of Distinction 1968, 50 YO, OB, 45.0%, B:2018, c. 8709. | Rating: 18/20 |
| Glenury Royal 1970, 36 YO, OB, 51.2%, B: 2005, 2100 b | Rating: 17/20 |
| Glenury Royal 1970, 40 YO, OB, 59.4%, B:2011, 1500 b. | Rating: 13/20 |
| Glenury Royal 1971 Rare Malts, 23 YO, OB, 61.3%, B: 1995 | Rating: 17/20 |
| | |
| No Age Specified (NAS) | |

| | |
| --- | --- |
| Independent bottlings (IB) | |
| | |
| Blackadder | |
| Glenury Royal 1973, 36 YO, Blackadder, 46.2%, B: 2009, 148 b. | Rating: 17/20 |
| | |
| Douglas Laing | |
| Glenury Royal 1968 Old Malt Cask, 35 YO, D. Laing, 42.5%, B:2004, Ref 654, 26 b. | Rating: 17/20 |
| Glenury Royal 1972 Old Malt Cask, 32 YO, D. Laing, 50%,B:005, 226 b. | Rating: 18/20 |
| | |
| Duncan Taylor | |
| Glenury 1984 Rarest of the Rare, 22 YO, Duncan Taylor, 50.50%, c. 3041 | Rating: 17/20 |
| | |
| Dun Eideann | |
| Glenury Royal 1973, Dun Eideann, 50.9%, B:2004 c. 6858, 204 b | Rating: 18/20 |
| | |
| Gordon & MacPhail | |
| Glenury Royal 1984 Rare Old R0/02/15, G&M, 43%, B:2012. | Rating: 16/20 |
| | |
| The Whisky Agency | |
| Glenury Royal 1973 joint bottling with The Nectar, 37 YO, TWA, 43.0%, B: 2011, 146 b. | Rating: 17/20 |
| | |