Distillery in Focus: Glen Scotia
Region: Campbeltown
Name: Glen Scotia ("Glen of the Scots")
Status: Active
Website: None
Telephone: 01586 552288
Address: 12 High Street, Campbeltown, Argyll and Bute, PA28 6DS
Visitor centre: No
Owner: Loch Lomond Group, Exponent Private Equity.
Established in 1832.
Stills: 1 Wash and 1 Spirit stills.
Percentage of single malts: Unknown (10-15%?)
Casks used for maturation are bourbon (90%) and sherry (10%).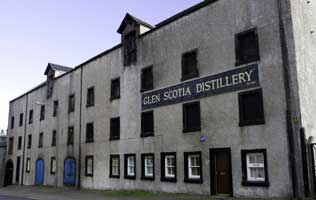 Regular Bottling:
Glen Scotia 14 YO 40% (until 2005)
Glen Scotia 1973 26 YO 40%
Glen Scotia 12 YO 40% (since end 2005, replacing the 14 YO)
In 2013 was launched a serie containing the followign bottling:
Glen Scotia 10 YO, 46%
Glen Scotia 12 YO, 46%
Glen Scotia 16 YO, 46%
Glen Scotia 18 YO, 46%
Glen Scotia 21 YO, 46%

Contribute(d) to the following blends: "Scotia Royale", "Black Prince", "Royale Escort" and "Whyte and Mackay".
Few Glen Scotias whiskies have found their way to independent bottlers. Amongst them, there is a Glen Scotia 1974 from Signatory, Glen Scotia Mission 1975 from Murray McDavid and a Glen Scotia 1990 from Gordon and Macphail. The oldest cask stored in the warehouse dates from 1989 (status May 2006). Since 1999, Glen Scotia is now producing a small amount of peated spirit (15 ppm) and the first bottling was released in 2006 for the Whiskyfair.
For the tasted whiskies, click here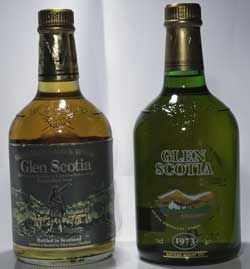 Two original bottlings. From left to right: the old 14 YO and the 1973 vintage bottled in 1999.
Glen Scotia, with Springbank and Glengyle are the only distilleries left in Cambpeltown. At the turn of the 19th and 20th century, Campbeltown peaked at 34 distilleries.
---
History of Glen Scotia
Glen Scotia (Scotia distillery) was originally built in 1832 by the Dean of Guild Stewart and Provost John Galbraith, although 1835 is the date of foundation mentioned in the labels of the distillery or 1837 on some official correspondence. The distillery will remain property of Stewart Galbraith until 1895, when Glen Scotia is sold to Stewart Galbraith & Company Limited. In 1919, West Highland Malt Distilleries ltd bought the distillery. The company bankrupted in 1924 and one of its directors, Duncan MacCallum took it over. He was forced to close the distillery for bankruptcy during the prohibition period, in 1928 and committed suicide in 1930 by drowning himself in the Campbeltown Loch. Since then, it is said that MacCallum ghost is haunting the distillery. This story became quite popular and a song was written. In 1930, the Bloch brothers took over the distillery and became a registered company in 1941 as Bloch Brothers Distillers Ltd (who owned Scapa in Orkney). The distillery was closed between 1928 and 1933. In 1954 Hiram Walker took over the group and sold it in 1955 to A. Gillies and Co., which became part of Amalgated Distilled Products Ltd in 1970. Between 1979 and 1982, £1 mio was invested for upgrading the distillery. Two years after the updgrade, in 1984, the distillery closed. In 1989, Gibson and Co took over Amalgated Distilled Products and restarted the production. Glen Caterine Bonded Warehouse Ltd took over in 1994 and mothballed the distillery until 1999, when production was resumed by the neighbouring Springbank Distillery staff. In May 2000, Loch Lomond Distillers took over the production. The production in Glen Scotia is currently of 100'000 LPA (capacity 1'000'000 LPA) and all the spirit is stored in one warehouse (6900 casks). The other warehouses are currently empty. By comparison, the production was recorded as 386'000 LPA in 1885. In 2014, Exponent Private Equity took over the Loch Lomond group.
Noteworthy, Glen Scotia is probably the last distillery to use corten (non-inoxidable) steel Washbacks. The Distillery Manager, Hector (former Springbank), is running the distillery with two extra employees.
| | |
| --- | --- |
| | |
| The old open mashtun has been roofed in order to comply with the Health and Safety requirments. | One of the rare distillery using Corten steel washbacks. |
| | |
| The wash and sprit stills are from the 1960s. | Only one warehouse is currtenly in use. Glen Scotia has plenty of space to expand. |
Source: The distilleries of Campbeltown by D. Stirk, distillery visit.
©P.Brossard 18July06, last update: 18 Nov 2017
| | |
| --- | --- |
| Official/original bottlings (OB) | |
| Age | |
| Glen Scotia 5 YO (Gillies), OB, 40%, B: 1970s. | Rating: 14/20 |
| Glen Scotia 8 YO, OB, 43%, B:1960s | Rating: 15/20 |
| Glen Scotia 10 YO, OB, 46%, B: 2013 | Rating: 13/20 |
| Glen Scotia 12 YO, OB, 40%, B: 2007 | Rating: 14/20 |
| Glen Scotia 12 YO, OB, 46% B: 2013 | Rating: 11/20 |
| Glen Scotia (Gillies), 12 YO, OB, 54%, B:1980 | Rating: 12/20 |
| Glen Scotia 15 YO, OB, 46%, B:2015 | Rating: 14/20 |
| Glen Scotia 16 YO, OB, 46%, B: 2013 | Rating: 14/20 |
| Glen Scotia 18 YO, OB, 46%, B: 2013 | Rating: 13/20 |
| Glen Scotia 18 YO, OB, 46%, B:2018 | Rating: 14/20 |
| Glen Scotia 21 YO, OB, 46%, B: 2013 | Rating: 12/20 |
| Glen Scotia 25 YO, OB, 48.8%, B:2017 | Rating: 15/20 |
| | |
| Vintages | |
| Glen Scotia 1991 for Edinburgh Airport and World Duty Free, OB, 56.5%, B:2017 c. 857, 204 b. | Rating: 13/20 |
| Glen Scotia 1999 for the Whiskyfair, 6 YO, OB, 52.7% B: 2006, c. 541/2 | Rating: 15/20 |
| Glen Scotia 1999 Dunnage Tasting 2021, OB, 59.0%, B:2021, cask 2018/256/2. | Rating: 16/20 |
| Glen Scotia 2001, OB, 45%, B: 2011, c. 627, 330 b. | Rating: 15/20 |
| Glen Scotia 2001 for Best Taste Trading, OB, 54.1%, B:2017 | Rating: 16/20 |
| Glen Scotia 2001 Campbletown Whisky Festival 2016, OB, 57.1%, B: 2016. | Rating: 16/20 |
| Glen Scotia Peated 2002, OB, 45%, B: 2011, c. 164, 410 b. | Rating: 15/20 |
| Glen Scotia 2002 Ruby Port Finish Dunnage Tasting 2021, OB, 53.8%, B:2021, cask 2019/609/80. | Rating: 14/20 |
| Glen Scotia 2002 Oloroso Finish Dunnage Tasting 2021, OB, 58.7%, B:2021, cask 2019/618/81. | Rating: 14/20 |
| Glen Scotia 2005 Heavily Peated Spring 2019,13 YO, OB, 55.7%, B:2018, cask 17/413-8. | Rating: 13/20 |
| Glen Scotia 2006, OB, 45%, B: 2011, c. 087, 320 b. | Rating: 11/20 |
| Glen Scotia Peated 2007, OB, 45%, B: 2011, c. 225, 370 b. | Rating: 14/20 |
| Glen Scotia 2008 Peated Campbeltown Festival Ruby Port Wood, OB, 57.8%, B:2018. | Rating: 15/20 |
| Glen Scotia 2009 For Ramseyer's Whisky Connection, OB, 55.1%, B:2019, c. 852, 247 b. | Rating: 16/20 |
| Glen Scotia 2015 Dunnage Tasting 2021, OB, 60.5%, B:2021, cask 1535, 1st Fill Bourbon | Rating: 11/20 |
| | |
| | |
| No Age Specified (NAS) | |
| Glen Scotia Double Cask, OB, 46%, B:2015 | Rating: 15/20 |
| Glen Scotia Double Cask, OB, 46%, B:2021. | Rating: 13/20 |
| Glen Scotia Victoriana, OB, 51.5%, B:2015 | Rating: 12/20 |
| Glen Scotia Victoriana, OB, 54.8%, B:2018, batch 1 | Rating: 13/20 |
| | |
| --- | --- |
| Independent bottlings (IB) | |
| | |
| Archives (whiskybase) | |
| Glen Scotia 1992, 20 YO, Archives, 50.4%, B: 2012, c. 08/71, 80 b. | Rating: 17/20 |
| | |
| Cadenhead's | |
| Glen Scotia 1991 Sherry, 15 YO, Cadenhead, 57.8%. | Rating: 17/20 |
| | |
| Douglas Laing | |
| Glen Scotia 1992 Old Particular,21 YO, Douglas Laing, 51.5%, B: 2013, DL9907. | Rating: 14/20 |
| | |
| First Editions | |
| Glen Scotia 1991, The First Editions, 59.6%, B; 2013, 219 b. | Rating: 13/20 |
| | |
| Murray McDavid | |
| Glen Scotia 1992 Bourbon/Rum, 15 YO, M. McDavid, 46% | Rating: 11/20 |
| | |
| Hart Brothers | |
| Glen Scotia 1992 For The Whisky Schiff, 18 YO, Hart Brothers, 54.0%, B: 2011, First fill cask | Rating: 15/20 |
| | |
| Scotch Malt Whisky Society | |
| Glen Scotia 93.32 1992, 16 YO, SMWS, 64.6%, B 2008, 197 b. | Rating: 12/20 |
| Glen Scotia 93.55 1999, 13 YO, SMWS, 61.4%, B:2013 | Rating: 13/20 |
| Glen Scotia 93.36 1992, 17 YO, SMWS, 57.5%, B: 2009, 329 b. | Rating: 08/20 |
| Glen Scotia 1992 Like a vintage dessert wine 93.78, 25 YO, Scotch Malt Whisky Society, 53.3%, B:2017, | Rating: 14/20 |
| | |
| Signatory | |
| Glen Scotia 1966, 27 YO, Signatory, 51.5%, B: 1994, c. 1271-2, 405 b. | Rating: 16/20 |
| Glen Scotia 1974, 31 YO, Signatory, 44.9%, B: 2005, c. 844 | Rating: 16/20 |
| Glen Scotia 1992 Fino refill, 13 YO, Signatory, 43%, B: 2005 | Rating: 13/20 |
| Glen Scotia 1992, Signatory, 43%, B: 2005. Refill butt | Rating: 14/20 |
| | |
| The Whisky Agency | |
| Glen Scotia 1972, TWA, 40.1%, B: 2010, 92 b. | Rating: 14/20 |
| Glen Scotia 1992 for The Whisky Exchange, The Whisky Agency, 49.3%, B:2017. | Rating: 14/20 |
| | |
| Wilson & Morgan | |
| Glen Scotia 1991, 20 YO, Wilson & Morgan, 44.2 %, B: 2012, c. 1 | Rating: 14/20 |