Distillery in Focus: Cragganmore
Region: Speyside
Name: Cragganmore ( "The big rock")
Status: Active
Website: http:www.discovering-distilleries.com, http:www.malts.com
Telephone: 01479 874635
E-Mail: Cragganmore.distillery@diageo.com
Address: Cragganmore, Ballindalloch, Moray, AB37 9AB, 57"24'36.576000 N 3"23'39.994800 W
Visitor centre: Yes
Owner: Diageo
Established in 1869
Stills: 2 wash and 2 spirit stills
Casks used for maturation: Bourbon and sherry.
Percentage of single malts: 33%
Contribute(d) to the following blends: Old Parr, The Antiquary, McCallum's Perfection, White Horse, The Claymore.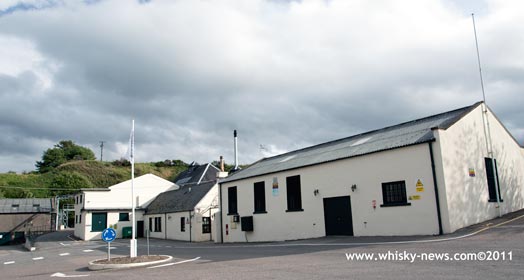 Regular Bottling:
Cragganmore 12 YO, 40%
Cragganmore Distillers Edition Double Matured (diverse vintages) 40%
Other bottlings:
In addition to the core range, some cask strength bottlings have been released for th Friends of Classic Malts or as part of the Diageo Special releases: Craggananore 10, 14, 17, 21 and 29 years old. In addition, a single cask expression was released as part of their Manager's choice selection, and earlier on, as part of their Manager's Dram selection (staff only).
For the tasted whiskies, click here
---
From left to right: Cragganmore 12 YO, 40%, Cragganmore 1989 21 YO, Cragganmore 1997 Manager's choice, Cragganmore Distiller's edition and Cragganmore 1993 10 YO.
---
History of the Cragganmore distillery
John Smith, the most experienced practical distillery of his time persuaded his Landlord, persuaded his landlord, Sir George Macpherson Grant, to let him build a new distillery on Ayeon Farm, about half a mile from Ballindalloch Station on the Strathspey Railway. The distillery was completed in 1869.
Cragganmore was the first Speyside distillery to be sited to take advantage of railway transport. He died, at the age of 5:3, on 13 March 1886. The business was carried on by trustees, under the guidance of a brother, George Smith of Parkmore Distillery, Dufftown, until 1893, when John Smith's youngest son, Gordon, came of age. The distillery never closed for more than a fortnight in any year between starting up in 1870 and the summer of 1901 when reconstruction began.
Gordon Smith's widow, Mary Jane, took over the distillery in 1912. The distillery closed down between 1917 and 1918 due to wartime restrictions. Reopening in February 1919 was celebrated with the installation of electric light. She sold the distillery to The Cragganmore Distillery Co. Ltd., incorporated on 16 June 1923 (expiry of the lease) with a capital of £20,000. The distillery closed between 1941 and 1946.
The distillery became a wholly-owned subsidiary of The Distillers Company Limited, in 1965-66 and was then registered under the name D&J Calum Ltd, The Distillers Company; The furnaces of the two stills were converted to a mechanical coal-stoking system in 1961 and the number of stills increased to four in 1964. The tunroom was rebuilt in 1968. All four stills were converted to steam heating from an oil-fired boiler in 1972. In 1992, the distillery was licensed to MacDonald Greenlees Ltd.
Source: Distillery visit, The Making of Scotch whisky by John R. Hume & Michael S. Moss, The Scotch whisky industry record by H. Charles, Craig, The Scotch Whisky Distilleries by Misako Udo, and The DCL Distillery Histories Series by Brian Spiller.
Patrick Brossard © 07 Aug 2011
| | |
| --- | --- |
| Official/original bottlings (OB) | |
| Age | |
| Cragganmore 12 YO, OB, 40%, B:2005 | Rating: 14/20 |
| Cragganmore 12 YO, OB, 40%, B:2016 | Rating: 15/20 |
| Cragganmore 12 YO, OB, 43%, B:2017. | Rating: 13/20 |
| Cragganmore 12 YO Special Releases 2019, OB, 55.4%, B:2019 | Rating: 16/20 |
| Cragganmore 14 YO Friends of Classic Mals, OB, 47.5%, 4987 bottles | Rating: 16/20 |
| | |
| Vintages | |
| Cragganmore 1973, 29 YO, OB, 52.5%, D:1973, 6000 bottles | Rating: 15/20 |
| Cragganmore 1989, 21 YO, OB, 56%, B: 2010 | Rating: 10/20 |
| Cragganmore 1993, 10 YO, OB, 60.1% | Rating: 11/20 |
| | |
| No Age Specified (NAS) | |

| | |
| --- | --- |
| Independent bottlings (IB) | |
| | |
| Bladnoch Forum | |
| Cragganmore 1991, 19 YO, Bladnoch Forum, 53.8%, B: 2010, c. 1176, 281 b. | Rating: 15/20 |
| | |
| Cadenhead's | |
| Cragganmore 1989 Small batch, Cadenhead's, 57.5%, B: 2013 | Rating: 13/20 |
| | |
| Gordon & MacPhaill (G&M) | |
| Secret Stills 02/02 (Cragganmore) 1966, 40 YO, Gordon & MacPhail, 45%, B: 2006, 600 b. | Rating: 16/20 |
| Cragganmore 1972 Connoisseur's Choice , 15 YO Gordon & MacPhail, 40%, B: 1987 | Rating: 15/20 |
| | |
| Malts of Scotland | |
| Cragganmore 1999, 11 YO, Malts of Scotland, 55.7% | Rating: 16/20 |
| | |
| Rattray, A.D. | |
| Cragganmore 1993, 20 YO, A.D. Rattray, 54.2%, B:2013, c. 1977 | Rating: 13/20 |
| | |
| Scotch Malt Whisky Society | |
| Cragganmore 1985 37.60 Oranges, spices and London honey,29 YO, SMWS, 52.4%, 182 b. | Rating: 13/20 |
| Cragganmore 37.48 1999 clean smoking jackets, 12 YO, SMWS, 55.4% | Rating: 16/20 |
| | |
| Signatory | |
| Cragganmore 1989, 15 YO, Signatory, 55.4%, B: 2004, c. 983 | Rating: 09/20 |
| | |
| The Whisky Agency | |
| Cragganmore 1989 "Art Nouveau Ladies", The Whisky Agency, 52.1%, B:2016 | Rating: 15/20 |
| | |
| Warehouse 8 | |
| Cragganmore 1997, 15 YO, Warehouse 8, 46.0%, B: 2012, cask 1504. | Rating: 11/20 |
| | |
| Wilson & Morgan | |
| Cragganmore 1993, 20 YO, Wilson & Morgan, 50%, B: 2013 | Rating: 17/20 |