Distillery in Focus: Benromach
Region: Speyside
Name: Benromach
Status: Active
Website: http://www.benromach.com/
Telephone: +44 1309 675968
E-Mail: info@benromach.com
Address: Invererne Road, Forres, Moray, IV36 3EB GPS: 57°36′50.87″N 3°37′12.14″W? / ?57.6141306°N 3.6200389°W
Visitor centre: Yes
Owner: Gordon & MacPhail
Established in 1898
Technical details:
Water source: Chapelton Springs
Malted barley: Barley peated to various degrees (from 12 to 67 ppm) from Scottish maltsters. Organic barley is used for the Benromach organic.
Malt bins: 1 of 30 tonnes
Mill: Boby (4 rollers)
Mash tun: Stainless semi-lauter, 1.5 tonnes
Washbacks: 4 made of wood (larch), capacity of 11,000 litres each.
Yeast: Distillers and brewers yeast
Fermentation: 72-120 hours
Stills: 1 wash (7,500 L) and 1 spirit stills (5,000 L)
Warehouses: 6,000 casks. Dunnage warehouses.
Production capacity: 135,000-150,000 LPA
Employees: 2
Casks used for maturation: refill bourbon and sherry casks
Percentage for single malts: 100%
Contribute(d) to the following blends: n.a.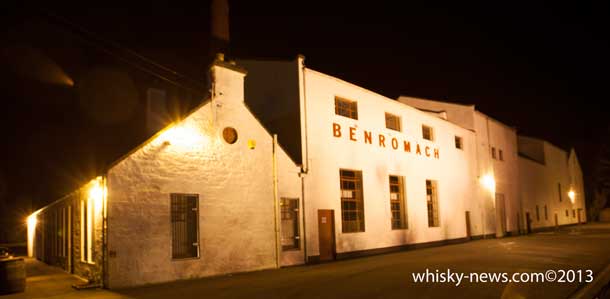 The distillery by night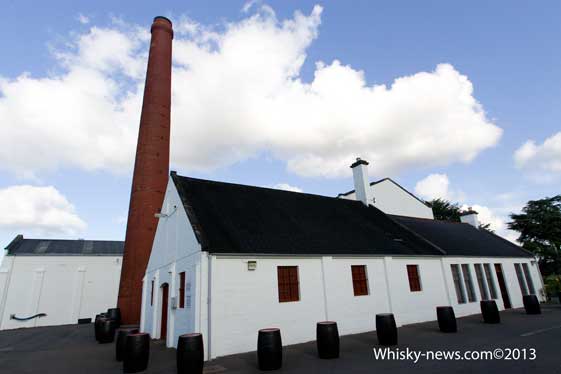 and during daytime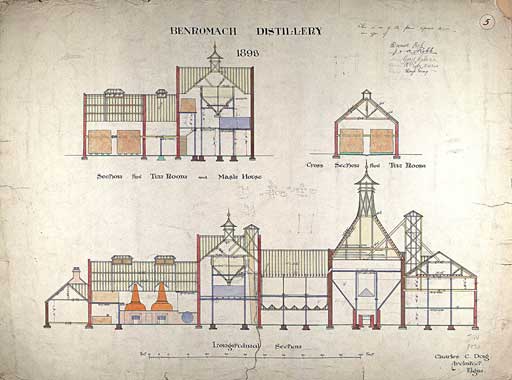 The plan of the distillery in 1896 (copyright: Elgin Library ?)
Regular Bottling:
Benromach Origins
Benromach Peat Smoke
Benromach 10 YO 43%
Benromach 21 YO 43%
Benromach 25 YO 43%
Benromach 30 YO 43%
Benromach Traditional 40%
Other bottlings:
Several vintages and different versions of the organic, origins and peat smoke have been produced over the years.
For the tasted whiskies, click here
---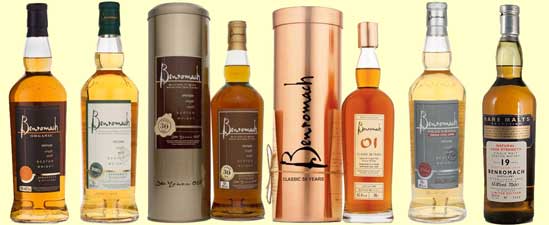 Several of the official Benromach (from left to right): Benromach organic, 2001 vintage, 30 YO, Classic 55 YO, Peat Smoke and the old Rare Malts 19 YO
---
History of the Benromach distillery
The distillery was founded in 1898 by Duncan MacCallum of the Glen Nevis distillery and FW Brickmann, a spirit broker of Leith, supported by Alexander Edward, a promoter of distillery enterprises. They hired the Elgin architect Charles Doig for the construction. At the time of the completion of the distillery in December 1898, the Pattison's crash followed and a period of depression followed. This delayed the start of the operation until May 1900 when the first trials were initiated. Benromach stayed silent until October 1909 when the new owner, John Eustace Jameson Ltd of London recommenced distilling until the Great War.
After the war, the distillery was acquired by John Joseph Calder, who sold it shortly after on the 28th November 1919 to the Benromach distillery Ltd, a private company. The main shareholder was Macdonald Greenlees & Williams, distillers and blenders of Leith.
In 1925, it was reported that the distillery had two stills and four washbacks, as well as probably the only wooden mash tun of the industry.
It was reported on 6 January 1937 that Benromach "which has been silent for years" has just been bought. It was transferred in July 1938 to Associated Scottish Distilleries Ltd, company formed by W. Hobbs and H. Attari. It was later acquired by National Distillers, which sold it in turn to the Distillery Company Limited. It was transferred to Scotch Malt Distillers Ltd in 1953. The two stills were converted to internal heating in 1966 when the still house was rebuilt. Floor malting operations stopped in 1968. The mash house was rebuilt and the tunroom modernised in 1974.
The distillery went silent in March 1982. It has 6 washbacks of 28,000 L capacity a wash still of 14,000 L and a spirit still of 12,000, giving a maximal output of 990,000 LPA.

In 1993, Gordon & MacPhails acquired the distillery. Since the former owner removed all the equipment, new stills, washbacks and a mash tun were commissioned. The first spirit ran out of the stills in 1998, with the distillery officially opened on 15th October 1998 in presence of HRH Prince of Wales. A new visitor centre was opened on 2nd August 1999.
In 1999, the first production of whisky using organic barley took place and launched on the market in 2006. Warehouse 4 was built in 2007.
Source: Distillery website, The Scotch whisky industry record by H. Charles Craigs, The Scotch Whisky Distilleries by Misako Udo, Customs and Excise records (archives), The DCL Distillery Histories Series by Brian Spiller, Rare Malts, Facts, Figures and Tasteby Ulf Buxrud, The Making of Scotch whisky by John R. Hume & Michael S. Moss,
www.whisky-news.com/Patrick Brossard © 27 Jul 2012.
| | |
| --- | --- |
| Official/original bottlings (OB) | |
| Age | |
| Benromach 10 YO, OB, 43% B: 2010 | Rating: 14/20 |
| Benromach 10 YO, OB, 43%, B:2015 | Rating: 13/20 |
| Benromach 10 YO, OB, 43%, B:2018. | Rating: 13/20 |
| Benromach 10 YO 100 Proof, OB, 57%, B:2015 | Rating: 10/20 |
| Benromach 10 YO 100 Proof, OB, 57%, B:2018 | Rating: 12/20 |
| Benromach 15 YO, OB, 43%, B:2015 | Rating: 13/20 |
| Benromach 15 YO, OB, 43%, B:2017 | Rating: 13/20 |
| Benromach 15 YO, OB, 43%, B:2018 | Rating: 15/20 |
| Benromach 15 YO, OB, 43%, B:2019. | Rating: 12/20 |
| Benromach 21 YO, OB, 43%, B: 2008 | Rating: 15/20 |
| Benromach 30 YO, OB, 43%, B:2012 | Rating: 14/20 |
| Benromach 35 YO, OB, 43%, B:2016 | Rating: 16/20 |
| | |
| Vintages | |
| Benromach 1969, 42 YO, OB, 42.6%, B: 2011, | Rating: 18/20 |
| Benromach 1976, OB, 46%, B:2012 | Rating: 14/20 |
| Benromach 1977, OB, 56%, B:2017 | Rating: 15/20 |
| Benromach 1998 20th Anniversary, 20 YO, OB, 56.2%, B:2018. | Rating: 14/20 |
| Benromach 2000 for LMDW, OB, 60.4%, cask 724, 250 b. | Rating: 14/20 |
| Benromach 2008 for LMDW, OB, 56.3%, B:2016, cask 193. | Rating: 15/20 |
| Benromach Cask Strength 2008 batch 1, OB, 57.9%, B:2019 | Rating: 14/20 |
| Benromach triple distilled 2009, OB, 50%, B:2017 | Rating: 09/20 |
| Benromach 2009 Triple Distilled, 8 YO, OB, 50%, B:2017. | Rating: 11/20 |
| Benromach 2009 for La Maison du Whisky, OB, 58.7%, B:2017, c. 116. | Rating: 14/20 |
| Benromach 2009 for LMDW Cellar Book, OB, 59.9%, B:2018, c. 354. | Rating: 15/20 |
| | |
| No Age Specified (NAS) | |
| Benromach latitude,OB 57%, B: 2008 cask 579, 327 b. | Rating: 09/20 |
| Benromach organic, OB, 43%, B: 2008 | Rating: 16/20 |
| Benromach organic, OB, 43%, B: 2010 | Rating: 13/20 |
| Benromach organic special edition, OB, 43%, B: 2012. | Rating: 14/20 |
| Benromach organic 2010, OB, 43%, B:2015 | Rating: 11/20 |
| Benromach origins batch N°1 –Golden promise, 50%, OB B:2008 | Rating: 13/20 |
| Benromach Origins Golden Promise, OB, 50%, B: 2013 | Rating: 09/20 |
| Benromach Peat Smoke, OB, 46%, B: 2007 | Rating: 09/20 |
| Benromach Peat Smoke Phenol Level 53 ppm2004, OB, | Rating: 11/20 |
| Benromach Peat Smoke 67 ppm 2005, OB, 46%, B:2013 | Rating: 13/20 |
| Benromach Peat Smoke 2006, OB, 46%, B:2015 | Rating: 13/20 |

| | |
| --- | --- |
| Independent bottlings (IB) and anonymous Benromach | |
| | |