Whisky Schiff Lucerne, 2012, 6th edition (30-31 March).
click here for the photo gallery
http://www.whiskyschiff-luzern.ch/

Note: All tasting notes provided below are the initial impression during the whisky event and all these whiskies will be tasted again in a controlled situation.

I made the trip to the Whisky Schiff Luzern on the second day of the event, coinciding with the last day of March.

On this day of March 31st, a large proportion enjoyed tasting their whiskies on the deck of the three ships harboured in Luzern for the 2012 Edition of this whisky Schiff.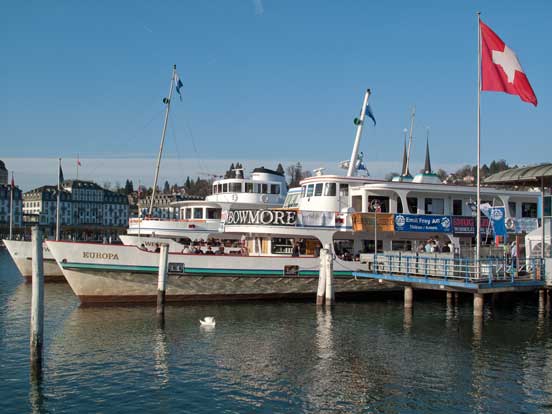 The ships were the Whisky Schiff (ship) was hosted.

Although I arrived in the mid-afternoon, it was rather easy to circulate between the ships and my first halt took place at House of Single Malts to taste one the latest release, the Glenglassaugh Revival.

This is the first single malt released from the new production, since the reopening of the distillery in 2009. This was vatting from small sherry and bourbon casks (octaves or quarter casks?). The whisky was very smooth, young and ratherround: an easy drinking whisky that will hopefully gain in complexity over time. This was followed by a 1967 single malt from Lochside bottled by Coopers choice. It had a nice round and smooth sherry influence, but the whole was rather soft and slightly thin. Might have been interesting tasting it some years ago. The Clynelish 1972 38 YO from Single Malts of Scotland was a nice rounded and mellow Clynelish, with rather strong notes on lemon on the nose. A vintage that is becoming now past its prime. From Cooper's choice, the Laggan Mill sherry offered a nice contrast, with nice notes of sherry and strong peaty and maritime notes. A very intense Lagavulin that speaks loud its name. Very pleasant.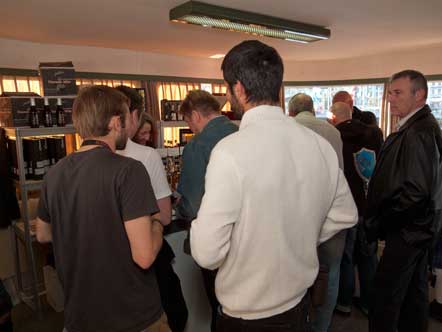 The rather crowded stand at The House of Single Malt

A new name for me what The First Edition, an independent company owned by the "young" Andrew Laing, who previously worked for Douglas Laing (from the same family). The company was founded 2 years ago and Andrew is now bottling about 25 casks a year, mainly to Asia, USA, Scandinavia and Switzerland. The range is not distributed in UK. The selection consists mainly of smooth whiskies from the Speyside aged between 20 and 30 years, mainly from bourbon casks.
The 26 YO Glen Elgin was indeed a very nice smooth whisky, with a nice spiciness and complexity, with a most attractive roundness. Very good.

At Glenfahrn, my choice went for the Bunnhahbhain 35 YO Artist bottled in 2011 for La Maison du Whisky. A very fine smooth Bunnhahbhain, with a sweet sherry influence and pleasant maritime notes. Very good, but getting slightly thin, as most of these aged Bunnhahbhain recently released. At their rarity section, I tasted a handful of very good to excellent whiskies. For the starter, I went for a 1966 Glenugie bottled by Samaroli in 1999 . A good mellow whisky with a nice oaky bite, as well as some grassy notes. It was followed by an 18 YO Bowmore from 1971 bottled by Sestante at 40%. An excellent old Bowmore, with most pleasant dry-sweet sherry notes, some old dried peat smoke and some mineral-austere notes. It was compared to the 16 YO Bowmore 1973 from Sestante bottled at cask strength (62.8%). A very different whisky, more peaty, with stronger old wood notes, strong spicy and maritime notes, but at least as good if not better than the sherried 1971 version. After these two Bowmore, why not taste a few additional Islay whiskies?

From Ardbeg, I was tempted by the old official 30 YO, but I decided to go for the Ardbeg 1974 Douglas Laing Old Malt Cask (2001, 252 bottles), a 26 YO Ardbeg that delivered even more punch and complexity than the 1973 Bowmore, but on a slightly drier and iodine profile. Finally, my last dram at Glenfahrn was the 1998 Lagavulin Horae Solaris from Moon, that acquired amongst many whisky enthusiasts a legendary status. This was indeed a very good Lagavulin, slightly round and smooth, but not really a whisky that I would consider as legendary. The 12 YO Cask Strength Annual Release from Diageo are versions that I consider at least as good, if not better than this famous bottling by Moon.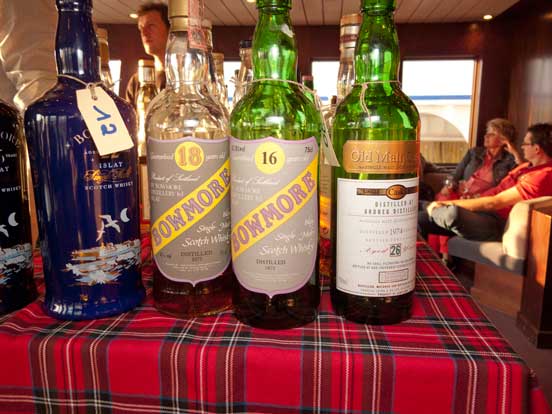 Some of the rarities tasted at Glenfahrn

Higher up on the ship, I stopped at Alexander Weine to taste some new Longmorns bottled by Gordon & Macphail as part of their Reserve range. The 1972 was a very good sherried version of Longmorn, slightly dry and on berries. The fans of vintage will not be disappointed by this one. A few 1969 Longmorn bottled by Gordon & Macphails these last 2 years showed a rather strong astringency (woody) notes, but I was positively surprised by this one. It was rounder, more on berries and fruitier than the 1972, without any relevant astringency or woodiness. Excellent.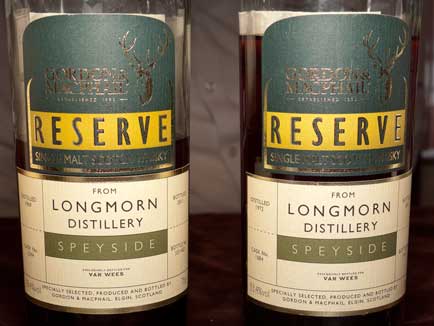 The two Longmorns tasted at Alexander Weine

Glentauchers is usually not really my drink of choice, but 1981 bottled by Signatory last November showed a very nice complexity and depth. Really good. I tasted then a 1979 Bunnhabhain bottled last month for World of Whisky (Waldhaus am See) by Signatory. This was a richly sherried Bunnhabhain, with faint notes of rubber and a very strong intensity and richness that is missing from several older versions of Bunnhahbhain. Finally, I tasted the new release from Highland Park, the Thor: a rather smoky and earthy version of Highland park, with some heather and light fruity notes on the background.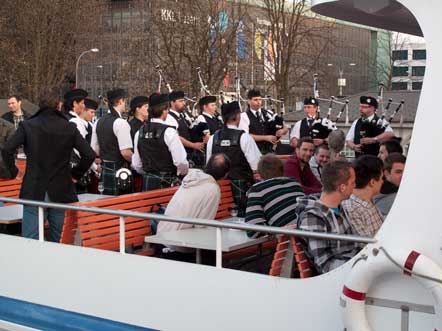 Some musical entertainement took place as well on the ships.

At Best Taste Trading, I could taste the new BenRiach 17 YO Septendecim: a very nice heavily peated whisky, slightly mineral and rather aromatic, reminding me of some Ardmore or old Glen Garioch. A rather clean BenRiach, with a finish I wished would last longer.

I spent the remaining of the evening at Angel's Share, mainly tasting Arran whiskies. I quite like Arran whiskies, but over the last two years, for sake of time, I missed tasting their new released at the different whisky fairs I attended. My first Arran was the just released Arran 1999 Eagle, a vatting of bourbon and sherry casks resulting in a smooth, but complex and very enjoyable whisky, much more to my liking than the previous Peacock. The Arran 12 YO Cask Strength is a limited edition composed of first fill and refill sherry casks, with a profile rather close to the Eagle, slightly spicier and more intense. I will need to compare them again in a more controlled situation. The Machrie Moor and The Peated Arran Single Cask are two peated Arran aged approximately 5 years and made with barley peated to 14 ppm. The youth is well present in both whiskies, with some fruity notes of apples in the Machrie. The Single Cask was as rough as the Machrie was soft. Arran is now producing 350'000 LPA, capacity that should be reached this year, thanks to addition of a 5th washback last month. Storage capacity will be expanded later this summer when the new warehouse will be completed. About 95% of the Arran productions goes for single malt. Finally, my last dram of the evening was from James MacArthur with a 14 YO Caol Ila from a sherry cask. Sherried versions of Caol Ila are rather uncommon and I was keen to taste this one. This was a pleasant surprise, with a rather medium peated Caol Ila body completed by one exceptional clean and round sherry, without a single off-note. An excellent whisky.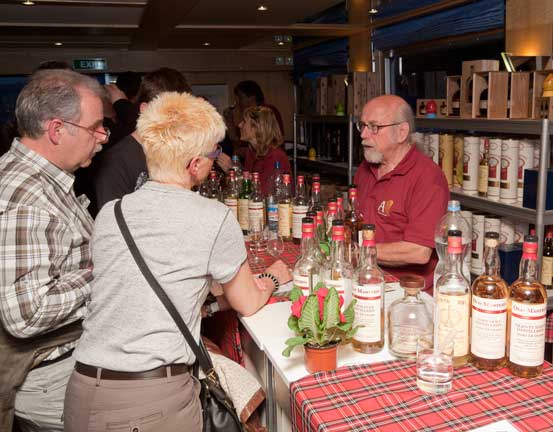 Peter Hofmann guiding some whisky enthusiasts through the James MacArthur range.

Peter Hoffmann recently reduced its restaurant activities to further develop his whisky business, hosting a fair amount of whisky tastings. While an English version of his "Whisky Encyclopaedia" was in the pipelined, Peter told me that a new revised German is on the point of being finalized and should be released for this fall. Interest from UK publishers is confirmed; therefore an English version will be available for all English readers.
Other stands were present, such as Micky's whiskywelt, Smuggler, or Whisky-Handel that I skipped for sake of time.

I found the navigation between the stands and the ships rather good compared to the Whisky Schiff of Zürich and this was due to the control of the traffic by the security, with a rather long queue of people waiting to access the ships when I left.

In conclusion, this was a very good edition of the Whisky Schiff complemented by a beautiful weather and a very large choice of fine single malts.If you are around Luzern (Lucerne) next year, do not miss the Whisky Schiff.

Slainte

Patrick
www.whisky-news.com ©02 Apr 2012