Whisky Schiff Lucerne, 2008, 2nd edition.
Between March 7 and 8 2008, the second edition of the Whisky Schiff was held at Lucerne in Switzerland. I was slightly disappointed by the Whiskyship in Zürich last December (2007), as the number of retailers went down compared to previous years, and the range of products was slightly lower. At Lucerne, they had increased the number of ships from 2 to 3.
So what was offered at the whisky ship?
A large range of whiskies, mainly Scotch single malts, but also some Irish, Bourbon and Japanese whiskies, with the prices for one measure of whisky (app. 1 cl) ranging from 1 to 24 CHF (for the Laphroaig 1980 Sherry). As for last year, the atmosphere was very pleasant; not too crowded and you had time to talk to the whisky makers and to the retailers who were present.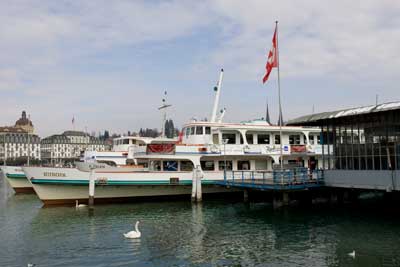 I started my afternoon at the stand of the World-of-whisky, who was displaying a very large selection of Signatory whiskies, in addition to the whiskies of the Chivas Group (Glendronach, Glenlivet and others), Tullibardine, Edradour and different Irish whiskies.
The selection being very wide (over 100 bottles) and having had the opportunity of tasting several Signatory and Edradour products during the last Whisky-Schiff in Zürich, and the Whisky Live in Paris, I restricted myself to the Caol Ila 1974, 32 YO, Signatory, 55.7%, B: 2007, Cask 12624, 261 b, which is one of the best Caol Ila I have tasted so far, rich, complex, peated and quite mineral. This was the first whisky I tasted in Lucerne and finally it was the best one I tried during the event, unfortunately, it is on the expensive side (449 CHF, app. €280). I continued with the Banff 1975, 31 YO, Signatory, 45.4%, B: 2007, cask 3341, 296 b., a good fruity and rather Smoky Banff, suffering from the comparison with the Caol Ila.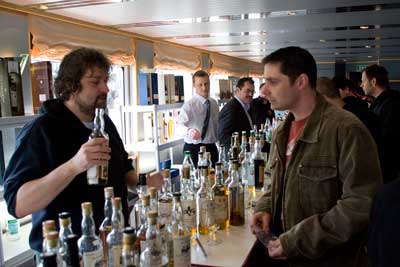 Lars Wiebers at the stand of Monnier with his products.

On the other side of the deck, I had the pleasure of discovering new products of Jack Wiebers distributed in Switzerland by Monnier. Since the number of products was rather large (app. 50 bottles), I focused mainly on the Cross Hill range, with the Ardbeg 1993 Cross Hill, 56.3%, JWWW, B: 2007, 303 b., a rich, powerful and peaty Ardbeg, more complex and richer than the 1991 bottled previously, the non-less attractive Dalmore 1976 Cross Hill, 59.9%, JWWW, B: 2007, 110 b., a robust, rather earthy-grassy, but excellent full-bodied, followed by a Longmorn 1975 Cross Hill, 53.20%, JWWW, B: 2007, 130 b. This Longmorn was probably less refined than the Longmorns distilled in the early 1970s, but was more intense and with a long, lingering and rich finish. Excellent! Before leaving Lars Wieber, I went for a dram of Dufftown 1976 Castles Collection, 31 YO, JWWW, 56.7%, B: 2007, cask 7736, offering a different flavour profile than the official bottlings of Dufftown and more peated. I remained at Monier's stand to taste the Glen Garioch 1985 for The Whisky Exchange, 16 YO, OB, 51.9%, cask 1585, a real sherry monster. No doubt that this is a very good whisky, but you need to like the sherry monsters in order to appreciate it fully. Available for tasting were the Ardbeg single Cask 1975 53.7% bottled for France, Germany, Switzerland and Austria and the Laphroaig 1980 Sherry 27 YO, but since they were on the rather expensive side (20 and 24 CHF respectively), I decided to put that money on other less expensive malts. David Stirk was present with his whisky range and I decided to taste the BenRiach 1987 European Oak finish, 19 YO, Exclusive Malts, 51.3%, B: 2007, cask 14388, a non-peated, round, well balanced, sweet and fruity BenRiach. Very good! The next one was the Caol Ila 1984 Exclusive Malts, 23 YO, David Stirk, 50.7%, B: 2007, cask 2729, a powerful and pleasant Caol Ila, quite typical from this period of distillation with the Madeira influence not too dominating.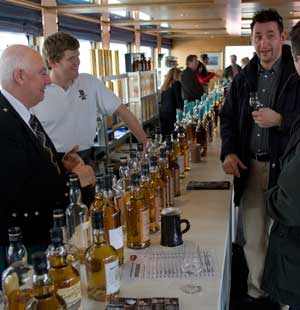 Frank McHardy and Peter Currie at Lateltin
Having spent more than 2 hours on the same deck, I decide to skip the Cadenhead's and MacKillops products to move up of one level and to taste the new (future) products of Springbank at the stand of Lateltin. I got to try their new Longrow CV, OB, 46%, B: 2008 which had just been bottled, a rather young whisky, but quite heavily peated and surprisingly matured for its age. No doubt that it will sell rather quickly. Maybe even more awaited is the new Longrow 18 YO, OB, 46%, B: 2008. I had the chance to taste a sample in advance (going to be bottled next month), and I was not disappointed. A clean, peaty, salty Longrow, reminding of the oldest distillations of Longrow. Excellent. The Murray McDavid and Bruichladdich were also displayed.
At Angel's share, BenRiach, Bowmore, Glengoyne, and Glen Rothes were available for tasting and my attention was focused on the new James MacArthur bottlings, in particular the Glen Garioch 1988 Old masters Sherry, 19 YO, James MacArthur, 53.1%, B: 2008, cask 1536. The sister cask (1535) was excellent and this sherry version was even better! At 118 CHF (€74), it is difficult to find a better quality/price ratio.
At GlenFahrn, the Diageo, Balvenie and other Ardbeg range was present, as well as a rather exhaustive range from the Whisky Fair, Duncan Taylor and Alambique. The Ben Nevis 40 YO for Alambique, OB, 43.4% D: 1967, B; 2007, 157 b., was a most pleasant sherried whisky, which has remarquably well matured without any woodiness. Very nice. The Ledaig 1972, 32 YO, Alambique classique, 48.9%, B: 2005, cask 8721, 396 b., was a sherried and mediumly peated Ledaig, but rather heavy, quite rubbery and a bit rough. The Tobermory 1972 from Alambique Classique was even more rubbery and more heavily tannic. For the last dram, I decided to go for the Longmorn 1973, 33 YO, Duncan Taylor, 49.4%, B: 2007, cask 8913, 192 b., a nice, very sweet and fruity Longmorn, less intense with a shorter finish than the Cross Hill 1975.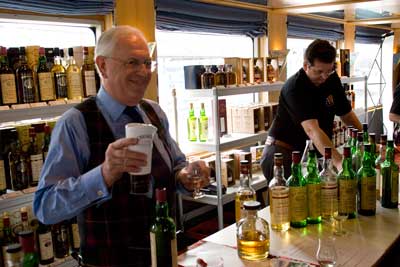 The James MacArthur products at Angel's share
Not only whiskies could be enjoyed during the event, but also Scottish and Iris beers at Scottish & Newscastle, some sweets made of whisky, cigars at Villiger or one could even find a quiet corner and enjoy a coffee at la Semeuse.
After having tasted whiskies and talked about whisky for several hours, I made my way back home, fully satisfied with my day in Lucerne, although I missed going to the stand of The Smuggler.
Because of its size, its proximity with the retailers and whisky makers, the Whisky Schiff in Lucerne is one of the most pleasant and relaxing whisky fairs that I have attended and I hope that it will continue to grow, while maintaining its atmosphere.
See you next year Lucerne!
P.Brossard ©13 March 2008