Whisky Schiff Zürich, 2012, 29 Nov-02 Dec.
Click here for the photo gallery
http: //www.whiskyschiff.ch

Note: All tasting notes provided below are the initial impression during the whisky event and all these whiskies will be tasted again in a controlled situation.
For a change, I attended to the Whisky Schiff in Zürich on its opening day, therefore all the new releases should been available and the bottles freshly opened.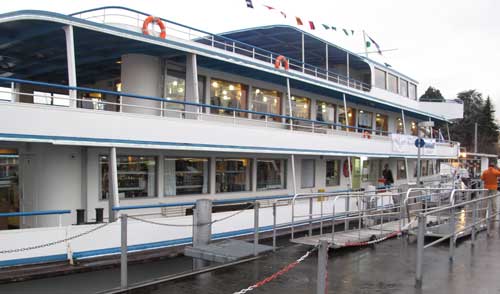 One of the 5 ships where the whisky event was held
The mountains surrounding Zürich were nicely topped by a fresh of snow and the air was fresh. Arriving shortly after the opening at 16h, the amount of visitor was low on this weekday and I started this whisky fair at the Pfannenstiel ship to look for any new releases from BenRiach and the Morrison Bowmore Group (Auchentoshan, Bowmore and Glen Garioch). My first dram was the new BenRiach 25 YO Authenticus peated, replacing the old 21 YO Authenticus. The colour was rather dark and suggestive of a vatting including some sherry casks. However, this hue was given by the presence of a virgin oak cask. The result is a medium peated whisky, rather round and oaky, heavier than the previous 21 YO, and the new BenRiach 17 Peated. It was followed by two BenRiach single cask bottled in October 2012 for Switzerland; a 1996 PX sherry finish, good but with a rather heavy and dominating sherry influence. I enjoyed better the 1995 from a single bourbon cask, more complex and balanced, with some light peaty notes.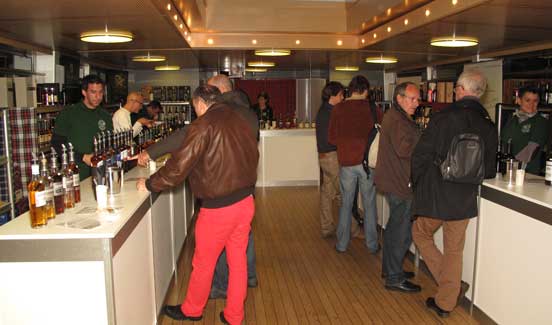 The stand of Best Taste Trading
During this tasting I had a long and pleasant chat with Stuart Buchanan, who is enjoying his role of brand ambassador very much. Although he is now continuously touring the world, he continues nosing and selecting the casks to be bottled. He also informed me that the BenRiach 1966 and GlenDronach 1968 have just been bottled (single malts that I might never the chance of tasting, unfortunately). Furthermore, production of hand made barley resumed about two weeks after a very long sleep of over 10 years and 500 tonnes should be produced yearly. The phenol levels of the peated barley have been sent for analysis and results are pending. Concerning, the costs of floor malted barley, the price is about 2.5 fold higher than malt purchased from commercial maltsters. Since the crops were bad this year, price of malted barley is expected to increase from £300 to £350/tonne next year.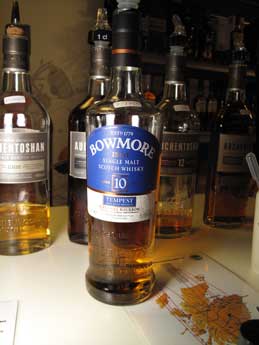 The just bottled Bowmore Tempest batch 4 (IV)
On the other side of deck, the new Tempest batch 4 had just arrived. The nose was rather smoky, but it was definitely less peaty than the previous batches, more salty and with stronger notes of tangerine. According to information received, Bowmore had no intention of producing several batches of Tempest. It was supposed to be limited to the first and initial batch, but additional batches were produced following a strong demand.
On the next ship, I made a first stop at Acla-da-Fans. Several single malts were produced for the whisky Schiff and/or Acla-da-Fans, including a smooth, slightly spicy Littlemill 21 YO bottled by the Perfect Dram with some notes of tobacco leaves and a very sweet and smooth Bunnhahbain 35 YO, very fairly priced (109.- CHF for the Littlemill and 180 CHF for the Bunnhabhanin if I am not wrong). I enjoyed then a Glen Garioch 1991 21 YO from the Liquid Library, a whisky deliciously smooth, without a hint of harshness. Very enjoyable. The next whisky offered a sharp contrast to the Glen Garioch, with intense and very clean peat smoke, a heavy sweet and rounded influence from the dark sherry cask. I enjoyed this Private Bottling of Port Charlotte very much, although some light rubbery notes were present in the finish.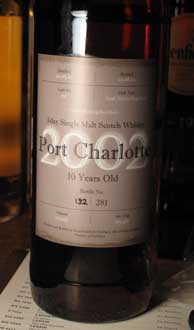 A 10 YO private bottling of Port Charlotte
Of course, I could not leave this stand without having a wee look at the old Ardbeg 10 YO (clear bottle), the Highland Park 21 YO distilled in 1959 and the decanter of Laphroaig 12 YO that I will taste quietly at home.
Further on the ship, I made a stop at Arran with their Arran Sherry cask from 1996 and the bourbon cask from 1999 exclusively bottled for Switzerland.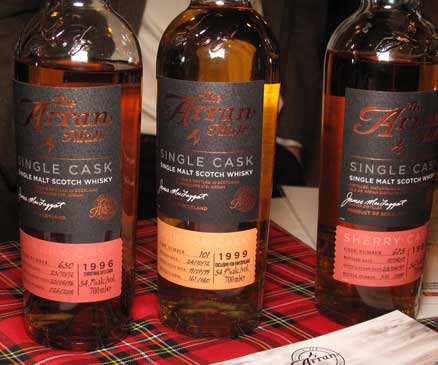 The Arran Sherry and Bourbon Single Casks for Switzerland
A few meters away, I sampled the latest peated offering from Bruichalddich, being the new Octomore 10 YO, the Port Charlotte Peat Project and the Port Charlotte PC10.
Slightly further I stopped at Cadenhead's for a small chat with Grant MacPherson, who was telling me that Cadenhead's has significant amount of casks in stock, that would allow them to continue selling whiskies at the same rate as now for the next 10 to 15 years. I am not sure if all their competitors are at the same level. My first dram there was their new Littlemill 21 YO, a smooth whisky, with some light spicy and smoky (tobacco) notes, the new Glen Mhor 30 YO was very smooth, grassy and on sweet honey notes, while the 20 YO Mortlach sherry cask was nicely rounded, while maintaining a nice bite with its rich and spicy notes. My last dram was the recent Ardbeg 1991 21 YO 44.7%: light, smooth, medium peated, with strong coastal and maritime flavours.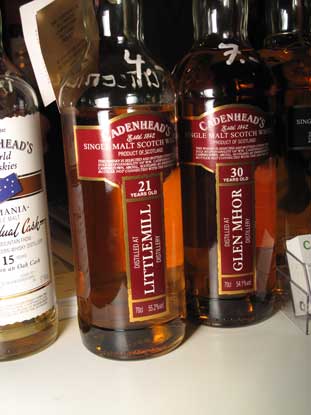 Some of the Cadenhead's tasted
At House of Single Malts, I could not resist tasting the new Glenglassaugh Evolution matured in ex-Dickel bourbon cask. I will need to taste it again more carefully, but it was a rather sweet whisky with nice smooth bourbon notes, slight fruity and floral notes. Overall, it left me a pretty good impression. The Glenglassaugh Master Distillers' selection and the new Lagan Mill sherry from Coopers from this year will be reviewed later on.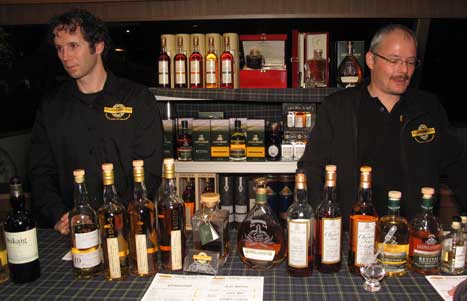 The stand of House of Single Malts
After a couple of hours spent on the first two ships, it was time to move to the next one, where I discovered a new comer (and range): The Warehouse Collection from The Whisky Warehouse 8, with a rather wide range of middle aged whiskies, from distilleries not often seen (e.g., Cragganmore, Deanston, Dailuaine). I will review the 18 YO Caperdonich, the 15 YO Cragganmore and the 13 YO Deanston sherry later on.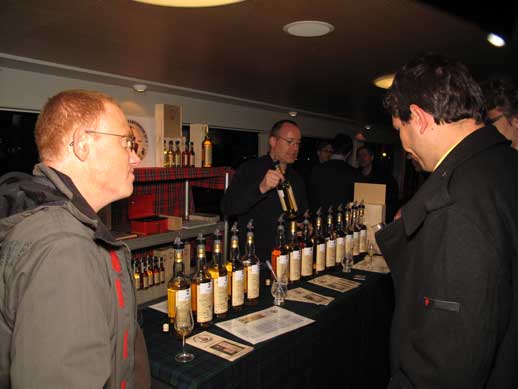 The warhouse 8 whisky range
Reto Stöckli and The First Edition were new comers at the Whisky Schiff Zürich as well. I had the pleasure of tasting most of the new releases since the beginning of this year. My first whisky there was a 21 YO Bladnoch bottled last year: smooth and rather smoky, reminding me of a Rosebank. The next one was an excellent Longmorn 27 YO, very fruity, smooth and deliciously smooth. One of the best malt of the show! The last one was a Miltonduff 30 YO, that reminded strongly of the very nice sweet and mellow Miltonduff distilled in the 1960s and bottled by Gordon & MacPhail some years (a decade ?) ago. Just before I intended to leave, Andrew Laing joined the stand and a rather long chat followed. His activities are expanding well and he opened several new markets (e.g., USA or Canada) in addition to his other Asian, Swiss, German and Scandinavian markets.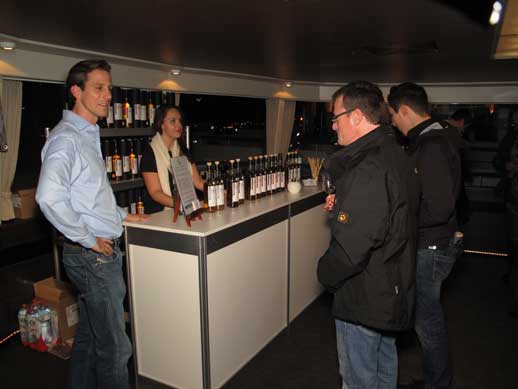 Reto Stöckli and The First Editions
The next move was at the stand of Emly's and 42 YO Ben Nevis from the Maltmen without a blemish of age and with a delicious smoothness.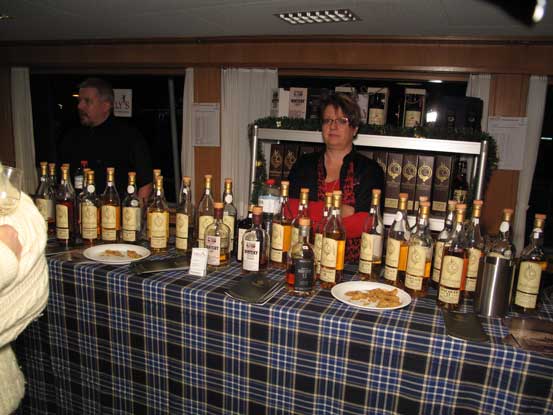 The Maltmen range at Emly's
My final stop was a World of Whiskies to purchase a sample of the 27 YO Glenlossie bottled by Signatory for the Waldhaus am See as well as the new Ayrshire 34 YO with a fiery label. I found it slightly rougher and spicier than the previous bottling of Ayrshire by Signatory. Just around the corner, I was invited for tasting the Johnnett Whisky, a Swiss single malt. Bottled at approximately 3 years of age, it was pleasantly smooth and very easy drinking, with surprising intense fruity notes, more intense than I have experienced in Scotch single malts. Different, but pleasant and well worth a try. This single malt is made from beer single distilled and matured in ex-pinot noir (red wine) chestnut casks stored in a cave. Earlier this year, I visited another Swiss distiller (Käser Schloss), who also used some chestnut casks (report to be published later this year).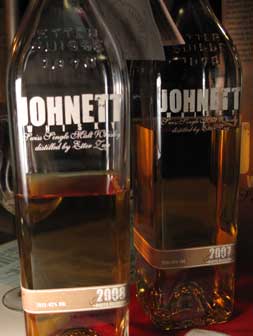 Johnett Swiss Single Malts 2007 and 2008
According to a press release, over 700 malts were presented, including several Swiss brands, bourbons and other world whiskies. Over the 4 days, several master classes were organized.
After 5 hours spent on ships, it was time to go home, even though I did not had the time all the exhibitors.
As for the previous years, this was a very enjoyable event and I am longing for the next edition!