Whisky and More, Lausanne, Switzerland 2-3 October 2015
Click here for the photogallery.
This is the first draft of the report and photographs will be added later in the text. My apologies.
Whisky and More is now (02 and 03 October) celebrating its 3rd edition at the Palais Beaulieu in Lausanne, Switzerland. This is my first after summer whisky fair and I was longing for discovering new products.
My first stop was at the stand of Whisky Time in Lutry. Amongst the full range of Ardbeg, there was no Ardbeg Supernova 2015 available for tasting. Following the discussion I had with the Ardbeg representative, a few bottles might come later to Switzerland. Let us wait and see!
At the same stand, Patrick de Schulthess was taking care of the collectors and I opted for an old Bruichladdich 15 YO in a red ceramic decanter. The whisky was pleasantly smooth, bold, smoky and old-style of slightly peaty smoke. Very good.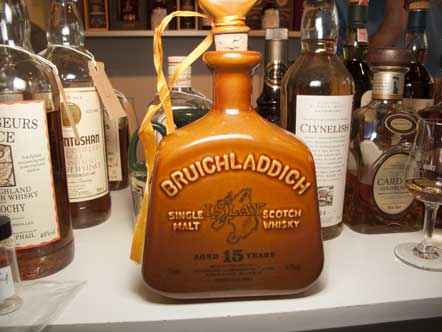 The Bruichladdich 15 YO at the Collector's corner of Whisky Time Lutry
The Dalwhinnie Winter's gold had just arrived and I could not resist tasting it, with its nice amber colour. The whisky was surprisingly spicy and oaky, with some round toffee notes and a slight sweet sherry influence. Quite different from the standard Dalwhinnie, with a stronger oaky influence from the wood.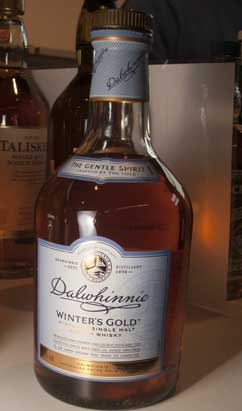 The to be released Dalwhinnie Winter's Gold
There was also a nice selection of Moon whiskies. The Caol Ila was most pleasant, heavily peated, with nice maritime flavours and a very good smokiness. A style that I enjoy better than the most recent products from this distillery. I was told the Bowmore from Bowmore was very good.
At the stand of Hofer, a new 1992 Littlemill from Berry's bottled exclusively for Charles Hofer S.A. was available. A rather fresh Littlemill that seemed rather oaky and slightly rough. I would need to taste it again at home.
A private cask of Arran bottled exclusively for Whisky and More by the distillers was only 7 years old, but it showed a nice maturity, intensity, with pleasant round and malty flavours. I liked it!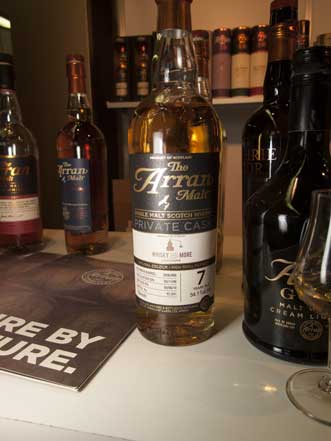 The Private Cask of Arran for Whisky and More
At Magnin Vins & Spiritueux my first glass was for once not a whisky, but delicious Enmore Demerara Rum from Blackadder. I never tried an Enmore rum before, but I fell in love with it smooth, intense and complex tropical fruits, with a superb mouth feel. Highly recommended. Amongst their Samaroli Collections, I tried first a 1998 Glen Moray, malty, slightly floral with a round and smooth sweet sherry influence. Very good and well balanced. I enjoyed the Samaroli Glenlossie 1988 even better, with a light sherry influence, a beautiful smoothness and elegance, subtle floral notes. Flawless. Excellent.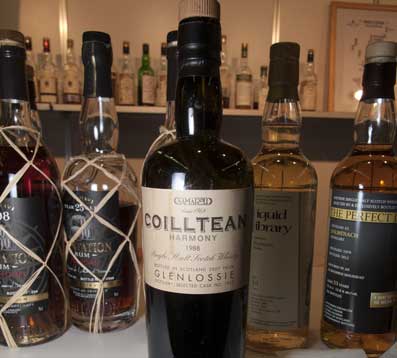 An excellent Samaroli Glenlossie
The Tamdhu 1988 Samaroli was heavy on the sherry, on fudge and toffee, as well as on rubbery flavours. They also just received a new selection of Spirit of Scotland, all bottled at 46%. The Caol Ila was a good peaty whisky, clean, maritime and tarry. I haven't tasted the others. They had also an impressive range of old whiskies, including a 1965 Old Malt Cask Littlemill or 1966 Isle of Jura Old Malt cask. I was kindly offered a glass of Port Ellen 1982 30 YO Platinum, which was excellent, with a surprisingly strong peaty influence for that vintage. Complex, rich and maritime: a prime example of Port Ellen. With was followed by a smooth, sweet, grassy and slightly smoky Rosebank 1975 from Douglas Laing. I haven't tried many sherried Rosebank, but I tremendously enjoyed this one. The St-Magdalene 1978 24 YO Old Malt Cask was slightly rougher, drier and less balanced than the Rosebank.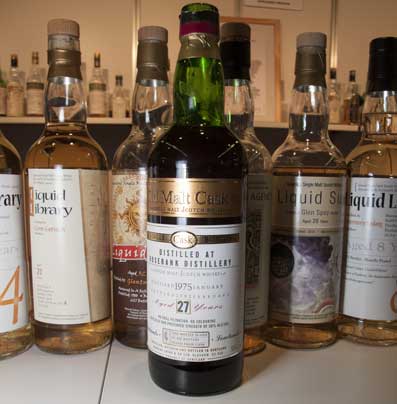 One of the numerous Collectors at Magnin Vins & Spiritueux
The Tomatin 1988 25 YO bottled by The Perfect Dram for Magnin Wines & Spirit was rich, complex, balanced, with pleasant fruity notes, as well as some spices contributing to a nice intensity. Very good.

At the Stillman's , there was no new Irish single malts, but according to my discussion with Daniel Kissling, more will come, most likely in early 2016. The new Cooper's Choice had arrived. The 1995 Highland Park was finished in a sherry cask. It was pleasant, slightly smoky and maritime, with a nice fruitiness. The Laphroaig 1994 Sherry Cask matured was complex, subtle, rich, smoky, peaty, slightly spicy and with a nice slightly sweet and mineral sherry influence. Very good! The Port Charlotte 2007 Cooper's choice was fresh, sweet, peaty, with some sugary new-make influence. If you like sweet-sugary young peaty whiskies, you might enjoy this one very much!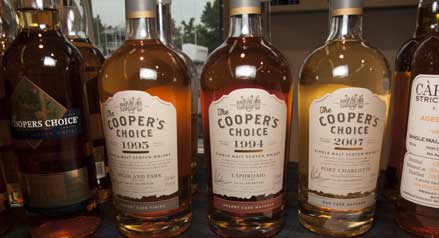 The new repackaging of Cooper's Choice at The Stillman's
The Ledaig 2008 Carn Mor was more matured, intense, drier and with a more maritime peaty influence.
The BenRiach 1994 Single Cask for Lateltin was a sweet and fruity sherry Benriach, on honey and ripe tangerines. Very good and pleasant to drink.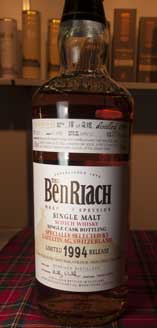 A BenRiach single cask for Switzerland
At the Bar du Nord, the choice was impressive as always and started with sampling whiskies: Ainslie's Royal Edinburgh, Glenfarclas 1976 The Family Cask, Laphroaig 30 YO OB, GlenDronach 1993 20 YO, Craigellachie 1972 24 YO The Bottlers, Highland Park the Bottlers, Glenlochy 1982 Signatory, Dallas Dhu 1975. Heartfelt thanks to you, Nicola!!!! Tasting notes will be published in the weeks and months to come!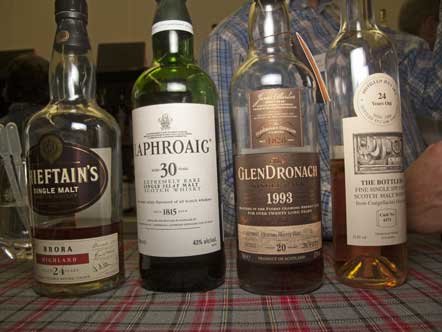 Some collectors at the Stand of the Bar du Nord (Carouge)

In terms of tasting, I selected two nice round, grassy and slightly mellow Scapa Vintage 1974 and 1975, with pleasant round notes of yellow fruits, an excellent peaty, smoky, maritime and complex Lagavulin 1979 Vintage, followed by a very grassy, round, slightly smoky and floral, and rather fruity Glen Albyn 196 Dun Eideann. Finally, I could not leave the Bar du Nord (from Carouge, Geneva), before tasting their new own bottling, the "Mont Roll & Morse Drop" Ben Nevis. Ben Nevis is not a well know distillery, but their produce is very good and this bottle was very good: round, complex, slightly waxy, on melon, yellow flowers and other fruity notes. A recommended all round whisky. Well done!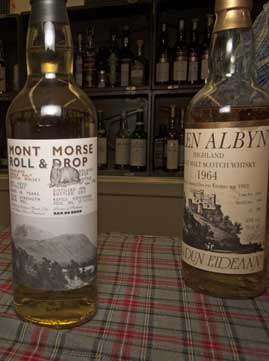 A new and old bottling at the Bar du Nord
At World of Whisky I tried the new Ledaig 2004 Sherry, the cask strength and the 46% version. The cask strength version was intense, complex, intense, maritime with a lovely dry peaty influence and some oakiness, while the version at 46% was smoother, more balanced and more easy-drinking. The Imperial 1995 was very grassy, complex, fruity and well balanced. Very good!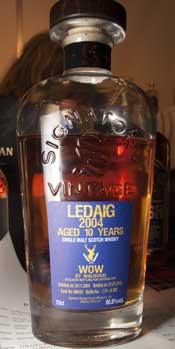 The new Ledaig for World of Whisky
At Alexander Weine, the new range of Lady of the Glen was presented. The label is now directly printed on the glass in white. The idea is good, however it is almost impossible to read it. The nose of the Glen Garioch 21 YO was simply delicious, bold, waxy and very fruity, with a nice smooth, aromatic, slightly smoky and spicy-gingery flavour. The 1997 Clynelish from The Lady of the Glen was very smooth, elegant, slightly spicy and mustardy, waxy and with slight grassy and citric flavours. The Clynelish 1988 Swiss Link 4 was more austere and mineral, with the wood more present.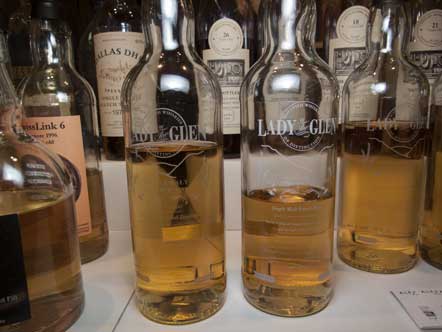 The new packaging of Lady of the Glen at Alexander Weine
With this, time already ran out and it was time to take the train back home and to write this first draft version of the report.
Since I will be on Monday at the Whisky Show in London, I selected old collectors or special bottlings for the Swiss market. Numerous new products were available at Whisky and More, including the new Swiss whiskies from Langatun, new Glenfiddich, the lattest Kilkerran, GlenDronach, Sprinbank, The Ultimate from Van Wees, Kavalan, Port Askaig, Michel Couvreur and many others. In conclusion, close to 1000 whiskies available for tasting, as well as other spirits such a rum or Armagnac. Master classes were organized and the presentation of Arran Distillery by Andy Bell was very popular.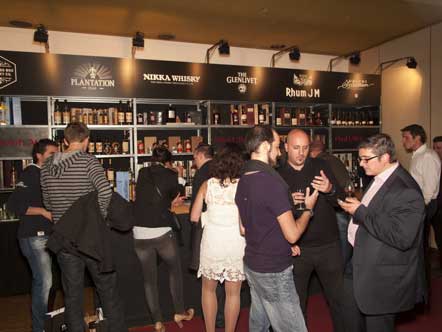 Other retailers were present at the fair

Slainte
Patrick