Whisky and More, Lausanne, Switzerland 3-4 October 2014
Click here for the photogallery.
Well, the event started well, with taking the wrong lens for me camera, leaving me with taking photographs with my smartphone, therefore the poor quality of the photographs. My apologies.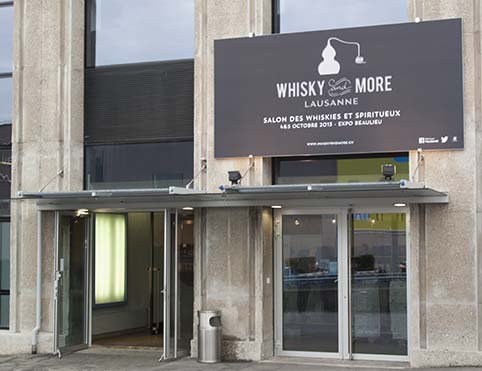 The Venue

As a general remark, the "tasting notes" reported here on the whiskies are based on my initial impression taken during this whisky event, with the glass provided. The final tasting notes will be posted over the next weeks and months and can differ from the ones reported here. The comments on the whisky are in a chronological manner.
After a smooth travel to Lausanne by train, my first stop was at Alexander, one of the numerous newcomers at this whisky event. My first whisky was a fresh, intense and well made Littlemill 1992 from a recent independent bottler, Lady of the Glen, a company based in Glasgow. This was followed, by a smooth, round, rich, rather mellow and salty 27 YO Bunnhahabhain from the same bottling, with pleasant smoky notes and some tobacco. This was followed by a smooth, waxy 1990 Glen Garioch, with nice heather notes, easy to drink, from The Ultimate: a good value-whisky (95 CHF). My last one there was a very mellow and round Rare Ayrshire 1974 from The Ultimate, relatively weak in spite of its strength (over 50%).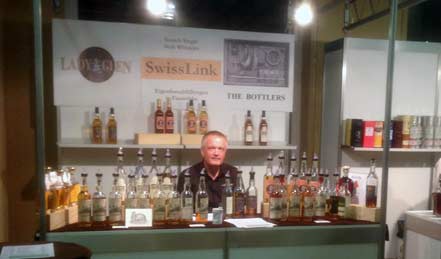 The stand of Alexander Weine
At the next stand, Haecky, I went for a several Douglas Laing Product, with an intense, oaky, rich and spicy Caperdonich 21 YO, followed by a very smooth and sweet 17 YO sherry Clynelish from the Old Particular range. This was followed by a very good 25 YO littlemill Director's cut, intense, rather waxy and oily, but with elegance and subtlety: the complexity of an old whisky with the freshness of a young one. Finally, the 1988 25 YO Old Malt Cask Tamdhu completed my stop there: the whisky was complex, malty and rather smoky. Very enjoyable.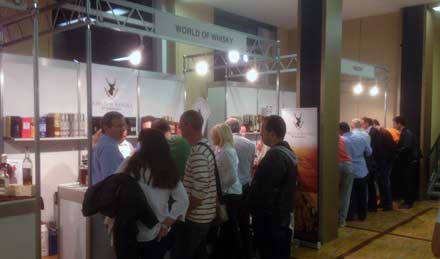 The stand of World of Whisky et Haeky (right)
PMG trading the Scotsman made its first appearance to a whisky fair, with a large selection of Douglas Laing Provenance. Since I tasted quite a few last year, I focused on two Irish blended whiskies: the Wild Geese Rare Irish whiske; a light, very smooth and fruity blended whiskey with fresh notes of apples, followed by a slightly spicier and rounder Wild Geese Rare Irish whiskey.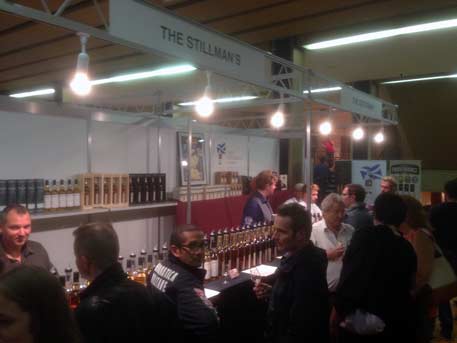 The stands of The Stillman's and The Scotsman
I was pleased to discover Michel Couvreur au Grain D'orge. Michel Couvreur sadly passed away last year, but his son is now taking care of the business. Even if the law for the definition of Scotch Whisky has changed (Scotch needs to be mature and bottled in Scotland), maturation of Michel Couvreur still take place in Burgundy (France). I was very keen on tasting the range, since I never had the chance to taste any of these products in any whisky fair.
Three types of whiskies are matured in a manzanilla sherry cask: the Intravaganza, the 2003 X and the Twenty.
The 2003 X is a relatively sweet version of a manzanilla matured whisky, with a surprising complex, nice sweet and sugary notes of raisins, some dark fruits, orange and mandarin, rather full bodied. This is a single cask was matured to be vatted for the Intravaganza, but was selected to be bottled for its qualities. A very good decision. The Twenty is a 20 years old matured single malt with the dryness of the manzanilla clearly showing up, as well as notes of fudge. The Intravaganza is older than the 20 years old (if my recollection is correct), less dry than the Twenty, with more complexity, slightly more oaky and rounded.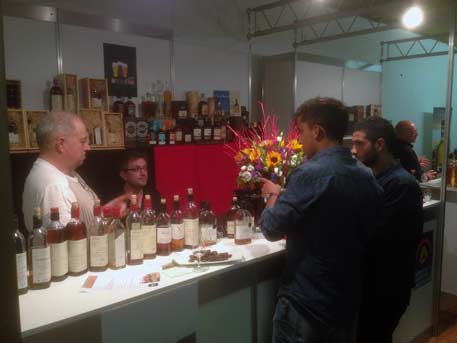 The stand of Grain d'orge and the Michel Couvreur range

The Pale Single-Single is a single malt matured in fino casks. Fino maturation tends to a give a dry and acetic (vinegar) influence to the whisky, but in this case, the influence was present, without being dominating. A good introduction to the fino-matured whiskies (which are rare).
The Candid is a lightly peated whisky matured in cask having previously stored a peaty whisky. The result is a light to moderately peaty and smoky whisky, rather waxy, with some notes of apples. A correct whisky, but it lacks the balance and complexity of the Old Vatted, a vatting of 12, 13 and 20 years old whisky. My final whisky there was the Old Sherry Blossom, a sherry matured whisky of at least 15 years of age: a very good old school sweet and round sherry whisky, without any rubbery notes: most appreciable.
Amongst the other bottles were a single grain, the Spirale and the Clearach, the two later being matured in ex- Jura (yellow) wine casks.
The whiskies from Michel Couvreur are well made, with a nice body and definitely worth a try.
At Acla da Fans, the new Kinninvie 17 YO batch 1 was available: a mixture of sherry and bourbon casks distilled in 1996. The whisky is smooth, round, rather sweet, with light oaky notes, some marzipan, with a nice body structure. A good whisky, but one might have expected slightly more complexity. The Glen Deveron 20 OB was a decent smooth, rather malty and floral whisky, but fading rather quickly on the tongue. Bottled at 40%, it might have benefited from some extra abv. The last Glen Garioch 21 YO from Acla Selection was very much to my liking: fresh, intense, with a slight waxiness and spiciness, some ginger and mineral notes, with the most smoky and peaty finish I have tasted in any Glen Garioch distilled after the 1970s. The Longmorn 21 YO Acla Selection was also well made, sweet, floral, round, slightly sugary, with a nice mouth feel. Very enjoyable. The Littlemill Acla Selection was very round and grassy, with a slight bitterness and some smoke. I have tasted better Littlemills. Finally, Caol Ila 21 YO from The Whisky Cask delivered a good and intense peat blast. It is good to taste again some intensely peated and clean Caol Ila!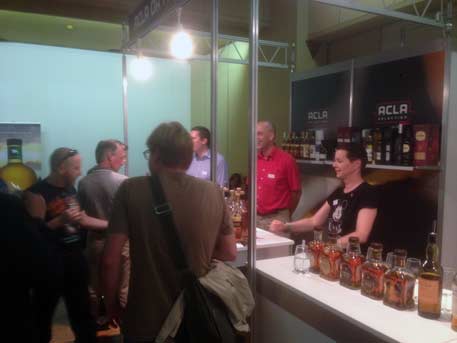 The stand of Acla da Fans
At Magnins vins, I tasted a fair number of Blackadder, starting with a rather smooth and enjoyable 1996 18 YO Caperdonich, less harsh than the Douglas Laing or the Caperdonich from Liquid Sun. The 1995 19 YO Clynelish had a good sherry and rather thick sherry influence, with a few drops of water releasing a nice waxiness and sweet-sugary notes from the sherry cask. The 1990 23 YO Glen Garioch was a rather intense and spicy version, with a few drops of water rounding the oaky notes. The nose of the Samaroli 1980 34 YO Caol Ila was very good, with intense, complex and elegant peat smoke, while it was much mellower, smoother and only slight to moderately peaty on the palate, without any woodiness. Very good, but unfortunately, rather pricey. The Samaroli 2001 Caol Ila was very peaty on the nose, but surprisingly mild on the palate and not as peaty as one would expect from a middle-aged Caol Ila. This might disturb some Caol Ila enthusiasts, but this makes this whisky more accessible and subtle at the same time. The Samaroli 1973 Glen Grant was an elegant, smooth, rich, slightly floral whisky, with a pleasant and elegant sherry influence. For a 40 years old, this is a rather good value whisky nowadays. The Littlemill Liquid sun 25 YO was more intense and vibrant than the Littlemill at Acla, but more grassy and rounder than the Douglas Laing.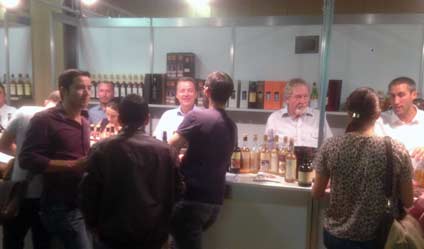 The stand of Magnin vins
At Angel's share, I opted for some Berry Bros & Rudd bottled for Switzerland (Charlers Hofer, the Swiss importer), with a nice, rich and rather smoky Glen Garioch matured in a sherry cask contributing to pleasant notes of chocolate and dry fruits. The influence of the sherry in the 1996 Clynelish was more intense, with some light rubbery notes.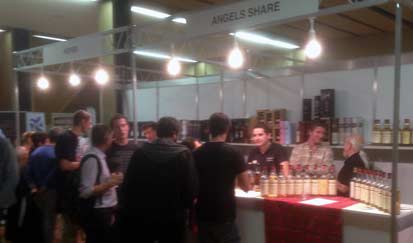 The stand of Angel's share (partial view)
Claudio Bernasconi is still operating World of Whisky, but in a different structure and he will open a whisky museum in the neighbourhood of Zurich early next year. The Heavily Peated Isle of Jura bottled last year for World of Whisky is sold out and a new Signatory 1989 24 YO Isle of Jura has just been released: a different beast: much more peaty than the previous edition coupled with a nice complexity. I loved it! The 1983 30 YO Caol Ila was less peaty than the Isle of Jura, but remained rather peaty for its age and with a nice balance at a fair price.
The 1992 21 YO Glen Keith of Signatory was a well rounded, floral and very fruity whisky, with some spices. Well done.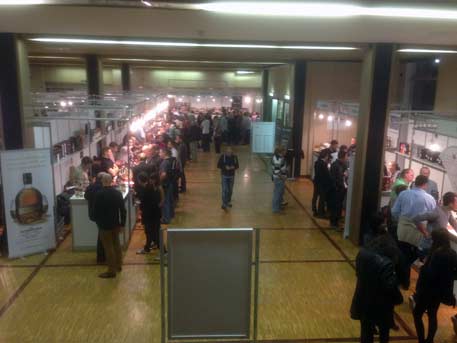 A partial view of the venue
At the Stillman's, I was hoping to taste the new Stillman's St-Patrick, an Irish Single Malt, but this bottling was sold out very quickly. Good news, a new Irish Single Malt will be released soon by the Stillman's. I therefore contended myself with a deliciously sweet 16 Clynelish that flows down your palate too well. The Clynelish was one of the just arrived Distiller's Art product, a new range from Hunter Laing.
At Whisky Time, I took the time to greet my old friend Patrick, in charge of the old whiskies, with most of them tasted already last year (see my report from Whiskyandmore 2013). The Supernova SN2014 did not reach the Swiss market. After nosing the Arriverdes and the Ardbog, my choice went for the Ardbog: an intense, peaty, smoky, maritime, salty and slightly phenolic. Just what you can expect from a cask strength Ardbeg. A classic? In addition to the core range and the two Ardbeg previously mentioned, the Supernova 2009 and SN:2010 were also available for tasting, explaining why it was difficult to reach the bottles!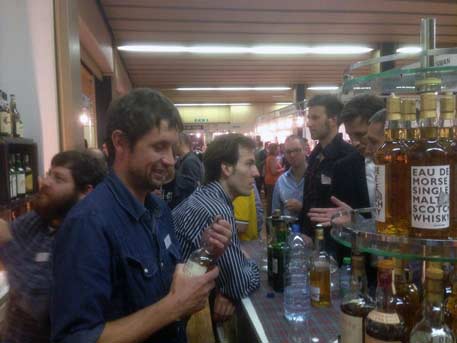 And the stand of the Bar du Nord
Finally, I ended my evening by the friendly chaps of Le Bar du Nord in Carouge, starting with an excellent old school 1965 YO Glen Mhor Dun Eideann 26, with a delicate, mineral, smoky and old-fashioned sherry matured whisky. A real treat!
The special bottling of 14 YO Inchgower for Le Bar du Nord was a different product, with a pleasant and rather intense saltiness that you might encounter with several Inchgower, combined with sherry notes of butterscotch, salted butter and some yeast extract. A whisky with a strong personality. The Glenmorangie 1963, OB, 43%, had a stunning smooth and fruity notes, with most pleasant notes of dried fruits and tangerine. The palate was of the same quality, but the finish was unfortunately short.
The Bowmore 1974 OB was intense, oaky, and peaty, but slightly too harsh to my liking. A whisky that probably needs to breathe more. Finally, the last dram of the evening was an intense, peaty, clean and slightly salty Highland Park 1974 16 YO from Dun Eideann. There was plenty of fine and old rare bottles at the Bar du Nord to choose from, but this will need to wait until next year.
Word of mouth seems to work, since the attendance during the evening was significantly higher than during the first edition. We can only wish a lot of success to the organizer and can only hope to wait for the confirmation of the 3rd edition.
Whiskyandmore is a very pleasant whisky event, in a very good atmosphere and a good combination of affordable and classic whiskies for the neophytes to some old and rare whiskies for the whisky freaks.
The selection was wider than last year and should satisfy any whisky enthusiasts!
And as of most whisky fairs, I could not visit all the stands and many other brands, including brand new products (e.g., the new Tomatin whiskies) were available for tasting.