The Whisky Exchange Whisky Show 3-5 October 2015, London, UK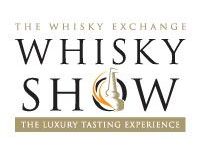 For the photo gallery, click here
With Vinopolis sold this year, the Whisky Show is taking place to a new venue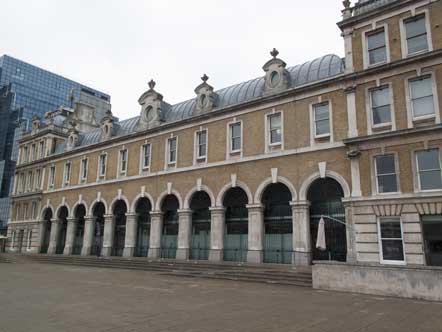 The new venue from the River side
The new venue was superb, more spacious, brighter and cooler. Definitely better than the previous one.
The list of whiskies available at the show was impressive as always and upon my arrival, I went straight to the Japanese Whisky at The Whisky Exchange with the faint hope to have a wee taste of the new Karuizawa 1980 bottles for the Show. Unfortunately, I could not have access to it. However, I tasted a few other Japanese whiskies, starting with a rather young and bland Akashi Blended 5 YO, with a rather neutral taste. A different world from the previous Akashi 15 YO Single Malt. The Mars Cosmo Malt is a vatting of Japanese and Scotch single malts, resulting in a very smooth, sweet and rather young fruity whisky. The Chibi Daru 2010-2014 was a nice malty whisky, rather spicy but surprisingly matured for its age and more to my liking than the previous ones. The fact that it has been matured in small casks might explain its good maturity. The Chichibu The Peated 2015 was young, rather heavily peated, with one a slight dryness and some tar. Good, but still slightly too young to my taste.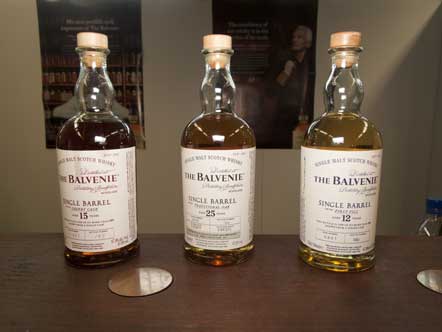 The Balvenie Single Barrel expressions
Balvenie had several releases, including a very good, rich, spicy and honey Balvenie 15 YO Single Barrel that did not make it to the show last year. I really like these sherried Balvenie. Also present was the new Single Barrel Traditional Oak. Unfortunately, the new Mash Tun 1509 batch 2 did not make it. From the same owner, there was the new Kininvie 23 YO batch 3, which was spicier and also more oaky-woody than the previous batch 2. The batch is made of 80% ex-bourbon casks and 20% ex-sherry. William Grants & Sons have also released a Ghosted Reserve, a blend of the two lost distilleries of Inverleven and Ladyburn. The result is a smooth, oily, grassy, floral and fresh whisky. Seemed younger than its age. Over the next 12 months, more special releases are expected.
The choice as the BenRiach group was plenty, with the new BenRiach 10 YO Speyside style, an elegant, smooth, fruity and well balanced BenRiach 1998 Single Cask triple distilled bottled for the Whisky Exchange. The staff at the Whisky Exchange know how to select special casks. The Glenglassaugh will be reviewed later, but the new Torfa was presented. As for the Revival, the name remains the same, but with each batch, ages increases and the colour becomes darker. They had also a 40 YO and a 1968 Rare Cask Release. Watch whisky-news.com over the next weeks for the tasting notes!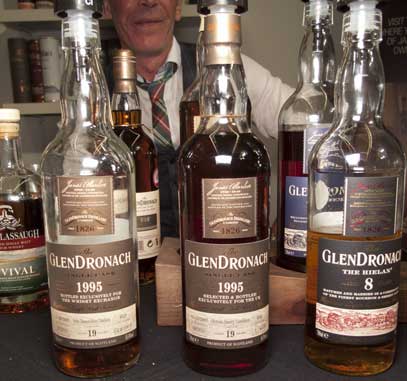 Some of the newest GlenDronach expressions

Two sister casks of GlenDronach 1995 were present, one from a PX sherry cask for The Whisky Exchange and one from Oloroso exclusive to the UK market. Both were very good, with the PX rounder and more on dried fruits and sultanas, as well as with rubbery flavours. On the other hand, the Oloroso was more mineral and slightly drier. The new The Hielan is replacing the Octarine was placed initially on the French market.
From the Dewar's Family, the new Aultmore 12 YO, Aultmore 25 YO, Deveron 12 YO and Royal Brackla 12 YO were available, with the older versions of the Deveron and Brackla present for the Show were already consumed. The Aultmore 12 YO is a nice light, smooth and floral whisky matured 100% in ex-bourbon casks. The Deveron was a very juicy and sweet whisky, not very complex, but very easy drinking. The Brackla had some sherry influence. It was the spiciest of the three, more robust and intense, while still at lower volume (40%) than the Aultmore. A lot of efforts are put in these brands and I am curious about tasting older expressions of the range.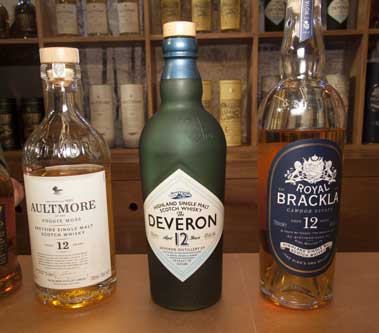 The new range of products from the owner of the Dewar's brand
From AnCnoc, a new peated expression, the Rascan anCnoc peated at 11.1 ppm is probably the best peated anCnoc from this range, with a nice intense slightly dry and maritime peatiness and with a good maturity. The new 18 YO anCnoc has a nice amber colour due to its 20% of sherry casks. A new 40 YO anCnoc is due for next year.
At Old Pulteney, the core range was present as well as the 1989 Vintage. As for last year with the 1990, this is an Old Pulteney finished in an ex-peaty cask.
Glenfiddich had their new Original, a re-creation of the original Glenfiddich single malt released in 1963. It was a nice juicy, slightly oaky, very round whisky, with some cooked fruits from the Orchards. Well made. There several cask strength versions of Glenfiddich distilled in 1989 and early 1990s, unfortunately, none of them were available for tasting. As for last year, the stand of Glenfiddich is very nice, with a nice display of bottles, but when it comes to the tasting, this is slightly disappointing.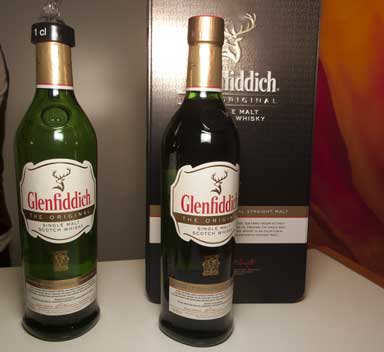 The new Glenfiddich Original
I made a stop at Dalmore, where the core range will reviewed as soon as I can.
I might have tried a few independent bottlings of Bushmills, but I never tried the range so far. The "basic" Bushmills, a blended whisky, was very smooth, grainy and rather bland. A whisky more for cocktail than for enjoying neat. The Black Bush was much better, with a heavier proportion and malt and a fair proportion of Oloroso sherry cask. From the information I gathered, it contains close to 80% malt: it is very good, oily, rich, very fruity, on fruits from the orchards, dried fruits, tangerine and some exotic fruits. A good value Irish Whiskey.
The Bushmills 10 YO single malt is a nice fresh malt, slightly oaky and on vanilla. It is matured almost exclusively in ex-bourbon cask. The 16 YO Single Malt is matured in ex-bourbon and ex-oloroso cask and finished in ex-Port. It is fruitier and sweeter than the 10 YO, but the Port gives also a slightly drier mouth feel and more viney flavours. The 21 YO malt is finished in ex-Madeira cask: it is very smooth and fruity, very much in the style Irish single malts "fruit bombs" that can be seen recently by independent bottlers. The Madeira influence is rather mild.
I was surprised by the number of new releases of Glenlivet, now the N°1 best selling malt in the world.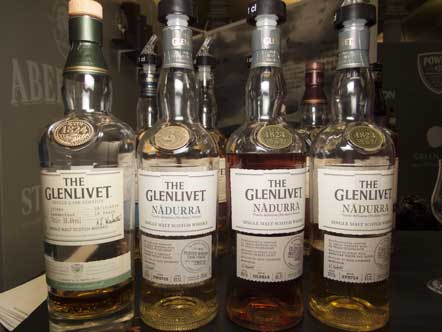 The Nadurra range of Glenlivet at the Show
There was a very good, rich, sweet, spicy and floral Glenlivet Ladderfoot and several versions of the Nadurra, with a peated whisky cask finish, an Oloroso matured and finally, a first fill bourbon one. Asking about the Glenlivet Atlantic, I was kindly served a small dram of a deliciously smooth, bold, very fruity and slightly peaty Glenlivet. It is only later that I discovered that this was a 40 YO Glenlivet. In any case, a delicious old style sherried Glenlivet. Also, from Chivas Brothers, the full range of Aberlour was pleasant, as for the batch 52 of the famous sherried A'Bunnadh.
Glen Moray as now released a classic Peated Glen Moray. Made with barley peated to approximately 45 ppm, the ppm is the whisky is approximately 22 ppm: a very high value. It was peated, but soft and smooth, without any dryness or tar. I could not feel any peat blast. Last year was released a Glen Moray 25 YO Port Cask finish and a much older expression should be released next year.
Diageo had a nice and large stand, however very few new products were available, with the exception of the new Dalwhinnie Winter's Gold, a NAS whisky, and Oban Little Bay, a product that will be launched very soon in UK. A nice addition to the range. Unfortunately, the new Annual/Special Releases 2015 are not yet available. I was however fortunate to have a small dram of the Lagavulin Jazz Festival 2015, a vatting of a 12 and 14 YO Lagavulin, very peaty, intense and maritime. More complex than the Annual 12 YO cask strength with but with a similar flavor profile.
From Nikka, I tasted the new Myagiko without any age statement: a slightly oaky, spicy and smooth whisky, without much complexity. Slightly disappointed. I miss the smooth and velvety texture from this distillery. The Takesturu Pure Malt was more complex, better balance, with a slight peatiness and more spices. A fine whisky.
As part of their Port Askaig range, Speciality Drinks has released two new expressions, the 100° Proof and the 16 YO. The 100° was very peaty, intense, maritime, with some hemp rope and a nice maturity. I liked it very much! The 16 YO was mellower, less peaty, but slightly fruitier and more complex. Two different types of peated whisky.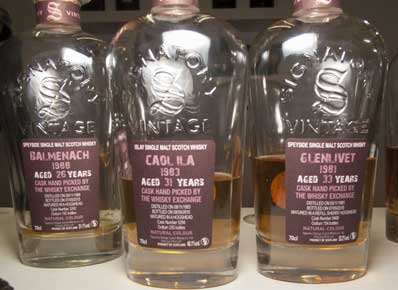 Single casks from Signatory selected by and for The Whisky Exchange
From Signatory, several versions were present, starting with a mellow, mildly peated, complex and balanced Caol Ila 1983 for the Whisky Exchange, while the 1981 Glenlivet had a good balance between the spiciness, a slight smokiness, nice leathery notes of sherry, and some fruitiness. The Jura 1989 Heavily Peated 25 YO was mellow, complex, not as peated as some earlier version, but very phenolic.
The Fairy Flag is a 15 YO Edradour, rather heavy, oily and mellow, with nice fruity flavours.
The Bunnahabain Toiteach is a vatting of heavily and lightly peated Bunnahabhain, while the new Ceobanach is made exclusively of heavily peated Bunnhahbahain aged of approximately 10 YO. The latter is peaty, oily, maritime, rather dry, tarry and ashy.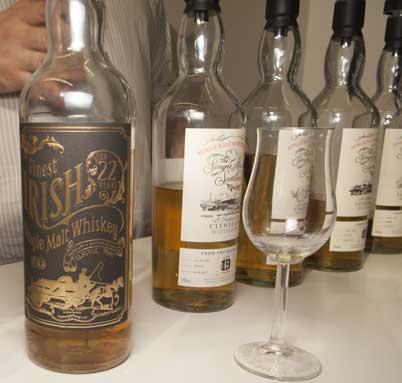 Several of the Whisky Show bottlings of this year
I only tasted two of the special Whisky Show bottlings, with a very nice, smooth, fruity and slightly peaty 22 YO Irish Single. According to Bill, this might have been an experimental single malt double-distilled with some slightly peaty barley. The other bottling I tried was a very floral Rosebank 21 YO, on roses and some jasmine. A serie of 7 Rosebank have been bottled and one will be released ever year. The first one (tasted) was matured exclusively in ex-bourbon casks, while the next ones will have experiences different finish in ex-madeira casks.
Loch Lomond was present for the first time at the Whisky Show, with a new range. From Glen Scotia, they have now a double barrel, a 15 YO and the Victoriana. Loch Lomond included a single malt, a signature and a single grain. From Inchmurrin, they have a 12 YO, a 18 YO and a Madeira wood finish. Most of them will be reviewed soon. Unfortunately, I was not able to taste their new Littlemill 25 YO in its luxury wooden box.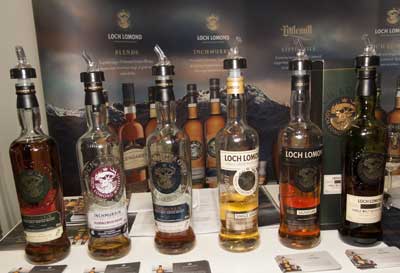 Part of the new range from the Lomond group
From BenRomach, I focused on the core range, with the Peat Smoke, Organic, 10 YO, 10 YO 100 proof and their 15 YO. From Gordon & MacPhail, I had a soft spot for their Linkwood. They had a charming 25 YO. As my last dram there, I was served with a delicious Glen Grant 1952. I do not know its price, but the whisky was stunning: intense, rich, extremely complex, fruity, luscious, on tangerine, orange, honey, some tropical fruits, a hint of smoke. This might be the oldest whisky I have tasted so far, but it was incredibly fresh. Difficult to believe it was at least 60 YO!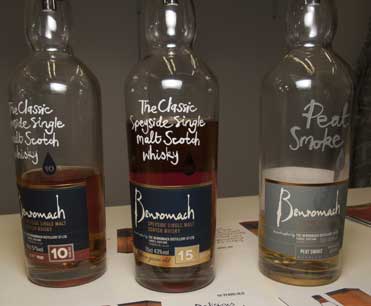 Some of the Benromach core range: the 10 YO, the 15 YO and the Peat Smoke
With time running short, I made a quick stop at Kilchoman with their new Original Cask Strength, the 100% Islay 2015, the 2008 Vintage, and their single cask PX finish for The Whisky Exchange and finally, an even shorter stop at Douglas Laing for the Big Peat X-Mas 2015 and the Ardmore 15 YO Old Particular.
In terms on food, I had a taste at delicious products from Smith and Sinclair, with juicy gelly sweets made with whisky.
My day at the Whisky Show has been very intense, but very enjoyable. Starting 30 min earlier than last year, this makes it more practical for me, with respect to my flights. I focus mainly on Scoth whiskies, but many other whiskies, from Ireland, USA, Finnland, France, India, Sweden and New Zealand were avaible but due to time constraints, I could not visit them. One day at the Show is very short and I tried to do the most of it, but if you can, take the week end Pass.
As a positive news, many take-over took place the last decade, with a lot of money invested. As a result, many new products are released and for many of them, this is associated with increase quality as well. Good news!
The organization was excellent, the venue great and plenty of good whiskies.
Congratulations to the staff and keep this level of excellence!
Slainte
Patrick ©06 Oct 2015