Limburg Whisky Fair 2015, 25-26 April
click here for the photo gallery
April 25: Back to Limburg an der Lahn in Germany for the annual Whisky Fair!
The Limburg whisky fair is a very important whisky event for the whisky connoisseurs of Europe (and elsewhere as well), with many gathering, tastings and of course, lots of whiskies, old and new.
On my way to the main floor, I had the pleasure of meeting some friends from the Cutty Sark German whisky forum and my first dram of the day was a lovely, rich, sherried spicy Dalmore 40 YO OB, with some pleasant leather influence. Thank you Gérard.
Giuliani was unfortunately not present, but it was replaced by another Italian rarities shop call Collezionaremania. They had quite a few rarities to sell as well as many old single malts bottled for Italy. My first dram there was a heavily sherried Glen Cawdor 1964 from Samaroli, a rich, thick, spicy, slightly smoky whisky, on tannins and leather. Very good. It is rumoured to be Springbank. The next one was a smooth, mellow, grassy, rather floral and slightly juicy Milton Duff 22 YO sherry wood from Sestante. The Linkwood over 12 YO OB was complex, rich, slightly smoky, on honey and cooked fruits. The Rosebank 12 YO for Zenith was intense, floral to very floral and quite spicy, while the Tobermory 1972 Moon "The Animals" was spicy, peaty, light, with a combination of fragrant and maritime flavours. A whisky that deserves time to taste. The Tomatin 1965 Moon the animal was very mellow, slightly spicy and with sweet round and fruity flavours. The Old Fitzgeralds 1849 was a nice light, floral, slightly creamy and spicy Bourbon, with only light notes of toffee, treacle or charcoal. I enjoy this style of Bourbon with a light cask influence.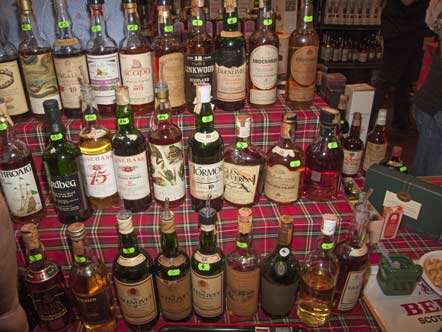 Some of the rarities at Collezionaremania

Next to them was Sansibar and I moved directly to their collector's corner, starting with a rich, spicy, fruity to very fruity Glenugie 1967 Sestante sherry wood 59.5%. I was very pleased to taste this version, since I was only to find the 43% version so far. The Springbank 10 YO 57% for Italy was a very nice, intense, light, maritime Springbank with quite some peat smoke. I tasted earlier this year a 100 Proof version of Highland Park with the St-Magnus label, but this version bottled at 70 Proof was surprisingly intense, rich, sweet and fruity, with a very nice complexity. Lovely. The Longrow 1974 21 YO OB was moderately peated, but nice a sweet and juicy fruity influence, with some sea brine and harbour flavours. Very good.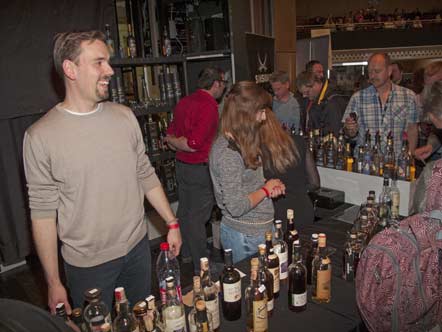 The stand of Sansibar with the rarities corner

I move then to the tent to pay a visit at the stand of Whiskyantique and Lions whisky. Unfortunately, I could not see the bottles of Ardbeg from Malts of Scotland bottled for Whisky & Co/Whiskyantique and went instead to taste a rare Springbank 1968 OB single cask sherry bottled for Italian. The whisky was rather salty, intense, very spicy, rich, thick, fruity, on sea brine, leather, some tannins, game and roasted coffee beans. A bottle of Dalmore 12 YO with an unusual label captured my attention. Diego from Lion's whisky was selling it at the low price of 5 euros/2 cl, since there was doubts about its identity. The whisky was smooth, rather grassy and aromatic, slightly spicy, floral and with honey. Not very complex, but pleasant to drink. I will taste it head to head soon with another old Dalmore 12 YO that I recently sampled.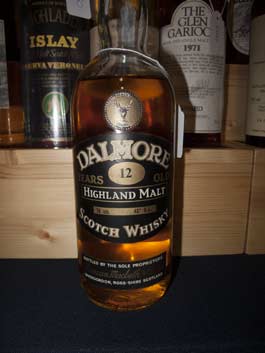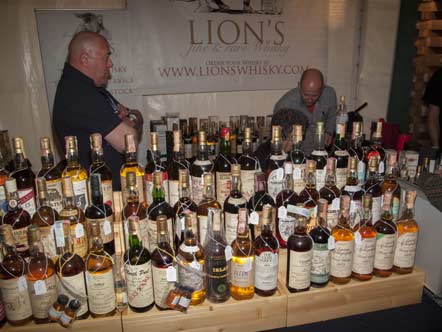 Lion's whisky with many old whiskies and the "unknown" Dalmore
Then I returned to the main hall and decided to visit the stand of Malts of Scotland. I decided to taste a few their new products, starting with a smooth, sweet Bruichladdich Robin Laing Inspiration, a whisky on red berries, tangerine and very sweet fruity notes. Malts of Scotland (MoS) has now launched a new range called "Angel's choice". These are rare whiskies sold in bottled of 35 cl, in order to make the price more acceptable than a full bottle. The Banff was a very smooth, mellow and fruity whisky, with a pleasant slightly waxy mouth feel, without any blemish of age. Well done! The Highland Park was distilled in 1980 in a sherry cask. The whisky was moderately peaty and maritime, with a smooth sherry influence, some peat smoke, and toffee, spices and light fruity notes. The Laphroaig 1990 sherry was excellent, very intense and peaty, with a beautiful rather mineral sherry influence, on tar, ashes and some BBQ. I loved it. For the last dram there, I tasted a light, moderately peaty, slightly salty, maritime and medicinal Images of Islay Loch Indaal Lighthouse. The Images of Islay are a selection of single malts from Islay from undisclosed distilleries and age. Talking with Thomas, the man behind malts of Scotland, theses whiskies are usually aged between 12 and 15 years. The whisky was good, pleasant but suffered from the direct comparison with the excellent Laphroaig 1990 sherry.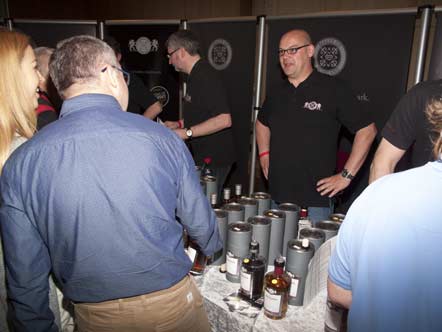 The stand of Malts of Scotland with a partial view of their selection
On the next stand was standing Lothar Langer rarities where I tasted another whisky that I have been longing for tasting, an old Glen Scotia 12 YO full proof (54%).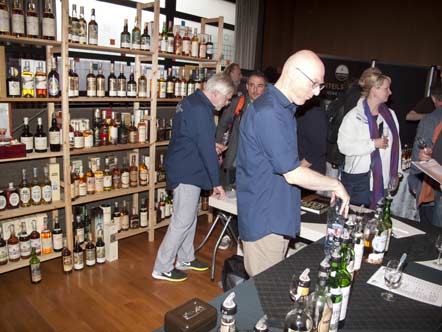 A partial view of Lothar Langer rarities
Further, there was a bottle of Ardbeg Perpetuum Distillery Release, that I could not resist tasting: the whisky was maritime, slightly medicinal, peaty, smoky, rather oaky, on wood spices and vanilla. A good but rather oaky (modern) version of Ardbeg, that seems not too old.
The Distillery version of the new Ardbeg Perpetuum
The Laphroaig 1979 from Blackadder at another stand was more to by liking. Bottled in 1997, it was a smooth, rather mellow, peaty, smoky and maritime Laphroaig, with some medicinal flavours and quite some citrus (pink grapefruit) coming out after some time. The Port Ellen 1975 Cooper's choice was rather grassy and sweet, with some fruity notes and with only slight peaty flavours. Not the most typical Port Ellen, but rather easy to drink. The Linkwood 14 YO Sestante 60.8% was light to very light, floral to very floral, on pollen, some spices and hay. Rather close to the current production. The Mortlach OB (George Cowie and son) was sweet, smooth, soft to very soft, with some light spices and on liquid honey. A rather one-dimensional and soft whisky.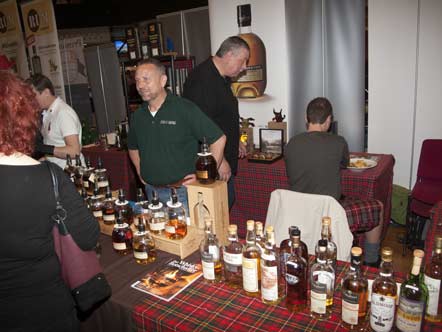 The stand with Laphroaig Blackadder 1979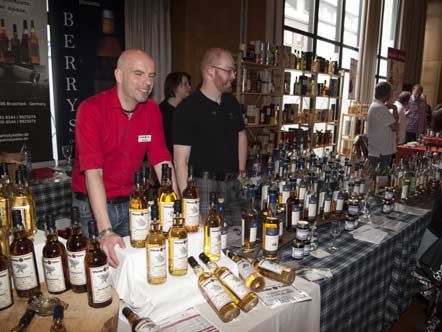 The stand with a nice selection of Berry Bros and Rudd bottling
At the stand of Berry Bros and Rudd, I enjoyed the mineral, elegant and smooth sherry from the Glen Garioch bottled for Germany, as well as the Glengoyne 2000 from a sherry cask contributing to strong notes of fudge.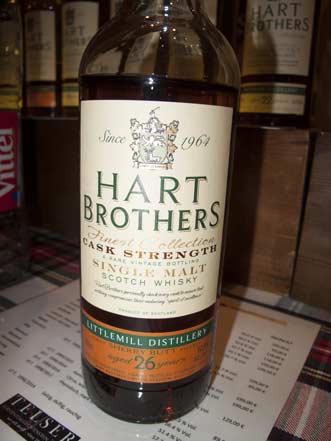 A delicious Littlemill from Hart Brothers
From Hart Brothers, I could not resist tasting the Littlemill 26 YO sherry, with its deliciously sweet, juicy and fruity sherry influence, on tangerine, orange, some tropical fruits, a touch of spices and a nice smooth and mellow mouth feel. Very good!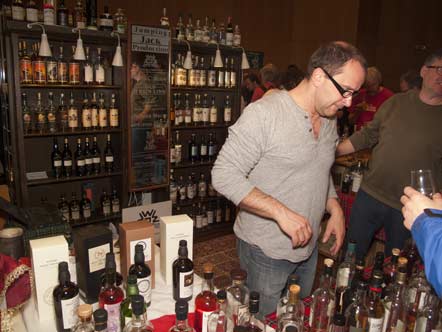 Jumping Jack with a selection of Japanese whiskies on the left
At the stand of Jumping Jack, there was quite a few Japanese single malts and decided to focus on the Karuizawa, although the selection of Yamazaki was very interesting. The Karuizawa for the 10th Whisky Live Japan was intense, very spicy, with some berries, leather and fruity notes. The 1980 for la Maison du Whisky Cask 6476 was from an ex-bourbon cask, but very good, spicy, rich, complex, slightly smoky and well balanced. The 1981 for La Maison du Whisky (cask 136) from a sherry cask was slightly rougher, less smoky, with some rubber and game.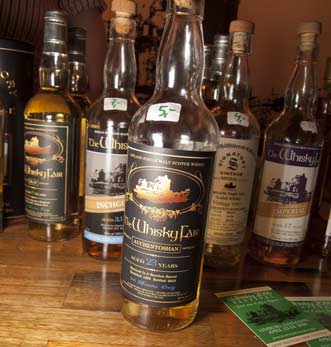 Some of the whisky fair bottles
Amongst the Whisky Fair bottles, I went for the Auchentoshan, a very fruity, rather sweet and sugary whisky. It was a rather aged bottle (23 YO), but very enjoyable to drink. The Imperial 17 YO had a nice sweet, complex, aromatic and slightly smoky nose, but rather mellow and soft on the palate.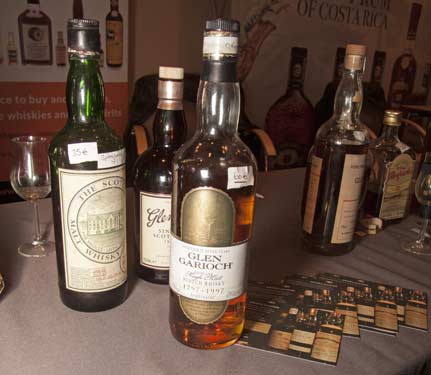 The Glen Garioch Bicentenary at Whisky.auction.com
The competition for whisky auction website was fierce this year, with whiskyauction.com, but also the UK auctions website of Scotch Whisky Auctions and whisky.auction UK, where I could taste one of my "most wanted" Glen Garioch, the Glen Garioch bicentenary. It was moderately peaty, mellow, aromatic, and slightly spicy, with a nice complexity.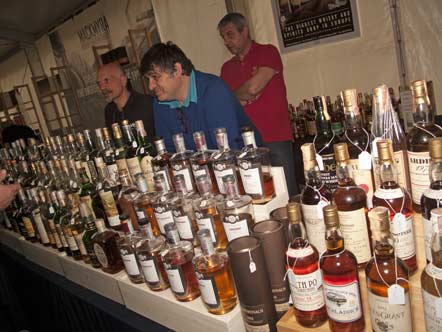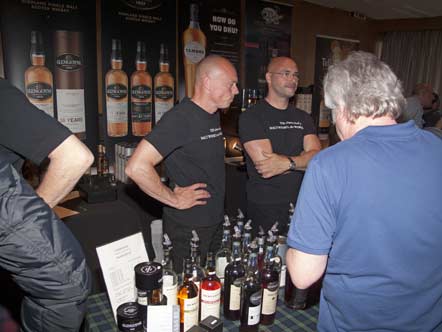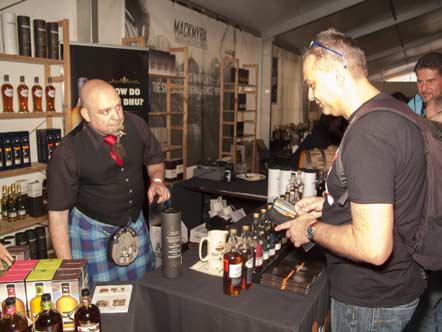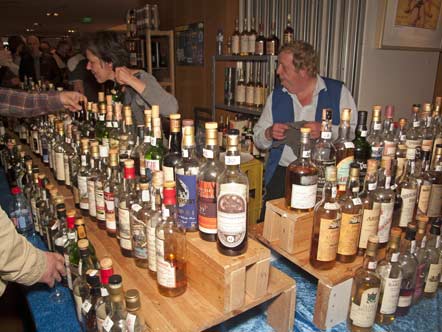 Some other general views (for more photographs, click here)
The day has been very intense, but I managed to talk to quite a few whisky enthusiasts and retailers, as well as tasting a substantial number of old, rare and recently bottled whiskies.
With that, it was time to take the train home and to finally rest, eat and work on my report!
And for the exhibitors, it would be very nice if we had spittoons!
Slainte,
Patrick
www.whisky-news.com ©25 April 2015