Distillery in Focus: Kilchoman
Region: Islay
Name: Kilchoman
Status: Active
Website: http://www.kilchomandistillery.com/
Telephone: 01496 850 011
E-Mail: info@kilchomandistillery.com
Address: Rockside Farm, Bruichladdich, Isle of Islay, PA49 7UT Latitude 55°47'13"N, Longitude 6°25'51"W
Visitor centre: Yes
Owner: Kichoman Distillery Co Ltd
Established in 2005
Stills: 1 wash and 1 spirit still
Percentage single malt: 100%
Casks used for maturation: Bourbon (80%) and sherry (20%)
Contribute(d) to the following blends: none

Regular Bottling:
Kilchoman Machir Bay, 46% (since 2012)
The first official releases were:
Inaugural Release (September 2009)
Autumn Release (Autumn 2009)
Spring Release (April 2010)
Several single cask bottlings were released afterwards (Whisky Live Paris, September 2009 and for Germany, April 2010).
For tasted whiskies, click here
---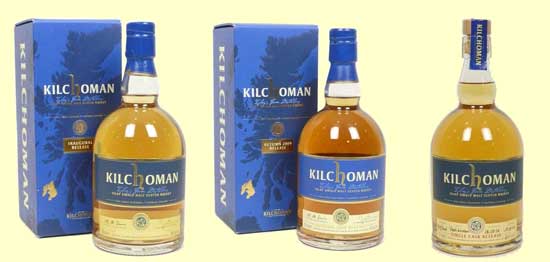 From left to right: The Inaugural Release, Autumn Release (2009) and the Single Cask Release for the Whisky-Live Paris (2009)
---
History of the Kilchoman distillery
Kilchoman distillery was the first distillery built on Islay since Malt Mill in 1908. Jim Swan and Ron Gibson designed it. Inauguration took place in June 2005 by its main owner, Anthony Wills during the annual whisky Islay Whisky festival, the Feis Ile. The money - £900,000 in all - came from a combination of private investors, a grant from the local enterprise company and a small-firms loan guarantee. The first cask was filled on December 14, 2005. In 2006, a fire damaged the kiln. The first official bottling was the Inaugural batch released in Autumn 2009 at the same time as the first single cask bottling for the Whisky Live Paris in September 2009. Two whiskies are being produced, the Kilchoman, with malt peated at the same specifications as Ardbeg (50 ppm) and a smaller batch (30% of the production), the Kilchoman 100% Islay, produced on the floor maltings at Kilchoman with local barley. The Kilchoman 100% barley has not yet been released (May 2010). In 2007, the distillery was expanded with two new washbacks. The annual production is 100,000 LPA.
Kilchoman Still house
Kilchoman Warehouse 1
The floor malting
Source: Distillery visit, The Scotch Whisky Distilleries by Misako Udo, Malt Whisky Yearbook 2010 by Ingvar Ronde and http://www.independent.co.uk/.
Patrick Brossard © 02 May 2010
| | |
| --- | --- |
| Official/original bottlings (OB) | |
| Age | |
| Kilchoman Single Cask, 3 YO. OB, 61.9%, B: 2010, c. 211/07 | Rating: 10/20 |
| Kilchoman Single Cask, 3 YO, OB, 61.9%, B: 2010, c. 322/07 | Rating: 11/20 |
| Kilchoman Single Cask, 4 YO, OB, 60.4%, B: 2011, c. 249/06 | Rating: 13/20 |
| Kilchoman 5 YO sherry finish Feis Ile 2011, OB, 59.5%, B: 2011, 500 b. | Rating: 13/20 |
| | |
| Vintages | |
| Kilchoman 2006, 3 YO, OB, 61%, B: 2009, cask 361 | Rating: 07/20 |
| Kilchoman 2006 Single Cask for Germany , 3 YO, 60.5%, B: 2010. Cask 363/03 | Rating: 12/20 |
| Kilchoman 2007 Single Cask for the Whisky Schiff (Switzerland), 3 YO, OB, 62.1%, B: 2010 Cask 336/07 | Rating: 08/20 |
| Kilchoman 2008 for Belgium / The Nectar, 4 YO, OB, 60.5%, B: 2013, c.390/2008. | Rating: 14/20 |
| Kilchoman 2008 for Feis Ile 2015, OB, 58.2%, B: 2015, 742 b. | Rating: 15/20 |
| Kilchoman 2007 for Belgium / The Nectar, 5 YO, OB, 59.3%; B:2013, c.455/2007 | Rating: 14/20 |
| | |
| Non specified | |
| Kilchoman Autumn 2009 Release, OB, 3 YO, 46% | Rating: 10/20 |
| Kilchoman Cask Strength, OB, 59.2%, B: 2014 | Rating: 13/20 |
| Kilchoman Inaugural Release, 3 YO, OB, 46%, B: 2009 | Rating: 08/20 |
| Kilchoman 100% Islay 2nd edition, OB, 50%, B: 2012 | Rating: 07/20 |
| Kilchoman 100% Islay 3rd edition, OB, 50%, B: 2013 | Rating: 09/20 |
| Kilchoman 100% Islay 2014 Edition, OB, 50%, B: 2014. | Rating: 08/20 |
| Kilchoman 100% Islay 5th Edition, OB, 50%, B:2015 | Rating: 12/20 |
| Kilchoman Loch Gorm, OB, 46%, B: 2014 | Rating: 10/20 |
| Kilchoman Machir Bay, OB, 46%, B: 2012 | Rating: 09/20 |
| Kilchoman Machir Bay, OB, 46%, B: 2013 | Rating: 14/20 |
| Kilchoman Machir Bay 2014 Edition, OB, 46%, B:2014 | Rating: 10/20 |
| Kilchoman Port Matured, OB, 55%, B: 2014 | Rating: 08/20 |
| Kilchoman Spring Release, 3 YO, 46%, B: 2010 | Rating: 11/20 |
| Kilchoman Summer 2010 Release, 3 YO, OB, 46%, B: 2010 | Rating: 13/20 |
| Kilchoman Winter Release 2010, 3 YO, 46%, B: 2010 | Rating: 12/20 |
| | |

| | |
| --- | --- |
| Independent bottlings (IB) | |
| | |
| Scotch Malt Whisky Society | |
| Kilchoman 2009 129.1, 5 YO, SMWS, 60.2%, B:2012, 235 b. | Rating: 14/20 |