Distillery in Focus:
Caperdonich
Region: Speyside
Name: Until 1965, "Glen Grant No. 2" and then Caperdonich ("Secret Source").
Status: Demolished.
Website &E-mail: N/A
Telephone: 01542 783 300
Address: Rothes, Morayshire
Visitor centre: No
Owner: Chivas Brothers,
Pernod-ricard group
.
Established in 1897.
Stills: 2 Wash and 2 Spirit stills.
Percentage of single malts: 0%
Casks used for maturation are sherry and bourbon casks.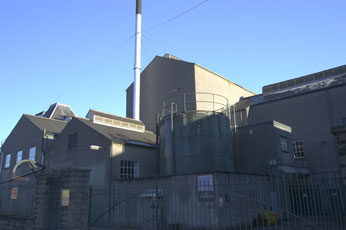 Regular Bottling:
Caperdonich has never been regularly sold as single malt. To my knowledge, only a 5 YO single malt (40%, 75 cl) has been released for the Italian market and as a 16 YO cask strength bottle (D: 1998, B: 2005, 50 cl) exclusively available through the visitor centres of the Chivas Group (Strathisla, the Glenlivet,..).
For the tasted whiskies, click here
Caperdonich has been bottled by most independent bottlers, such as Hart Brothers, G&M, Douglas Laing, Duncan Taylor and Cadenhead's.
Caperdonich whisky was principally used in the "Chivas Regal", "Queen Anne", "Passport" and "Something special".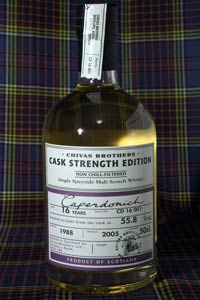 Caperdonich Cask Strength, distilled in 1998 and bottled in 2005 at a strength of 55.8%, 50 cl. Was matured in ex-bourbon casks. Described as smooth and floral
J.J. Grant who built the Glen Grant distillery built Caperdonich 1898. The same barley and water was used by the two distilleries an the two were linked by a pipe, known by the locals as the "whisky pipe". The distillery was closed between 1902 and 1965 in consequence of the Pattison's crash. The production restarted after the renovation achieved by its new owner, the Glenlivet Distilleries. As you can see from the picture above, the renovation had to be quite extensive. In 1967, the number of stills was doubled (from 2 to 4) and Seagram (the Chivas Group) took over in 1977. In 2000, Pernod-Ricard acquired Seagram and the Chivas Group and closed the distillery in 2002 with only 3 months of activity between 2001 and 2002. The distillery was demolished in autumn 2010.
Source: The Scotch Whisky Distilleries by Misako Udo. P.Brossard 20Jan06. Updated on 07June2011
| | |
| --- | --- |
| Independent bottlings (IB) | |
| | |
| Blackadder | |
| Caperdonich 1996,18 YO, Blackadder, 50.2%, B: 2014, c. 82239 | Rating: 16/20 |
| | |
| Cadenhead's | |
| Caperdonich 1977 Small batch, 35 YO, Cadenhead's, 50.2%, B: 2013, 348 bottles. | Rating: 14/20 |
| Caperdonich 1977 175th Anniversary, 39 YO, Cadenhead's, 50.4%, B:2017 | Rating: 15/20 |
| | |
| Douglas Laing | |
| Caperdonich 1967 Platinum,36 YO, D. Laing, 57.9%, B: 2004, 167 b. | Rating: 17/20 |
| Caperdonich 1973 Old Malt Cask, 34 YO, D. Laing, 41.5%, B: 2008, ref 4296, 267 b. | Rating: 15/20 |
| Caperdonich 1992, 21 YO, D. Laing, 51.5%, B: 2014, ref 102 82. | Rating: 15/20 |
| | |
| Duncan Taylor | |
| Caperdonich Lonach 1968, 37 YO, D.Taylor, 40.3%, B:2006. | Rating: 08/20 |
| Caperdonich 1972 "From Huntly to Paris" for LMDW, 34 YO, D. Taylor, 53.4%, B: 2007, cask 6707, 210 b. | Rating: 16/20 |
| | |
| First Cask | |
| Caperdonich 1980, 26 YO, First Cask, 56.8%, B: 2006, cask 7346 | Rating: 17/20 |
| | |
| Gordon & MacPhail | |
| Caperdonich 1972, G&M, 49.9%, B: 2008, cask 1976, 193 b. | Rating: 13/20 |
| | |
| Hart Brother's | |
| Caperdonich 1972, 30 YO, Hart Brothers, 50.1%, B: 2002 | Rating: 17/20 |
| | |
| Jean Boyer | |
| Caperdonich 1995 Small peaty barrels, Best Casks of Scotland, Jean Boyer, 43%, B: 2007 | Rating: 14/20 |
| | |
| The Perfect Dram | |
| Caperdonich 1972 The Whiskyschiff Zürich, 39 YO,The Perfect Dram, 45.0%. B: 2011 | Rating: 13/20 |
| | |
| A. D. Rattray | |
| Caperdonich 1992,20 YO, A.D. Rattray, 56.7%, B: 2013, c.121138. | Rating: 14/20 |
| Caperdonich 1992, 21 YO, A.D. Rattray, 59.5%, B: 2014, c. 121124, 240 b. | Rating: 12/20 |
| | |
| Signatory | |
| Caperdonich 1992, 19 YO, Signatory, 57.3%, B: 2011, c. 46238 | Rating: 16/20 |
| | |
| The Whisky Agency & Liquid Sun | |
| Caperdonich 1992, 21 YO, Liquid Sun, 52.3%, B:2014. | Rating: 14/20 |
| | |
| Warehouse 8 | |
| Caperdonich 1994, 18 YO, warehouse 8, 62.8%, B: 2010, c. 88853, 278 b. | Rating: 12/20 |